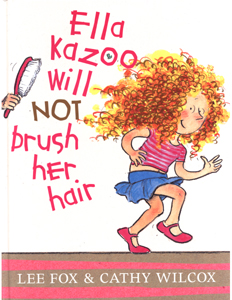 Ella Kazoo simpley refuses to brush her hair, and soon it develops a mind of its own!

Ella hides when her mother wields a hairbrush, then hides the brush in a drawer and buries it in the garden while her hair keeps growing bigger and bigger - so wild it has a bird's nest on top!

Debut author Lee Fox has formed a delightful tale, told in rollicking verse, about a girl who's got just what it takes to change a really bad hair day into a happy situation for all. Illustrator Cathy Wilcox's bright and fun illustrations bring Ella and her crazy hair to life.

About the Author:
Lee Fox has been a production assistant for a commercial radio station, a stripper's assistant, a Mormon, a cook in a childcare centre and a store manager on a remote Aboriginal community - and she has five children. Her writing career began in 2000 with several articles published in 'The Age'.

About the illustrator:
Cathy Wilcox is a Sydney based book illustrator and cartoonist, drawing cartoons and illustrations for the 'Sydney Morning Herald' and 'The Age' as well as other magazines. Two of her poplular picture books, 'A Proper Little Lady' written by Nette HIlton, and 'Boris and borsch', written by Robin Klein, were shortlisted by the CBCA and she has won several Stanley Awards for illustration and been nominated for a Walkley Award for journalism.



Lothian Books
Author: Lee Fox
illustrator: Cathy Wilcox
ISBN: 0734408560
RRP: $27.95


Review:
A cleverly rhymed, fun and cheeky story.