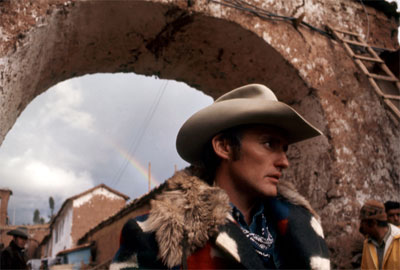 The Australian Centre for the Moving Image (ACMI) presents the Australian exclusive exhibition
Dennis Hopper and the New Hollywood
Thursday 12 November 2009 - Sunday 7 February 2010
In its latest major international exclusive exhibition, ACMI today announced the staging of Dennis Hopper and the New Hollywood , an expansive exhibition showcasing an extraordinary man's life's work, his collaborations and personal art collection, and an amazing insight into a formative era of Hollywood.

In the 1960s, a new generation of Hollywood filmmakers changed the face of American cinema with the content, marketing,consumption and distribution of films revolutionised. Creative control shifted from producers to directors, many of whomwere young, film-school graduates with a passion for film history, art and the New Wave. What film was about, who it wasfor, and how it could look all came under scrutiny in an era famed for its anti-establishment and counter-cultural values.

This was 'The New Hollywood', and right at its centre was Dennis Hopper and his extraordinary film, Easy Rider (1969). Withits super-low budget and rock n' roll soundtrack, Hopper's directorial debut quickly reached cult status. The aesthetic of theroad, already mythologised by the New York Beats in the 1950s, took on new connotations in the Californian underground,mingling with aspects of Pop Art, radical politics and the great mythology of the American dream.

ACMI Director, Tony Sweeney, said: "ACMI is excited to present this Australian-exclusive exhibition celebrating the work andlife of a truly extraordinary filmmaker and artist. The exhibition allows us to engage in great depth and detail the catalogue ofwork by a courageous artist, reflecting on a bygone era which radically influenced the film industry that exists today."

In this unique exhibition, Dennis Hopper's remarkable body of work is put into context. As a 'New Hollywood' visionary, actorand auteur, Hopper has occupied a key place in American cultural production from the 1950s to today. He has collaboratedwith a vast range of artists, musicians, actors, architects and filmmakers over the past forty years, most notably with FrancisFord Coppola, Marcel Duchamp, Frank Gehry, Jack Nicholson, David Lynch and Wim Wenders.

Hopper is also a painter and prolific photographer, exhibited worldwide. He has taken portraits of artists such as Andy Warhol,Roy Lichtenstein and Julian Schnabel, published covers for magazines including Vogue and Artforum and documentedhundreds of artistic performances, graffiti-sites and political uprisings. Hopper is the photographer behind some of theworld's most recognised images of icons like Martin Luther King Jnr, Paul Newman and James Brown.

The exhibition traces the paradoxes of an America undergoing transformation - from pop culture to suburban subculture,psychedelia to slam poetry, rebellion to disillusionment. The exhibition brings together Hopper's own photography and filmwork as both director and actor - including films such as Rebel Without a Cause (1955), Blue Velvet (1986), Apocalypse Now(1968) and the Australian production Mad Dog Morgan (1976) - with Hopper's exceptional private collection of contemporaryart. Dennis Hopper's own work is shown alongside paintings, photographs and sculptures by major American artists such asAndy Warhol, Ed Ruscha, Jasper Johns, Roy Lichtenstein and Jenny Holzer.

Dennis Hopper and the New Hollywood was originally curated and produced by the Cinémathèque Française in Paris, in closecollaboration with Dennis Hopper. For its Melbourne presentation, the exhibition will feature a film season and a series ofpublic programs, talks and workshops.

"ACMI has an international reputation for presenting the very best of moving image art from around the globe and we'reexcited to be able to provide Australian audiences with another exclusive opportunity to experience the work of legendaryfilmmaker and artist Dennis Hopper," Tony said.

Dennis Hopper and the New Hollywood opens at ACMI on Thursday 12 November 2009 and exhibits until Sunday 7 February2010. Dennis Hopper will be in Melbourne for the official opening of the exhibition.