meet THE GIRL on everyone's lips...!Australian artist Dan Greenwood has just released her debut album 'This Is The Girl' to excellent reviews. No stranger to music, Dan penned her first song at age seven, studied music for two years in the US, then travelled around Australia with her sister in a beat up Kombi van performing around the traps. For this gifted performer, whose life has always revolved around music, the time has come for her to shine, and shine she does! Dan's debut album cements her as one of the most original artists to emerge in Australia, as a person, a songwriter, a musician and as a record producer. FEMAIL was delighted to have a chat with the talented songstress recently. You learnt to play the piano at age seven. Obviously your passion for music was present from a young age.

Dan:
Yeah I used to sit down at the piano and make a few notes and chords and just started to sing about stuff even in my life then. That was my version of keeping a diary.
One thing that strikes me about your debut album is the strong and emotive lyrical content. Have you always had a way with words or was this something that developed over time?

Dan:
Words are as important to me as music. If I weren't a musician, I'd certainly try and be a writer. Among my influences definitely, I am as moved by some of my favourite poets as I am my favourite musicians. So words are incredibly important to me, I love the sound of them.
Some of your musical influences include Kate Bush, Peter Gabriel and Joni Mitchell to name a few. What is it exactly that you find inspiring about these artists?

Dan:
Just the intangible, that X-factor. It doesn't matter how often I've heard their albums, when I put them on, they still give me goose bumps. It doesn't matter if they're great musicians or not great musicians, whatever it is they've got, there's something truthful in it that makes me feel like I'm not alone.
So it reaches out to you - is that the effect you hope your music will have on others?

Dan:
That's my dream. Obviously I'd love to sell heaps of albums but even having just one person I don't know buy it and have them sit in their lounge room one night, and say "what do I feel like hearing?" I think I'll put some Dan Greenwood on! I mean can you imagine anything more amazing in the world than that? It would just be incredible to mean that to somebody, to have that effect.
How would you sum up your album "This Is The Girl"?

Dan:
Basically it's pretty much this is it; this is me at the moment. It's me as I was when I wrote that instalment of my life.
So the album is a snapshot of your life to date?

Dan:
Yeah I reckon albums are like monthly magazines and I'm already working on the next one!
(laughs)How does it feel to have a debut album released?

Dan:
I didn't believe it until it was in my hot little hands and it felt amazing!
Has it been a long time coming?

Dan:
Yeah it's been a couple of years because there were a few false starts. I signed with Universal just over a year ago. It all takes so much more time than you think you know.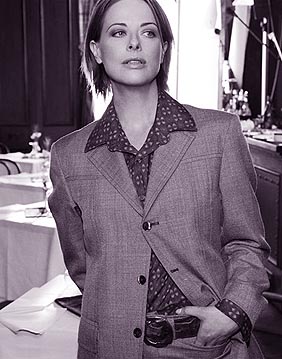 Did those setbacks and delays frustrate you a little or did you just take everything in your stride?

Dan:
At the time they just made me want to go and do my Plan B, which was to go and buy a cheap property on King Island or in Tasmania and grow things.
But you're thankful you stuck in there?

Dan:
Yeah and I'm thankful for the setbacks now because I think if I hadn't been setback the first time, I may not have been able to produce my own album or engineer it. The two years in between the first setback and now has enabled me to get my home studio together, I have learnt to engineer and record myself and I'm more proud of that than having a record deal to tell you the truth, because record deals come and go. One minute you're the flavour of the month; the next minute you're a nobody. But if you've got your own studio and you can record yourself, they can't take that away - I can always make music now.
How many other people were involved in the making of your album?

Dan:
Charles Fisher co-produced the album with me, and a lot of that he did from L.A.
That would have been an amazing experience to work with him?

Dan:
Charles has been my bastion and he is what really made me hang in there. I think everyone needs that one person to believe in them. That would be my advice to any upcoming artist, just to search for
that
person more than a record company. Find that one person who believes in you and is prepared to go to battle with you.
You need to keep the faith don't you?

Dan:
Yes and he was IT for me, he believed in me and just really stuck by me basically.
How long did it take to write and record the album?

Dan:
The oldest song on the album is a couple of years old. I was writing right up until the end and was thinking I want to add this song too. But at some stage you have to say 'that will be on the next album', because you have to have a finishing date. All up, the album took about eight months to complete.
How do you go about the selection process?

Dan:
That was where I really needed Charles because it was my debut album and I had written so many songs by then and they were all my babies. I loved them all but I really had to trust Charles and his decisions.
What do you hope people will take away with them after listening to the album?

Dan:
I am hoping that people will feel a little more understood; I want people to be moved by my music.
Is the song "Oh No" from the album, about a real-life lover of yours?

Dan:
Yeah but it didn't last that long!
(laughs) And does this special fella know there is a song on your album dedicated to him?

Dan:
No he doesn't! The other songs on my album are about my last relationship, songs like "This Is The Girl" and "Forever And A Day" and they're really poignant to me and that person knows they're about him. Maybe that's why I'm having trouble getting into a new relationship because nobody wants to end up in a song of mine!
(laughs)What has been the reaction to your music so far?

Dan:
It's all been really heart-warming and good. I just like hearing that my album has touched people; that really moves me.
Earlier this year you toured the country with British singer/songwriter Elvis Costello. Did he have any words of wisdom for you?

Dan:
I was so busy trying to avoid him so I didn't seem like I was trying to be a really wannabe! But I actually over-compensated to the point where he'd come into a room and I'd run out!
Were you a little overwhelmed by his presence?

Dan:
Yeah I was a little; he is a real muso's muso, a real songwriter's songwriter. He was side stage for my last gig, which was a real compliment for a leading act to do that. As I walked off stage he spoke to me and the whole time I was thinking "F*** this is Elvis Costello!"
(laughs)
There were no words of wisdom though, he was just very, very funny.
Let's step back a few years - you studied music and drama in the US for 2 years - how does the live music scene over there compare to the one in Australia?

Dan:
Well the only time I could really afford or be near the live music scene was when I was sleeping in my car in New York with some college buddies. I just hung out in Greenwich Village, which was incredible.
Do you see yourself returning to the US and basing yourself there?

Dan:
No I don't see myself being based over there ever, especially not the West Coast. I mixed the album there and it was just wasn't me. I really love Melbourne and I think in this day and age you can kinda almost live anywhere. So maybe I will get to live on King Island after all!
(laughs)Do you miss the days of trekking across the country in your beat-up Kombi van with your sister and performing in pubs to put dinner on the table?

Dan:
We both miss that actually. I am just a bit of an escapist I must admit. If I'm in a situation I'm unhappy with, I just do a runner. I see no point in sticking with things I'm not enjoying.
Which artists do you hope to work with in the future, if given the chance?

Dan:
I'd love to work with Tom Waits. On an Australian level, I'd love to do a duet with Tex Perkins.
www.dangreenwood.com

- Annemarie Failla