NOONAN'S NO BABE IN THE WOODS
by Paul Fischer in Los Angeles.
Starring
: Renee Zellweger (Cinderella Man, Bridget Jones Diary), Ewan McGregor (Moulin Rouge! Young Adam), Emily Watson (The Proposition, Life and Death of Peter Sellers, Gosford Park)
Directed By
: Chris Noonan
Genre
Drama
Synopsis:
Directed by Australian director Chris Noonan (Babe) and starring Renee Zellweger (Bridget Jones Diary, Cold Mountain, Chicago), and Ewan McGregor (Star Wars Episode III, Moulin Rouge), Miss Potter tells the magical story of Beatrix Potters love for her publisher, Norman Warne, and her striving towards an independent life at a time when her expected place in society was as a wife. It praises her talented pen - both as writer and artist - that created the world of Peter Rabbit, Mrs Tiggy-winkle, Jeremy Fisher and friends. It tells the story of a woman whose life was a fascinating mix of professional achievement and private grief; a woman who swum against the tide.
Beatrix Potter was a literary phenomenon of the early 20th Century. At a time when most young women of her class aimed only to make a good marriage, Beatrix became an iconic figure, swimming quietly, but with great fortitude, against the tide. She created a series of books and characters that are as beloved today as they were a hundred years ago, and since their publication they have never been out of print. She was also a distinguished painter and - had she been a man - her botanical drawings would have been snapped up by the Royal Horticultural Society at Kew Gardens. In addition, by the time she died in 1943, Beatrix Potter had purchased vast swathes of the Lake District that she left to the National Trust. That so much of this glorious countryside remains as it was in Beatrix Potters day for others to enjoy, is her bequest to the nation.
This is her story...
Interview:
Ten years after he hit pay dirt with the box office smash Babe, Australian director Chris Noonan has returned behind the camera with Miss Potter, his first feature since Babe. Based on the life of renowned children's author Beatrix Potter, Noonan's film is a biography that takes the genre to new heights. He talked exclusively to Paul Fischer.
Paul Fischer
: Okay. I guess the obvious question I know to start with is - as they say in the classics - it's been a long time between drinks. Ten years is a long time for somebody to not be making a movie, especially after the huge success of Babe. So why?
Chris Noonan
: Basically I'm very, very choosy. It's a complex thing and I don't want to make too much of it because I've actually had a good time in those ten years, but it takes like 2 ½ years of your life to make a movie and so you don't want to just jump into anything. Having a very successful movie means that it puts even more pressure on your choices. Thus I became extremely picky and almost all the movies that are made these days are rehashes of ideas that have already been done, and I just wanted to do something a bit more original than that. So I wrote a couple of scripts in that time and they still may be made, but I was submitted every sort of script under the sun and...
Paul Fischer
: Presumably a lot of them with talking animals?
Chris Noonan
: Well initially until I sort of said I'm not going to read any more of those. But, everyone just thinks that you can do what you've done before and I said I was interested in exploring other territory, and particularly I wanted a story that dealt with human interaction. It seems that people were reluctant to sort of do that and in any case most of that time the scripts that I read were not at all impressive.
Paul Fischer
: Does that make you become somewhat disillusioned as a filmmaker?
Chris Noonan
: A little bit, yeah. I mean it did make me wonder whether I had a future there or whether I would only ever be able to make my own scripts, but then out of the blue a script comes along like this one, which really moved me and which made me sort of consider it. And also it wasn't a studio movie.
Paul Fischer
: It wasn't homogenized was it?
Chris Noonan
: No, exactly. It had personality, it had a fresh outlook on the world and it told a story that I found amazing. You know I thought I knew Beatrix Potter but I had no idea what she'd been through.
Paul Fischer
: Now biopics can be very, very tricky things to do and make interesting. So what do you think it was about this particular woman's story that grabbed your attention that perhaps any other biopic that had come along may not have been as interesting?
Chris Noonan
: Well, look, I don't really abide by the sort of terminology. You know, I don't like the word biopic, and I don't like categorizing movies in that way. I think every movie is its own thing and for me it was this particular story, and the particular tragedy within the story - about someone whom I thought I knew but realized I didn't know - that got me going. You know, the fact that I had a very big emotional response to the script when I first read it immediately made me interested.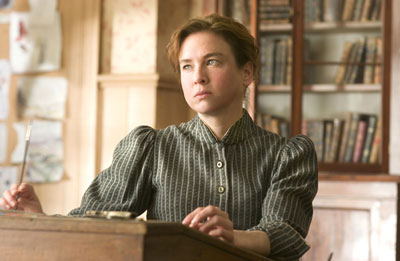 Paul Fischer
: Did you go back and re-read the books?
Chris Noonan
: Oh, yes, I did. I mean I hadn't read them as a child. I'd become aware of them, but I'd sort of written them off as sort of cutesy, overly sweet, maybe saccharine story, but that was just from a distance without actually reading them. I'd only just seen the drawings on plates and mugs, so when I read them in the preparation for this I realized that she was far more interesting a writer than I thought. Her stories have got a humour all the way through all her work, and it's a sort of a warped humour in most cases, a dark humour and that appealed to me a great deal.
Paul Fischer
: Did you visualize the books in a very sort of new perspective when you were reading it as a filmmaker would, because you obviously decided at some point to visualize the stories...I mean were you reading them as a filmmaker or were you reading them?
Chris Noonan
: No, I was reading them as a researcher when I read them in preparation for the film. But I did sort of think that if we could visualize the stories, if we could bring them to life somehow it would give us access to her inner core and psyche. And given that it's a Victorian era story and she's a Victorian era person, at that time no one was outward and sort of self-broadcasting as people are today. She was a much more private person, so I just felt it could give us access to what was going on for her in the same way that maybe in a more rudimentary structured film a narration might.
Paul Fischer
: How challenging was it for you to integrate those little animated segments you utilise within your mainstream narrative, and without making them seem sort of obvious in a way.
Chris Noonan
: There are real dangers in it, and in fact the script that I first read did have a lot more than is in the film as it exists now. It had a very different style of animation as well. It incorporated her characters jumping off the page and taking shape as three-dimensional creatures in the real world and sort of existing side by side with her in the room - in 'reality' if you like, if you want to put reality in inverted commas.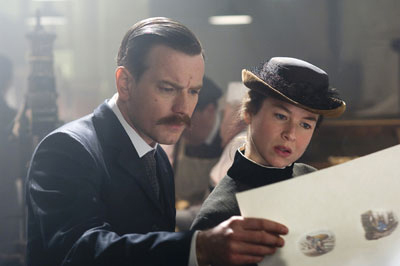 Paul Fischer
: Right. Her reality.
Chris Noonan
: Yes. But I felt and Renee also felt strongly that this would somehow be a gimmick, and what really attracted me to the script was the incredible drama of her own life, and I didn't want that to be overshadowed by something that some people would see as a gimmick I think.
Paul Fischer
: Was Renee Zellweger cast from the outset?...
Chris Noonan
: No, she wasn't attached. In fact another actress was attached and it was the other actress - an Australian actress in fact - who suggested me for director, and that's when I was approached with the film. And that was Cate Blanchett of course who was committed to this as well as to two others, as all actors tend to be, and our film wasn't financed at that stage and her other films weren't financed. But soon after I came on board one of her other projects got green lit and she went off to do it - apologizing - and we then had to cast someone else. So Renee had been approached early on when Cate had been approached and so we re-approached her.
Paul Fischer
: What did you see in her that convinced you that she could do this?
Chris Noonan
: Well what I liked about the idea of her doing it was that she would promise, for an audience, fun, and that's what I wanted to make the film even though, I mean partly because there's a tragedy at the centre of the story. I didn't want an audience coming to the film thinking they were in for a tragedy. I wanted them to come thinking that they were in for a fun time, and I wanted to make the film fun and playful. So I thought with Renee and Ewan it would promise that kind of playfulness that I wanted to put into the film. There are all sorts of British actors who could have done the role and they wouldn't have promised the same sort of sense of fun.
Paul Fischer
: When you went back behind the camera for the first time in ten years, how was that experience and how would you compare it to your previous experience in that role?
Chris Noonan
: Well it really just felt like a duck to water to me. It's my natural place. I feel most at ease and happy when I'm shooting and I was a little bit nervous because I didn't know whether British crews had a different modus operandi and so on, but I just found them fabulous to work with. I also just loved the experience which just felt like, you know, 'where have I been these last ten years'. You know, it felt like I hadn't been away.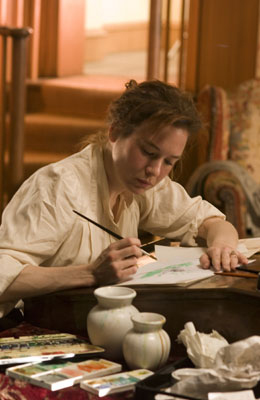 Paul Fischer
: Do you think you're going to be likely to be less picky now at this point having come back to work?
Chris Noonan
: I doubt that I'll be less picky but I'm sure that the same sort of length of time will not elapse this time. I have two other projects that I'm developing and they're likely to go ahead within the next 12 months, or one of them is.
Paul Fischer
: Are these Australian, American, British?
Chris Noonan
: One of them is an American generated project about the third witch from Shakespeare's Macbeth - the youngest of the three witches, and it's the rest of her life after what you see in Macbeth.
Paul Fischer
: Are you planning on incorporating any of Macbeth as part of that plot ?
Chris Noonan
: Yes, indeed. It has to be incorporated so you know where you are.
Paul Fischer
: So her storyline is going to run in tandem?
Chris Noonan
: Yeah, it sort of happens after Macbeth - well, towards the end of Macbeth's plot.
Paul Fischer
: So after Macbeth's death basically.
Chris Noonan
: Yes, that's right. It's a wild idea and it's a good script. So that's a very positive one. The other one is an Australian generated idea which is a South African set story, a true story, set in 1973 at the height of the Apartheid years, and it's the story of an under 15-year-old's soccer team in Johannesburg - all black - who decide to become a mixed race team. So it's the sort of political fallout from that and the response of the forces that be and it then follows their progress in the under 15s competition, and that's a sort of tough and very funny story as well. It's being written by Australian playwright David Williamson.
Paul Fischer
: Were you surprised at the Babe phenomenon? I mean did that kind of completely overwhelm you?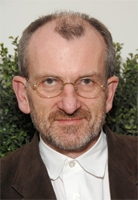 Chris Noonan
: It did overwhelm me to a certain degree but then as I was making it I knew that it was excellent - at the risk of sounding sort of egotistical - I did think it was excellent. And in fact, when it was first released I was in the States for its release and as the figures kept coming in everyone was sort of going 'look, we've done X-dollars this weekend' and I would say is that good, you know. I was a newbie to the whole thing and they were saying 'this is a hit', you know, 'this is a big hit'. And I was saying, good, that's terrific. But I wouldn't have been surprised if it had done better you know. I just had great faith in that film.
Paul Fischer
: Did you dismiss out of hand the idea of doing the sequel?
Chris Noonan
: Yes, I did. I felt that the first Babe told a complete encapsulated story and I could see nowhere for it to go.
In Cinemas January 25, 2007