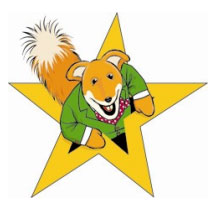 The world's most famous fox, (ABC's) Basil Brush, will be touring Australia in late March.

"We are thrilled that Mr Brush has been able to find time in his busy schedule to travel to Australia to coincide with the return to air of the hugely successful 'The Basil Brush Show' on the ABC" said a spokesperson from Entertainment Rights in making the announcement.

Mr Brush's visit will also coincide with the Australian Toyfair set to be held in Melbourne on 26-30 March.When asked if Mr Brush was looking forward to travelling to Australia, he replied, "Oh I can't wait to have a bath and see the water drain out of the plughole the other way, that will be fascinating! Having a go on a didgeridoo, and a go on a didgeridon't!"

"Consistently winning his timeslot with a 70.8% share of 5-12 year olds, Basil Brush's welcome return to our screens has been embraced by a new audience. We are delighted that he has agreed to travel to Australia in person" said ABC Kids Programmer Deirdre Brennan.

After months of nail-biting anticipation, the fox that rocks will explode back onto Australian screens with the return of series one of 'The Basil Brush Show' on 9 March, leading to the premiere of 13 brand new episodes in series two on the ABC on 30 March at 4.35pm.

When asked what he has been up to in between series one and two, Basil replied "Well, I took some time off to do a spot of travelling, I travelled in the desert for some months, most people took a tent, but I stayed in a Bedouin breakfast! BOOM! BOOM!"

'The Basil Brush Show' is produced by Entertainment Rights and The Foundation. The first series of "The Basil Brush Show" - an explosive mix of comedy, drama and animation - was launched to rave reviews on BBC1 and CBBC in 2002. The show was voted best comedy show by CBBC kids and enjoys a majority share audience attracting over 40% of kids aged four to nine years - an amazing 1.5 million viewers each week!

BOOM BOOM, BASIL IS HERE!

To celebrate the release of his wicked new DVD and Video Unleashed (including Extra Unseen Stuff), the very foxy Englishman, Mr Basil Brush, will be gracing our shores and making a special guest appearance on:

Sunday 21st March 2004 at 11.00am
Venue: ABC Shop Castle Hill
Castle Towers Shopping Centre
Shop 28, Old Northern Road
Castle Hill

Sunday 21st March 2004 at 2.30pm
Venue: Off Centre Stage, outside Myer
On behalf of ABC Shop Penrith
Penrith Plaza
Henry Street, Penrith

Share your side-splitting joke with Mr Brush in the 'Joke Telling Competition' hosted by ABC TV personality Nick Hardcastle, and pick up an autographed Basil Brush photo!