Bag2Bed
Two Melbourne mums Carolyn Amott and Lisa Mcleod have known each other since age five when they started at the local Primary School together.

One evening, their shared passion for entertaining transformed from joy to frustration. Following a BBQ with friends, many of the children were clearly getting tired and needed somewhere to sleep. The question was, how do you accommodate such an influx of guests?

This prompted discussions about the need for some stylish furniture that could be used as a seat and then easily transform into a spare bed. "We didn't want to spend money on expensive and often uncomfortable sofa beds; but rather invest in something casual and contemporary that would look great in any room."

Hence, the concept of Bag2Bed was created. Bag2Bed is an oversized spin on the bean bag... with a very functional twist. It easily transforms into the perfect spare mattress.

The filling comes from high density bedding foam that undergoes a crumbing process.
"It has taken many months of research to get the perfect foam blend. The tricky part was getting a mix that was supremely comfortable as a seat that would also work as a bed. We had our floors covered with mattresses containing different foam combinations for months. We recruited husbands; friends and their children to all try them out and vote. Finally, we think we have got it just right! The end product provides a seat that is so luxurious the whole family will fight for it," explained Carolyn Amott and Lisa Mcleod.

The Bag2Bed range offers different seat sizes that can easily be converted into a double, queen or king size mattress. A junior size has also been created and is suitable for children up to the age of 12. They come in a sophisticated range of textured fabric covers, so they are suitable for any room in the home.

This is contemporary and functional storage that you sit on; reinforcing the old saying "simple ideas are often the best," concluded Carolyn Amott and Lisa Mcleod.



Why Choose Bag2Bed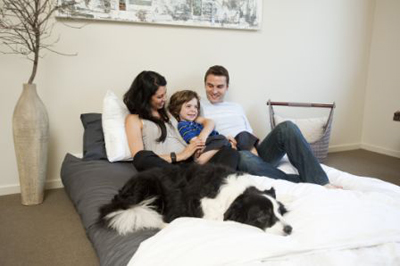 1. Contemporary furniture that looks great in any room - functional furniture, easily converting from chair to bed. Bag2Bed is great for apartments, playrooms, rumpus rooms and even bedrooms for relaxing furniture that doubles as a spare bed.

2. Comfortable & Easy Spare Bed - is a combination of bedding foam that goes through a crumbing process and is environmentally friendly and endorsed by GECCA. the foam pieces wrap around any body contour for superior comfort and support. Bag2Bedis perfect for unexpected sleepovers, as it converts easily from "bag" seat to a bed, by removing the outer cover, you have a comfortable spare bed.

3. Affordable Spare Bed / Furniture - What you would pay for a spare bed? The Bag2Bed range offers 4 seat / mattress sizes - junior, double, queen or king. Prices start at $399; making Bag2Bed the most affordable spare bed in town.

4. Beautifully textured washable fabric covers - offer a casual sophistication that will enhance the look of any room. Whether you are cuddling up to a loved one in front of the fire, reading the latest novel or

accommodating an influx of guests for sleepovers, Bag2Bed has a range to suit everyone's needs. Should you decide to update your decor, extra covers are available. Bag2Bed can also offer custom covers to match your furniture or add a company logo.

5. Australian Owned & Produced - support Australian Industry and feel confident that strict quality controls regarding quality, safety and manufacturing have been met.


Review: The Bag2Bed is an extremely well thought-out and tested product that exceeds consumer expectations; not only is it useful it is amazingly comfortable!

The Bag2Bed, when used as a seat is not like your average bean bag and this is mostly because of the dreamy soft foam used inside compared with typical 'beans'.

What we liked most about the Bag2Bed was when used as a seat, if two people were sitting down and one stands up, the person left on the seat didn't move; no falling over or having to hold yourself up when the other stands.

The range of colours are timeless making it easy for customers to choose a colour that fits perfectly inside their home.

The Bag2Bed is great for apartments or small spaces because of how easy it is to convert from "Bag" to "Bed" for unexpected guests without compromising on comfort. It's a one person job for junior & double, but you may need 2 people to flip out the Queen & King size Bag2Bed.

As a seat the Bag2Bed is great to relax for an afternoon siesta, read a book, watching movies or play video games. It's versatile enough offer several seating positions to snuggle into, as well as quick to flip out for the ultimate veg out. Check out this demo link to see for yourself just how easy it is. www.bag2bed.com.au/demo.htm


Today is fast paced, and we all value our diminishing time and space for relaxation. Bag2Bed hope to enhance your lifestyle, by not only providing you with the best seat in the house, but also functional storage into a dreamlike mattress.
These chairs welcome the user with its protectively voluptuous style that just mould to your body.

Bag2Bed
Sizes: Junior, Double, Queen, King
RRP: $399+
Available from: www.bag2bed.com.au



Come try Bag2Bed yourself at Melbourne HIA Homeshow
Date: Thursday 28th of April - Sunday May 1st, 2011
Stall: I54.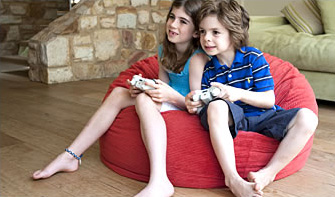 Interview with Lisa McLeod and Carolyn Amott, the creators of Bag2Bed
Question: What inspired the idea behind Bag2Bed?

Lisa McLeod: The concept was developed because we had an influx of guests who had children and we didn't have anywhere to sleep them and one night they all fell asleep in bean-bags and someone made the comment "wouldn't it be great if you just leave them in there?" Of course, we couldn't because they were your typical polystyrene filled bean-bags and that's when we said "we need something that folds out into a bed" and hence Carolyn Amott and I spent eight months developing a foam that was going to work as a seat as well as a supportive spare bed.

You can sit on the Bag2Bed a number of ways; you can lie back, or you can push it around and have a head support, which is the ultimate way to sit back and relax.


Question: Who did you work with to create the perfect foam insert?

Lisa McLeod: We worked with an Australian foam company and came up with four sizes: king which equates to a king sized mattress in size, queen, double and junior. The junior size is a little bit smaller than a single but a little bit wider and it is good for children up to the age of 10.


Question: Can you wash the Bag2Bed cover?

Lisa McLeod: The covers are very durable and fully machine washable because if you have lots of traffic you want to be able to have them as practical as possible. We have two different types of covers, we have the corduroy (cord) cover and we have another that is like a weave.

Carolyn Amott: The weave cover is a couch fabric, an upholstery fabric. The corduroy cover is more suited for kids as it is a bit a more durable than the upholstery fabric cover.


Question: How many different colours does the Bag2Bed cover come in?

Lisa McLeod: We have tabasco and the neutral colours which are a coffee mocha colour, a pistachio nut green and a slate which is a dark grey. The colours are shown at www.bag2bed.com.au/


Question: Do customers have a favourite colour?

Carolyn Amott: It is interesting, they've all been pretty good.

Lisa McLeod: I think the tabasco and the mocha have been the most popular colours. Although, it does depend on the home colours; if they have a fairly neutral living area they may go for the tabasco but if they have a colourful home they'll choose the mocha to keep it neutral. We sell the covers separately so you can have an extra cover if you feel like a change.


Question: How does the Bag2Bed differ in comfort to a normal polystyrene filled bean-bag?

Lisa McLeod: In terms of comfort the Bag2Bed is nothing like the polystyrene filled bean-bag. The Bag2Bed is a combination of bedding foam that goes through a crumbing process and it is all environmentally friendly and endorsed by GECCA. Once the foam is cured there is no fume release and the foam will last for quite a long time. You may need a top up bag in a couple of years as the foam starts to loose its density, which are available separatly from our website. The timing for a top up depends on where the bag is in terms of climate and how much wear it gets. All of the foam for Bag2Bed is made Australia.


Question: How does the Bag2Bed differ in comfort when used as a mattress?

Lisa McLeod: The Bag2Bed is a spare bed, I have slept on the it for three nights in a row and that was fine; it's not your pillow top mattress but it is comfortable.


Question: Where do you suggest people buy the Bag2Bed for?

Lisa McLeod: They are great for holiday homes, bedrooms furniture / sleepovers for kids or playroms. We have heard feedback from customers that they use them when they have friends over on most weekends.

Carolyn Amott: We've had students buy them for student accommodation.

Lisa McLeod: We've also had interest as a spare bed in ski lodges, B&Bs and Ballarat and Geelong Grammar where there are boarders who only have a single bed and need an extra bed for when friends and family come to stay. They've been great for people who live in small city apartments where they don't have room for another sofa, for when people come to stay.

You are actually sitting on your functional piece of storage, rather than people trying to store fold away mattresses, blow up beds (that often go down) or sofa beds (that are often very uncomfortable).

We've had emails from customers saying that they don't use their couch anymore they just sit on the Bag2Bed and they may buy another one because they are fighting over it.


Question: You've explained that you need to open the foam insert for 24-48 hours first, is that a one time process?

Lisa McLeod: That is a one time process, for transportation. The foam goes through a roll compression to fit into the plastic, for transportation. Once they have uncompressed, that's it - you are able to throw them around from seat to bed.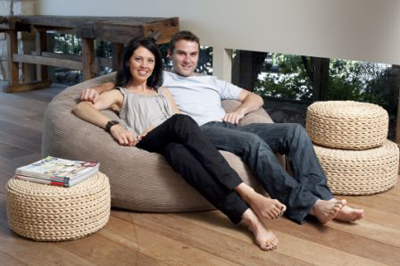 Question: When did you begin Bag2Bed?

Carolyn Amott: We launched Bag2Bed products in February 2010.


Question: How have you seen the Bag2Bed business grow over the first year?

Carolyn Amott: We have not changed our product in anyway over the first year and we have promoted in two ways, at a furniture fair where we had retailers pick up the Bag2Bed product and we also went to the Home Show.


Question: Where can we get a Bag2Bed?

Carolyn Amott: You can order a Bag2Bed online through our website www.bag2bed.com.au


Question: Do you regularly set goals for your business?

Carolyn Amott: Over the first twelve months of the business we have worked on seeing if there is a market for this brand new product, especially for the Australia market as there is nothing like Bag2Bed. For the last twelve months we have worked on our target market which has been quite interesting because our audience goes from student accommodation, families, all the way up to grandparents who love the flexibility of Bag2Bed for their grandkids visits. We have been surprised by the target market.

Going forward we hope to target more retailers nationally, we want to focus Australia-wide. Currently we deliver all around Australia.


Question: What has been the greatest challenge in starting your business?

Carolyn Amott: We've had ups and downs and the biggest challenge, for us, was getting the foam right. We had a lot of trials with different foams because it is a product that no one has done before. We had to work with Australian foam companies to get the mix right, we did a few trial runs where the seat was great but the bed was terrible and vice-versa. We had to get the foam to bounce back correctly so when you've slept on it all night and you fold it back into the bean bag it can bounce back so you can sit on it.


Question: How easy is it to change from a mattress into a seat, again?

Carolyn Amott: With the junior and the double it is certainly a one person job, I have a double at home which I can easily change from a bed to a seat by myself. The bigger ones, such as the king you will need two people. We figure that if you've got the queen or the king you have someone who is staying the night who can help you.

Lisa McLeod: Even a child can help by holding the cover; once you've done it once or twice it is easy; it is like putting a big sleeping bag inside its cover. The king is very big, it is a full king sized mattress so you do need someone to assist.

There is a demonstration video that is viewable here: www.bag2bed.com.au/demo.htm


Question: Why do you think Australians have enjoyed the Bag2Bed idea?

Lisa McLeod: People really have embraced the whole idea because it suits Australian lifestyles in terms of its casual relaxed living. You are able to plonk in front of the television or play games. The other good thing is that two people can easily sit on the seat; I've got one at home and I'll ask "can I have a cup of tea?" and if the other person gets up you don't fall because of the weight change, you just stay seated, which is the same with the mattresses for sleeping.


Question: What is your next challenge with Bag2Bed?

Carolyn Amott: The next challenge for us, I think, is to get into more retail stores especially nationally. We know there is a market for Bag2Bed now and we need to promote it. We are exhibiting at home shows, Australia wide and then the next step will be another retail show, to get more retailers and agents, nationally. We have had a lot of success in homeware stores.

Question: Are you looking at extending the Bag2Bed range?

Lisa McLeod: Yes, we are looking forward to expanding to outdoor covers, for decking an poolside, but we need to do a bit more climate testing first..

Thank you Lisa & Carolyn, we love the Bag2Bed concept at Femail.com.au, and recommend all our readers give it a go. 'Bean bags' are history, Bag2Bed makes sense to me, now excuse me while I sit back and enjoy my cuppa in comfort...

Interview by Brooke Hunter & Michelle Warmuz