Why Your Child Will Thank You For Lessons
When we ask parents their main reason for enrolling their child in swimming lessons, they usually say 'to learn life-saving water skills'.

Living in a country surrounded by water, being able to swim and knowing basic water safety skills is crucial and why our programs are so important.

However, there are many more reasons to learn to swim with far-reaching benefits beyond safety, which your child will thank you for now and in the future.

1. Develop social skills and make new friends
Recently, the Amateur Swimming Association (ASA) conducted a study on the impact swimming has on wellbeing and found that because swimming pools are meeting points, they offer opportunities to socialise.

Swimming classes introduce kids to a whole new social environment, creating the perfect opportunity to engage with and build friendships with new groups.

This is both great for school aged children, to expand their social skills and friendships beyond the classroom and younger children, who will enter school with developed social skills and the confidence to make new friends in any environment.

And it's not just the kids who benefit from the social aspect of swimming, classes also provide parents a great chance to socialise, make new friends and expand their support network. We know many parents have formed great friendships and started regular coffee dates after our lessons.

2. Swimming makes you smarter
A research report from Griffith University found children who participate in early-years swimming achieve many milestones quicker than other kids – across physical, cognitive and language development.

At a high-quality swimming school, children can learn more literacy and numeracy skills, making them well prepared for the transition into preschool and school.

Swimming children also scored significantly better in visual-motor skills such as cutting paper, colouring in and drawing lines and shapes, many mathematically-related tasks, and better oral expression.


3. Improve mental health and wellbeing
The same report on wellbeing from ASA also concluded that the full body movement, rhythmic strokes and breathing techniques used during swimming have incredible relaxation benefits. Swimming creates free-floating muscle relaxation and releases endorphins, making it great for reducing stress, anxiety and depression.

Swimming also assists the development of emotional skills such as perseverance and time management and with our small class sizes, instructors work closely with students, reinforcing their confidence and self-esteem in the water.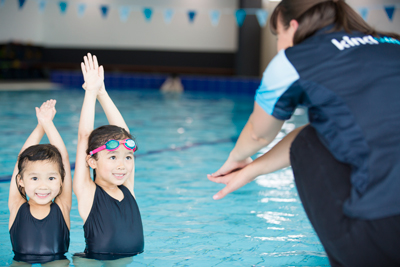 4. Physical health advantages
Over time children that take up swimming tend to see an increase in their strength and stamina. This assists in maintaining a healthy weight and increased respiratory capacity. For children who suffer from asthma, swimming is one of the preferred forms of exercise because it is believed to be less constrictive on the airways.

Swimming also improves co-ordination, balance and posture through the development of visualmotor skills. These include hand eye co-ordination, gross motor skills (arms, legs, feet) and fine motor skills (wrists, hands, fingers, toes). Benefits that will not only assist them when they start school, but are also transferrable across a range of other sports and activities your child may take part in.

Furthermore, the increased physical health children enjoy from regular swimming contributes to an improved immune system, which means they're far less likely to get sick, especially if they continue lessons throughout winter.

5. A lifetime of fun
By feeling confident and comfortable in the water, children will naturally begin exploring and enjoying other recreational, water-based activities. So, when the family takes their next holiday or weekend away to the beach or lake, everyone can join in and make new memories together.

Making the decision to enrol your child in swimming lessons will provide them with the skills to take part in other water-based activities such as surfing, snorkelling, canoeing and even white-water rafting.

While your child might be confident in their swimming level, when taking part in these activities it's important to still follow safety warnings and maintain parental supervision to ensure everyone stays safe and has a great time.

One last thing
Swimming gives children a head start as they transition into school and opens them up to a lifetime of inclusion and enjoyment in the water.

By enrolling your child in swimming lessons, you'll not only be ensuring their safety, but also helping them develop into a resilient, healthy and happy little person. We're certain they'll thank you for that!


Interview with Anne Brown, Kingswim Area Manager and mother of four
Question: Why do you believe children will thank their parents for swimming lessons?

Anne Brown: Living in Australia, where the majority of the population lives within 50kms of the coast, water is a part of the Aussie culture and everyday life. Swimming is one of the essential life skills that will stay with young children forever. You never know when those skills will be needed further down the track and the lessons they receive at a young age can create a passion for swimming and open up further opportunities when they're older!


Question: How can swimming keep children cool emotionally and physically during the school term?

Anne Brown: We know that swimming from a young age has all kinds of benefits, and one of the benefits is emotional development. A study has shown that those who participate in swimming lessons as a baby are found to have more self-discipline, greater self-control, rated high in self-esteem and more comfortable in social situations.


Question: How do important developmental milestones such as swimming skills impact other aspects of a child's life?

Anne Brown: Starting swimming lessons is the way to go, with statistics showing kids that attend lessons are better prepared for life down the track. A research report from Griffith University found children who participate in early-years swimming achieve many milestones quicker than other kids. This includes gaining greater literacy and numeracy skills, developing social skills, and physical and cognitive milestones are achieved earlier.


Question: How does it also broaden their social network?

Anne Brown: The swimming pool or the beach is a great way for the kids to get together and play. Knowing how to swim means they can attend all the water activities arranged over the holiday periods. It is also a fun way for the kids to make new friends. Starting to learn to swim early also provides wonderful social skills that can help in the school transition process.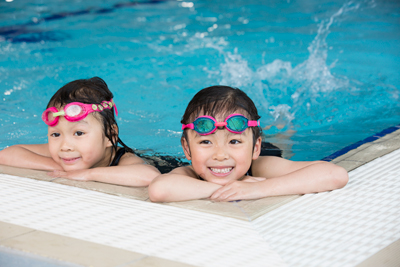 Question: How does swimming also reduce stress and the likelihood of anxiety and depression in childhood?

Anne Brown: There are many benefits when it comes to swimming, and one of these is that being active has a huge positive impact on our mental health.


Question: Can you tell us about the different types of classes Kingswim offers?

Anne Brown: At Kingswim, we teach tiny tots through to big kids, with programs available to babies from 12 weeks of age, right through to graduate level swimmers. We give regular feedback and reviews to make sure all children can learn and progress at their own pace. This means, students are placed in program levels according to skill and ability, not age.

The Kingswim Program has been specially designed to teach kids all the skills they will ever need to know to be safe and have fun in and around the water.

The Kingswim program is divided into 4 key learning levels:
Foundation – for babies from 12 weeks to 3 years old
Independent – for kids who are ready to learn without Mum or Dad in the water
Competent – for kids who have got the basics covered and are ready to start refining their skills
Graduate – for kids who are becoming swimming experts


Question: What does a child need to begin swimming lessons?

Anne Brown: For the little ones, you will need your usual baby bag items, as well as a swim nappy, swimwear for both you and your baby and a towel for you both. When your children get a bit older, they will need swimwear, a towel and dry clothes to change into at the end of their lesson. We don't recommend using goggles until the child has completed the independent program as we have found that some kids can become reliant on them.

We know it can be a bit of a rush to get to lessons sometimes, which is why our Centres have spare items on hand in case you have forgotten something!


Interview by Brooke Hunter