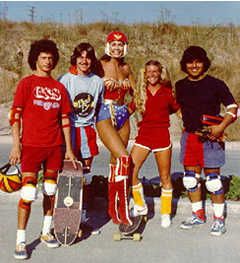 Those Seventies Super-Heroines

~ Wonder Woman & Bionic Woman ~

Wonder Woman versus Bionic Woman in a defiant struggle to save the fate of the earth. Who would win? Who had the most power? Who can forget these Heroines of yesteryear? Even if you did not witness their respective on-screen adventures, I'm sure you would like to relive the exciting antics of these two warrior princesses from the seventies, each with their own super-show.

With the emergence of the new millennium, it's easy to overlook some of the superstars that graced our TV screens over the preceding decades. Wonder Woman and Bionic Woman provided a classic form of mirth and amusement during our youth. They bedazzled us with their whirlwind adventures, and their feminine prowess kept us glued to the box for many a Saturday afternoon (or was it Friday night?).

In retrospect, we look at these B Grade Action Women as somewhat of a novelty and a source of much 'seventies-tack' humour. But what did these 'antiquated' heroines mean to us? Did they display the qualities of a true role model - or were they simply the fantasy of every teenage boy on the block? When Wonder Woman and the Bionic Woman first entered our living rooms in1975, they unwittingly paved the way for things to come. They offered the female audience with powerful, adventurous, mystery-solving archetypes (with the aid of some bionics and the odd magic lasso) and gave the boys something to ogle at - all at a time when the media offered little of this type of super-hero genre for the girls. The characters of Lynda Carter and Lindsay Wagner marked a sea change from all the housewives and secretaries that had served the predominantly male TV characters. Whirlwind adventures, immortal powers, magic lassos and all ~ Bionic and Wonder Woman stand out as being the most stylin' of all TV heroines of the seventies. In fact I doubt there is any modern day comparison with the same pizzazz of these Amazons. Lara Croft, Tank Girl, Barb Wire, Buffy ....Sorry girls, you just don't have that seventies chic.

Lets take a step back in time, and be fascinated and amused, at the characters of these now cult-status shows.

Bionic Woman

The Bionic Woman first escapaded onto our screens in a two-part episode of The Six Million Dollar Man in March 1975. The storyline goes something like this; Jaime Sommers, world fifth-ranked tennis pro, is reunited with her former high school sweetheart Steve Austin (The Six Million Dollar Man), who by the way, is an astronaut secretly turned into a cyborg government agent. Their whirlwind engagement is brought to a sudden halt when she suffers a critical injury in a near-fatal parachuting accident. At the insistence of Steve, a government bionics project is executed and Jaime's life is saved by emergency bionic surgery (phew!). Under the aegis of Oscar Goldman (Richard Anderson), head of the Office of Scientific Investigation (OSI), she received bionic legs, a bionic right arm and a super-sensitive bionic right ear. After she completed a covert mission in return, her body rejected the bionic implants and she died. No, wait! They miraculously saved her with the aid of cryogenics just in time for a two-part sequel continued into the year.

Remember when ~

Episode: 'Kill Oscar' - Jaime escapes near death when sabotaged by 2 fembots that Dr Franklin is using in a scheme to kidnap Oscar Goldman. In the nick of time, Jaime and Steve locate Oscar and attempt a rescue mission. Jaime and Steve are Oscars only hope of survival whilst Dr Franklin uses an experimental weather control device to repel a military strike from his island.

Episode: 'Doomsday is Tomorrow' - Dr Elijah Cooper, an aging scientist, threatens the release of a doomsday device unless world peace is maintained. Jaime battles for her life as she tries to stop the device that is now controlled by the Alex 7000 super-computer.

Episode: 'Time Bomb' - Carl, the son of deranged Dr Franklin, reactivates his fathers army of female robots in order to steal Americas first directed energy ray weapon. Jaime, Oscar & Rudy are then held ransom for the stolen weapon that Carl has launched into orbit and now controls.

Wonder Woman

DC Comics' creation, the one and only 'Wonder Woman' was first conceived in 1941 by educational consultant William Moulton Marston, under the pen name 'Charles Moulton'. This mythological Amazon made her debut on the small screen a little before the Bionic Beauty. At first Cathy Lee Crosby starred as an ill-conceived "hip, revamped" Wonder Woman in a 1974 TV-movie. Not long after, the legendary Lynda Carter took over the role in CBS' semi-campy, World War II-set telefilm The New, Original Wonder Woman (Nov. 1975). In true comic-book styles, she battled Nazis and assorted saboteurs alongside U.S. Army Captain Steve Trevor (Lyle Waggoner) throughout five one-hour specials throughout the following year. The acclaimed Wonder Woman Series began in December 1976. For its remaining two seasons, Wonder Woman took place in the present, with the immortal Amazon now aiding Steve Trevor, Jr. She was brave, wise and ethical. Combating the forces of evil ~ female mentor if you will - enlightening us on how the fairer sex could break free from their traditional roles.
Wiser than Athena, more feminine allure than Aphrodite, swifter than Mercury and stronger than Hercules - you don't want to mess with this Female Spartan.

Remember...

Episode: 'Wonder Woman Meets Baroness Van Gunther' - Major Steve Trevor is accused of sabotaging a top secret government mission, Wonder Woman fights to prove his innocence and happens to uncover a top secret Nazi spy ring.
Episode: 'The Man Who Could Move The World' - Wonder Woman is pitted against the awesome telekinetic powers of a Japanese man who was interned during World War II and has been planning revenge for 35 years.
Episode: 'Time Bomb' - There is a heart-stopping race against time as Wonder Woman tries to stop a fiendish traveller from the year 2155 from blowing up the city of Phoenix, with an as yet unknown radioactive substance, more potent then plutonium.