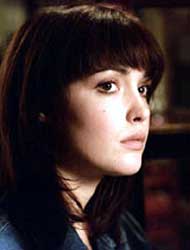 AUSSIE ROSE HEADED FOR OBSESSIVE WICKER PARK.
Rose Byrne/Wicker Park Interview by Paul Fischer in Los Angeles.

Rose Byrne finally displays a sense of humour near then end of our interview, when responding to a question about dreams in Hollywood. "I just want my two flatmates to clean up after themselves and run the fucking dishwasher," she exclaims, loudly, in a rare burst of atypical passion. Quietly reserved for the most part, it is clear that the Australian actress - co-starring opposite Josh Hartnett in the psycho-drama Wicker Park, is not fond of this process of film promotion. First introduced to the process while busily promoting Troy some months back, Byrne admits that she's feeling "a tad tired" and responds to questions with a quiet reluctance, heavy Aussie accent in toe.

Wicker Park casts the pretty brunette as Alex, a young woman obsessed with Hartnett's character, an obsession that leads to her assuming the identity and habitat of Hartnett's suddenly lost lover. The actress smiles when asked if she had ever allowed love for a guy to turn into obsession. "I've never done anything as drastic as Alex does, but I had a dreadful crush on someone once. I used to drive by their house all the time and they didn't know who I was. And I once knocked on the window and I thought 'What am I doing? What am I going to say if they come out?'" Despite her real-life, thick Australian accent, Byrne was required to assume the part of an archetypal American in Wicker Park, and said that she was determined "to nail the American accent. I think it's very distracting to hear someone's performance and it really takes you of the film. It's the first thing you comment after you leave the cinema. We grew up on American television in Australia, so it's not that far removed, but I made sure I trained before I left, and I spoke in the accent the whole time I was shooting." And that meant, she laughingly adds, not teaching too much Aussie slang to her American co-star. "Nah, there was no time for that and I really wanted to avoid getting out of my accent." Byrne sees the theme of Wicker Park as "the idea of obsession and the fine line of it. When it becomes out of your control and the things you have to do to get the attention of a person you want. Also, to get the mythology of love at first sight." The actress, who says she is currently single but not sure why, does admit at love at first sight, to some degree. "It's never happened to me, but it's happened to a lot of people I know. I really like the myth of it; it's a cool thing that we have in society that you can daydream about."

At 25, Byrne has appeared in over a dozen films in her native Australia, having begun acting professionally at age 13. She moved to Los Angeles last year to try and pursue a career outside Australia, and at this stage, says that she will stay here till at least year's end, despite admitting how competitive it is here. "Hollywood will always be competitive. Every young actress comes through; you just have to keep it all in perspective. It's a very competitive place." The actress says that LA has grown on her. "Parts of LA are great. I love the mountains and the beach is beautiful. It's not that different from Sydney in a lot of ways, with the weather and it's very relaxed." But the downside of this city, she adds, is "the driving, which drives me crazy. Driving is vile."

Byrne says that she has nothing coming up yet, though "I've got a few things in the pipeline for the next year, but it depends on which come to fruition." It is no surprise then, that having not worked for a year, the actress has more of her fair share of insecurities. "As an actor, you just can't sit in a room and act by yourself. You need to have the construct and the environment to do that." She says that if she was to ever quit acting, "I'd probably go and finish my degree at Sydney University, where I was studying English literature and gender studies."

Meanwhile, she says that though missing her friends and family back home, she has "slowly developed a bit of a community here with the Australian people I know and the people I've met on Troy or Wicker Park. I do miss my friends at home because I grew up with them and they know me the best, but that's life. My sister has lived in London for 7 years, so if she can do it, I can!"

WICKER PARK OPENS IN SEPTEMBER.