Wedded Wonderland

Now one of Australia's leading wedding bloggers and influencers, Wendy has built a hugely successful business in a short period of time with her Facebook and Instagram pages becoming a go-to online destination with a global fan base of fashion enthusiasts and brides alike, hungry for the latest industry news, style inspiration and practical guidance.

Now with over 400,000 Facebook and 104,000 Instagram fans and followers since launching in November 2012, Wedded Wonderland has also collectively built over one million genuine followers for the wedding industry alone.

Wendy's wedding ideology relies on the notion of style, art and beauty. She believes those who service the wedding industry need to understand the business of weddings in order to maintain and grow a successful brand.

Moving on from the corporate managerial world, Wendy discovered her love and genuine talent for wedding planning and project management and has since worked on over 250 weddings co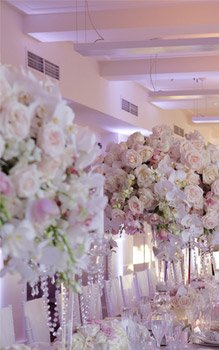 vering every religion, rite of passage and style you can think of, and learnt them in all languages!

Recognising the struggles small businesses have communicating their day to day interaction with brides, products and services within the market Wendy took her voice online and started blogging as a means to prove social media as a crucial element to a business's success and so Wedded Wonderland was born.
Noticing a gap in the online bridal industry Wendy has focused heavily on building an online profile working as a channel to communicate between the wedding industry and brides sharing her expertise and inspiration via her blog and Instagram and Facebook accounts which now boast over 500,000 followers collectively.
A social media expert with a background in education, project management and wedding planning, Wendy started consulting to the wedding industry in 2012 and has worked with over 100 of Australia's much loved brands including Johanna Johnson, Steven Khalil, Doltone House, Watsons Bay Boutique Hotel and Susan Avery Flowers, helping them grow and capitalise on their social media footprint.

Wendy is dedicated to creating original and unique content for Wedded Wonderland through servicing the Wedding Industry; if you want brides and followers of fashion and events to know about it, you tell it to Wedded Wonderland.

Instagram - @weddedwonderland
Facebook - www.facebook.com/weddingblogger