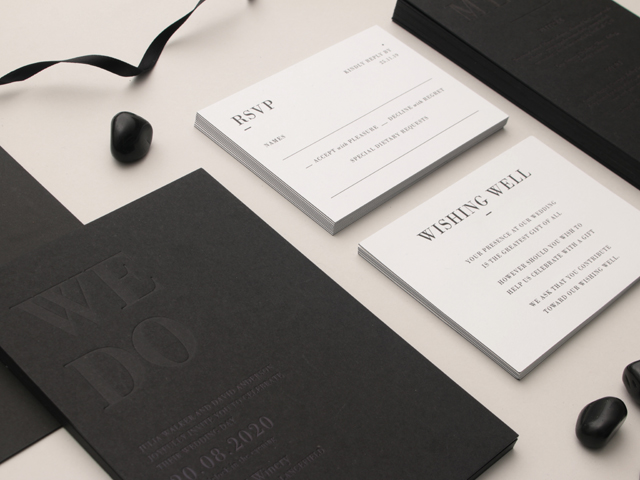 Gone are the days of traditional wedding invitations that are pretty, but boring. Thanks to a watercolor and calligraphy movement, wedding invitations are blossoming into works of art. Couples are looking to their favorite movies or fandom to integrate into their invitations and stationary. It's no longer just an invitation, it's a work of art and a labour of love.

Inspired by fandom
One of the most common creative trends is inspired by fandom such as Harry Potter, Lord of the Rings, but it's not just limited to literary works - movies, history or cultures can all be a source of inspiration. A Harry Potter inspired wedding invite could come in the form of a marauder's map - a magical map that exists in the fictitious world. There are examples of 8-bit designs for the gaming couple or a pin-up caricature of the couple to celebrate the 1800s, etc.

Handcrafted with love
Another popular and fast rising trend is hand lettering every invite with intricate calligraphy coupled with watercolor or other forms of art, such as crafting a monogram for the couple (think fun monograms utilizing animals or flowers in the design instead of the conventional monograms which are quite boring to look at) or a personalized coat-of-arms. The key component is that the card is unique and handmade, usually done by the bride or her bridesmaids. This includes adding bits of lace for some texture, adding wedding photos as envelope liners to further personalize the whole affair because why stop at just the invitation itself? Some go as far as making their own paper with hand torn edges which gives it that truly old world charm. What we haven't seen yet are pressed flowers to decorate the invitations.

Level of luxury
Foil wedding invitations topped with gold and mixed with navy seems to be the new classic. It is elegant and while gold has always been associated with luxury, there's a touch of class to deep navy. People are also breaking out the wax seals on their envelopes, giving their wedding invitations a more polished look. Wax seals used to be very popular in the middle ages and have made a comeback in recent times thanks to Millennials who are fascinated with all things outdated, and also to movies and tv shows that pay homage to the practice that used to be reserved for nobility and associated with wealth (such as Game of Thrones).

What's in store for 2020?
With technology being what it is, perhaps one day we will have digitized invitations or other cool gadgets to inform our guests to be part of the nuptials - an engineer installed lights on his invitation cards to literally light up his guest's faces as they open up their invitations. In the future, we might be able to see a device that sends out holograms of the couple inviting them personally or have a wider range of technology that enables us to be more creative with our invitations. The sky's the limit and trends are being started by the masses. Whatever creative idea one has that is executed well will see tens of thousands following in their footsteps.