Supported by Tourism NT
Cast: Gwilym Lee, Kerry Fox, Miranda Tapsell
Director: Wayne Blair
Genre: Comedy
Rated: M

Synopsis: Engaged and in love, Lauren and Ned have just ten days to find Lauren's mother who has gone AWOL somewhere in the Northern Territory, reunite her parents and pull off their dream Top End Wedding. As the couple travel through the wild beauty of Australia's Northern Territory landscapes they meet unforgettable characters, find fulfilment and Lauren learns why her mother had to leave to find home.


Background To The Production
There's an old adage that states the more personal a story, the more universal its appeal. Goalpost Pictures have known that truth for some time, that personal also means local, and the uniquely Australian stories they have brought to the big screen have made an impact internationally – not the least of those being the 2012 worldwide hit The Sapphires, one of Australia's highest grossing and most loved films of all time, which premiered that year at the Cannes Film Festival.

So the opportunity to reunite key team members from The Sapphires and bring a new story bursting with warmth and energy, celebrating different kinds of love and the value of family, at the same time showcasing Australia's magnificent Northern Territory and its rich indigenous culture, was a package that Goalpost Pictures producers Rosemary Blight and Kylie du Fresne couldn't resist.

Co-writer and star of the film, Miranda Tapsell, who starred in The Sapphires, is reunited with that film's director Wayne Blair along with Blight and du Fresne at Goalpost, to bring her very personal project to the screen. That Top End Wedding is also a strongly female-driven film is a not insignificant factor in bringing it to audiences internationally at this time. Most of all it has heart, evident in every frame. The story of an Aboriginal Australian woman exploring herself through her romantic relationship, close friendships and complex family ties, taking a personal and geographical journey – a road trip through some of the most picturesque locations in the country if not the world – is a bittersweet, heartfelt and brilliantly comical work that has an irresistible charm as a classic romantic comedy with an underlying indigenous focus.

In fact, Top End Wedding is a film about many journeys, from the journeys that characters on screen take to the way in which the film developed from a series of lunchtime conversations between two filmmakers. Some four years ago Tapsell and writer Josh Tyler were teaching acting and screenwriting respectively and lunching together each day. "He just started asking me about the kinds of films I watched," says Tapsell, who started naming romantic comedy films such as Nora Ephron classics When Harry Met Sally, Sleepless in Seattle and You've Got Mail, and gems such as Four Weddings and a Funeral and Notting Hill. "I also thought about wedding films, like My Big Fat Greek Wedding," Tapsell recalls. "And then when I started to tell Josh more and more about where I grew up in the Northern Territory, he said, 'Why don't we set a rom-com up there?'"

Tyler says, "We liked a lot of British romantic comedies, but also some American ones like Two Weeks' Notice and television like The Mindy Project. We even talked about plays like A Midsummer Night's Dream! The romantic comedy's a very old genre in a lot of ways."

Which makes combining that genre with Australia's oldest culture so distinctive, and they knew they had a winning formula. Tapsell and Tyler bounced ideas off script editor Keith Thompson, they wrote together often while working in different cities, writing scenes individually and then swapping and revising each other's work. "We kept going back and forth like that until it felt like it was all one film," says Tyler. Then they hit on the idea of taking a road trip to the locations in the Northern Territory – in part so that Tyler could appreciate first-hand the landscapes and the culture of the places he was writing about, and also so that they could shoot a teaser trailer to submit to Goalpost Pictures with their script treatment.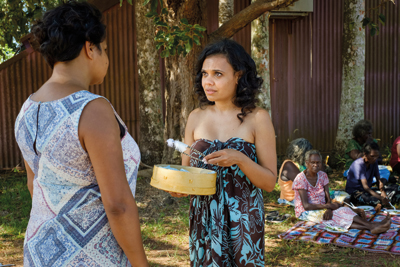 It certainly convinced Blight and du Fresne. "We had long standing relationships with both Miranda and Josh quite separately," says du Fresne. "Miranda of course through The Sapphires and Josh we had been developing some other projects with over the years. Unbeknownst to us they also knew each other, so it was a real delight when they both brought us the project. It had a wonderful spirit to it and showed the best of both their talents.

"Australia doesn't do many rom-coms. It's a genre that's much more associated with the US, where they do them really successfully. And then of course all the fabulous ones that came out of the UK. I think a lot of those were the benchmarks for Josh and Miranda, that they really loved this genre and would really love to do one, but do it in a very Australian way and do it in a place that was particularly close to Miranda's heart."

Blight says, "Miranda is such a beautiful effervescent person; she came in and said 'I'm determined that I want to do a romantic comedy. I thought there'd be a whole lot more after The Sapphires and there'd be these feisty, funny Aboriginal screenplays. It didn't happen. So I wrote it myself.' Totally irresistible!

"Then we talked about directors and she said, 'It has to be Wayne Blair.' So for us it really was a no-brainer. It was bringing the team back, the team we loved, the team we know. And that's really why we did it."

Kojo Entertaiment's Kate Croser came on board as a producer after meeting Blight. "I love that it's funny, but it's not just a comedy. It has so many layers to it; it has so much depth and heart. It's a beautiful mother-daughter story, that's the kind of movie that I'd go and see."

Says Blair, "The best thing about the script was that it was different. It was a unique romantic comedy set in the Northern Territory. And I thought, if I was going to do this once, I'd do a type of film like Top End Wedding. And it was working with Kylie and Rose again – that was great.

"With the story, I enjoyed all the comical elements," Blair says. "But what really stayed with me was this young person's journey to find out who she was and to eventually go home to her community. To have some sense of identity that wasn't there with her in those initial years of her life. That's what drew me to the story."

It was a bonus that Blair and Tapsell already had a close, strong bond from their work together on The Sapphires. "So we'd always be speaking to each other, communicating about scripts, or about performance or tone," says Blair. "All the Darwinisms, all those Northern Territory expressions that Miranda expressed to me in the sense of just making sure we acknowledged them."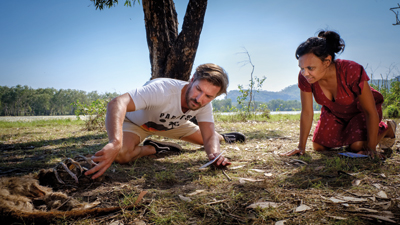 Tapsell's journey through the script process was one of empowerment, of taking charge of her destiny. "This process has been so incredible, the four years creating this beautiful story with Josh. Because now I understand how to do it. And not only that, it just feels so empowering to be able to make the stories that you want to see. Because that's what creatives are constantly telling young artists like myself to do, to write the stuff that you want to see, especially if it's not coming your way. I'm extraordinarily proud of what I've done and I can't wait to do more. Our industry is quite a small one here in Australia, so I think it's really important that you do get involved and you do keep it moving, keep it running. You don't keep it stagnant in one spot. Because if you wait for stories to happen they're not going to be the stories that you want. So you can be the one that empowers that."

The first table read of the script in Adelaide was when Tapsell truly felt the enormity of what she had accomplished, getting the film into production. "Everyone that was around the table wanted to be there, all of them believed in this story. That was actually the first time that everyone heard it. Just to see everyone believe in this young Aboriginal bride going home to meet her family for the first time was really heart-warming and special."

"The important thing, particularly with indigenous stories, is that it's really important to see that we're not a monolith. We're not just one, this community is very multifaceted, there's lots of intersections. So it's really important for that to be reflected, and it's important that we get more indigenous writers out there to tell their own individual stories."

Tapsell is also eager for audiences to see how love and beauty cross all barriers. "I hope what people take away from Top End Wedding when they see it is that it's not just the Katherine Heigls and Meg Ryans and Drew Barrymores and Reese Witherspoons that deserve love and respect. Because that's what I'm very aware of about this genre – this genre doesn't have many brown people in it, and that's obviously the way of the world. But I'm really keen to show that. It's really beautiful to see someone who doesn't look like the stereotypical Hollywood love interest, to see that there's someone that loves them so much that they're willing to go above and beyond, where there is no doubt that they want to be with that woman."

She was also committed to broadening an understanding of what beauty is. "A lot of men are only exposed to one certain type of beauty. And it was really important to have black beauty celebrated. I want Aboriginal women to watch this." Tapsell describes the special feeling of working with her Aboriginal cast mates, particularly the three women who played her character, Lauren's, bridesmaids. "Seeing the sparkle in their eyes and knowing I've created this for all of us."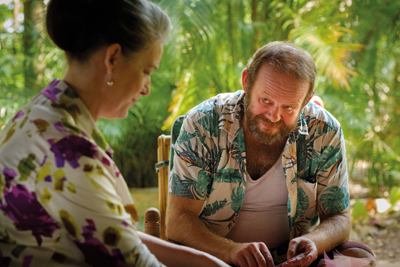 Tapsell being the pivotal anchor of Top End Wedding gave the producers and Blair a strong starting point to cast the net for the supporting cast. The search for Ned, the fiancé whose devotion for Lauren is tested by foreign places and people and comes through unwavering, led them outside Australia.

Blight says, "We have so many beautiful actors in this country and they're wonderful. But we realised they were all too familiar with the world, we needed an outsider. So when Gwilym Lee sent a test, we could immediately see something really interesting, we were discovering the world with him."

So getting Tapsell on a screen test with Lee - one of the stars of the international box office hit Bohemian Rhapsody - became imperative. As it happened, Tapsell was holidaying in Europe at that time so she went to London to test the chemistry. "We knew he was good," says Blight, "but together they were wonderful. They just clicked."

Says Blair, "There was something about this guy that was earthy, grounded, a little bit comically self-effacing, but also had this warmth and heart. Someone who could still step up to be a man when he had to."

Lee, fresh off filming Bohemian Rhapsody, in which he played legendary guitarist Brian May, was attracted to Top End Wedding on many levels. He had been to Australia as a teenager but after many years the idea of being a "fish out of water" appealed to his dramatic sensibility – playing a character in a world previously unseen, in places never before filmed. And he was compelled to work with Tapsell after their screen test together. She felt the same way.

"He's so compassionate and he constantly wants to make sure that you feel comfortable. He wants to hold the door open for you," says Tapsell. "He wants to carry your bags. He is perfect for the rom-com genre."

"It's been amazing working with Miranda," Lee says. "She's a little pocket rocket. She is so talented and she's wearing so many hats on this job – writer and actor and the weight of responsibility. I think she feels this responsibility to represent her people and indigenous people faithfully. So hopefully we've all been there to remind her that actually now our responsibility as a company, as a cast, is to try and tell this beautiful story that she's written, tell it as faithfully as possible, and not worry about whether we're going to represent the whole of indigenous culture in Australia, because that's just unfeasible. What we need to do is tell this very specific story as honestly as possible."

"And she's great fun. She's got such beautiful energy about herself. Everything you hear about Miranda Tapsell is true. She has a kind of infectious spirit. It's in the writing, but it's also in her performance and she's incredibly generous. When you're looking into her eyes during a shot you just feel safe. She's a very generous, kind, decent person. So that's been lovely."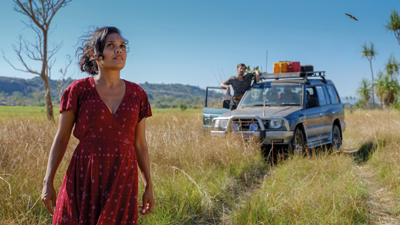 That delight extended to the experience of being back in Australia as well. "Being able to see parts of Australia that I'd never seen before. The Northern Territory, these great locations of Kakadu and Katherine and Tiwi, it felt like it was going to be a real adventure. Sure enough it's proved to be so.

"But it's also a beautiful story about two people, Ned and Lauren, trying to work out who they are. To work out their identities and backgrounds and who they are before taking that big step of marrying each other."

While Lauren is seeking the truth about her heritage and especially her mother's story, Ned is what Lee describes as a lost soul, an optimist but stuck in a rut, living up to the expectations of his late father. "During the film he realises that to please his father what he really needs to do is follow his passions and be more impulsive and more spontaneous. By the end he works out who he is, he knows what he wants to do with his future, and he seems a much more contented character. And contented with the memory of his father."

The other major male figure in Lauren's life, her father, is played by leading British/Australian actor Huw Higginson. "For the dad we needed someone who could play the comedy subtlety," says du Fresne. "He was the first person to test for the role. And we then saw a whole lot of other people but we came back to Huw. We knew he was good, but we just didn't know the depth of where he could go. And he delivered that."

Higginson describes his character's importance in the film. "Lauren comes back because she has to get married within ten days, only to discover her dad, Trevor, is very morose and upset because his wife has left him. So his journey in the film is also one of discovery. He spends an awful lot of time in the beginning of the film feeling very sorry for himself and feeling very emotional. And slowly he's brought out of himself by the set of circumstances of organising the wedding, plus having another strong female in his house who helps him, while he helps her move beyond the place where they're stuck and they can't move. So for him it's a story of redemption as well, without giving away the ending. It's about his journey to find out how his life can perhaps work again with his wife."

That wife, Lauren's mother, is Daffy, played by Ursula Yovich who, according to Blight has incredible depth. "Ursula has so much soul, you see her on screen and you understand her very quickly, you never forget her"

Says Yovich, "We don't get to see Daffy at the beginning of the film but we get a sense of who she is from what her daughter Lauren says about her and what others say about her. I feel like she's a real mum, very straight. Through trying to find her you discover that she's done things that she wouldn't necessarily do in her everyday life, things that are out of character. She's obviously unhappy and has to remove herself in order to find the time to go and deal with this one thing that she hasn't dealt with since she was a young woman."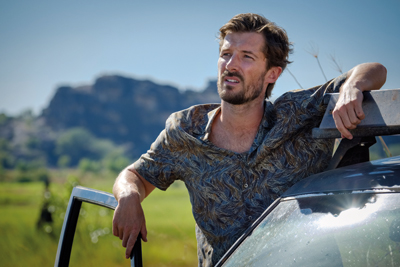 Opening the film, Daffy is seen in flashback as a young girl being promised to a local boy, but she is in love with someone else and flees to follow her heart. The powerful messages about indigenous life and culture appealed to Yovich, a Darwinian. "Anything with black culture, indigenous culture, I've got a massive interest in because that's something I can't run away from. I love anything to do with coming home and reconnecting as well. And that's what this story is about. You do follow Lauren, but it's hers and her mother's story in a sense of having to return home, having to reconnect with family and culture."

Meanwhile another strong female character in the film is Hampton, Lauren's law firm boss, played by the indomitable Kerry Fox, the iconic New Zealand actor based in the United Kingdom. Hampton begrudgingly flies to Darwin from Adelaide to help with the wedding when plans go awry.

Fox had met director Blair at a film festival during the international success of The Sapphires. She was very interested in working with him if the opportunity came up and the character of Hampton intrigued her, especially in the era of "Time's Up" and the call for women to support each other.

"I think that a lot of women are quite isolated in the way they work, and with what's happening in the world now and our understanding of how to function, the good thing is that we learn to lift other women up. So instead of just being out there by ourselves, our job and responsibility is to give everybody a leg up, and other women particularly. That is what I have understood as an expression for Hampton as a character. She has mentored Miranda's character Lauren, she has certainly been supporting her, but she's been hard and tough, and she's expecting her to be as she herself was – an isolated, determined workaholic. But then she realises she doesn't need to be that. She can just support this mentoree as the person she is. Accept and support her. That's the change in her.

"And we can't deny the racial issue. Because I'm playing a white character who's hard-arsed and isolated, and Miranda's playing an indigenous character who has been denying her family, but the importance of family and support is what's making her into the person she wants to be. So Hampton understands, learns, accepts, supports what family, history, culture, past and genetics play in our existence."

Fox enjoyed her on-screen relationship with Higginson and the dynamic of their characters. "Interestingly Huw is a Brit, and I'm a Kiwi living in the UK. So I understand him. Trevor is a very vulnerable character, and lost and needing a great deal of support. And that's what my character is best at – giving people the oomph and basis to feel confident in themselves. She's a springboard."

Rounding off the featured cast is a trio of female Aboriginal actors who play Lauren's friends and bridesmaids – Shari Sebbens, Elaine Crombie and Dalara Williams – all comedic talents with great energy.

Says Sebbens, "It was that great thing that every female friendship has where you can just pick up where you left off. It's really lovely to see that portrayed in a film, it's really beautiful to see four black women and their relationship, that sense of sisterhood that we have amongst us in real life, played out on screen."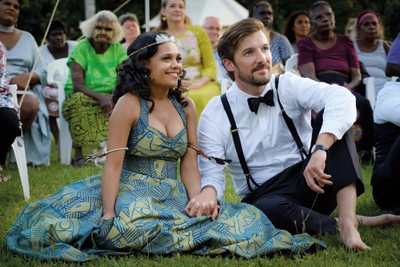 For Sebbens, a Darwinian who starred with Tapsell in The Sapphires and remained close friends, the film was also a personal triumph. "I'm very fortunate in that with Miranda and I, our first feature film together was The Sapphires, and now a few years down the track we get to come home and bring a great cast and crew, some of which were on The Sapphires originally with us as well. It means a lot to be able to come home, to Darwin, and show off our home town and the Territory to the world. We hope that everybody gains the same appreciation we have".

"Shari Sebbens is my best friend and it's been seven years since we shot The Sapphires together," says Tapsell. "So it's lovely to be back again with her. She plays my maid of honour in this film and she's the best person for it. She's also going to be one of my bridesmaids in my actual wedding, so this is practice for her," she adds with a laugh, when admitting she was engaged and planning her own real-life wedding during the film shoot.

Filming ranged across locations including Darwin, Kakadu National Park, Katherine, Nitmiluk National Park and the Tiwi Islands. In all places, there was important liaison with the local Aboriginal communities, the producing team ensuring that approvals were granted to film and that due respect was paid to the original owners of the lands and the current residents of the communities. Blight describes her connections with the people of Katherine and Nitmiluk.

"The Jawoyn people are the traditional owners of that area," says Blight. "They secured the land rights back for Nitmiluk Gorge and understand that it's a beautiful, incredibly wonderful place for the whole country, for all Australians to be in. They take great effort to teach you about the land. A number of movies had been shot there before. Jedda, one of the first Australian movies ever made, by Charles Chauvel and Greg McLean's Rogue. Top End Wedding is really different, and they really loved that. They're a people who are full of joy and understanding of their country and work very hard to make sure that all of us can appreciate it and be part of it. I can't wait for everyone to see Nitmiluk."

Croser worked with the Kakadu National Parks team and the Kakadu locals. "It was a period of about six months before the film shot, making regular trips, probably once or twice a month going up to Kakadu, which from Adelaide took 24 hours to get there and back just for one meeting. But it was really worth it because we really managed to show people how serious we were about showcasing the beauty of their country and telling the story in a respectful way."

Wayne Blair says that while it was challenging for the production to shoot in remote locations and to move such vast distances, filming on traditional lands across the Northern Territory makes the film both unique and authentic.

"We shot in Adelaide, then Darwin, Kakadu, back to Darwin, the Tiwi Islands and then back to Darwin again. That's a challenging schedule for any film. We had to be incredibly organised. The producers did a great job communicating with the Traditional Owners. We did it the right way and were welcomed as a result, which was so beautiful for the film. It really couldn't have been made anywhere else other than the Northern Territory – that was at the core of Miranda and Josh's mission statement."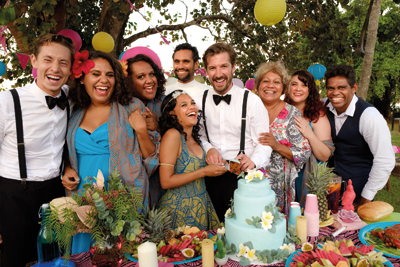 Says Tapsell, visibly enraptured, "Shooting at Nitmiluk was out of control. We shot in the second Gorge, and I was on a boat going through this beautiful picturesque escarpment, looking up and around at my surroundings and I felt very much like Kate Winslet in Titanic. The only thing was that no one was there to hold me. Which I was really hurt about."

Lee was intensely affected by the location and its people, especially on the Tiwi Islands. The night before shooting the emotionally charged wedding scene, the cast and crew having finished dinner and relaxing around their tables, an unexpected gift from the older Tiwi women – singing and playing guitars in an impromptu personal concert – put everyone in the mood for what was ahead.

"It was beautiful because it was so spontaneous, so real and authentic," says Lee. "It was just them welcoming us onto their island, into their community. And they finished by singing a healing song, to give us goodwill and good energy for the next day when we were filming the wedding. We were all deeply moved by this, and sure enough, we slept really peacefully. And the next day we woke up and everybody that was witness to this moment had a real warm spirit about themselves. It resulted in a brilliant day. Filming the wedding on Tiwi was a day I'll never forget. And I think a large part of it is because we were given this beautiful moment the night before by the local elder women."

"The wedding on Tiwi was overwhelming and heartwarming," Tapsell recalls, "because the Tiwi people were so encouraging and enthusiastic. Some of them thought it was my real wedding! We had the Tiwi Women's Choir Ngarukuruwala singing in language, a beautiful love song, and I was in tears. A lot of people in the church were in tears."

Why a Tiwi Islands wedding? Says Tapsell, "I felt that it needed to be on the Tiwi Islands because when I first came over here with my mum, I was blown away not only by the scenery and the vegetation, but the art, the carvings, the paintings, the murals. And particularly the fabrics, all the colours. I just thought, 'Oh, this is all just too beautiful not to set it up here.'"

The wedding dress was designed by a couturier in Adelaide and made with local Tiwi Islands screen-printed fabric. An authentic ceremonial headdress and armbands completed the costume. It was the culmination of a greatly inspiring project for costume designer Heather Wallace, who says, "One of the big challenges was the wedding dress, incorporating the Tiwi design and making sure everybody was happy, particularly Miranda, and I think we succeeded."

The meeting of authentic islander style with Hollywood glamour was on their minds. "The cut of the dress was dictated by the fabric. I knew that it was going to be a stiffer kind of fabric from the printing process; it gives a lot more body to the fabric. We talked about Elizabeth Taylor and her beautiful necklines, so we incorporated the two different things. Then was the process of sending the cut fabric over to Tiwi as we wanted a Tiwi bird design. Once Miranda put the armbands on and the headpiece, she just looked like a Tiwi princess, it was amazing. That really finished it off beautifully."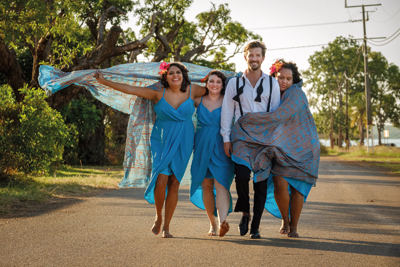 For production designer Amy Baker, the wedding scene was "any designer's dream" and she embraced the warmth and character of the community into the set. For the rest of the film, she went for a more muted, toned-down approach as fundamental. The landscapes would speak for themselves through Lui's lens, without the sets shouting out for attention. She wanted the film to avoid looking "bawdy and brassy" as some other Australian outback comedies might have done.

"I feel like Australia should be able to do comedy that's a bit sophisticated and plays to a sophisticated palette and visual style. That it doesn't go to those extremes we've done before – which is all great and I love those films as much as everyone else – but I just thought we could try something a bit different. So I worked towards quite a restricted palette; it was all secondary and tertiary colours, rather than primary colours that are quite often the colours of the clown for example, which people find funny. I think that's really helped cohesively tie it together; it's quite beautiful with the gorgeous landscape playing into that middle zone."

Naturally the landscape informed the look of the film. "When you really stare at a landscape, apart from the most intense, amazing ochres, there are all the lavenders and pale blues in the actual rock formations. So I was going with some of those, and the mint greens, and then you get to Tiwi and they've got the stunning paintings and all their murals and the houses dotted all through the landscape. It wasn't hard to collect all those colours together and make a really gorgeous palette for us all to reasonably stick to, to give the film some cohesion."

The entire film's structure was down to the editing skills of Chris Plummer, who director Wayne Blair trusted completely to bring the story together when all the other components were in place. "We had to be aware of balancing the comedy and some of the deeper heart-warming moments. It felt like Chris did a really beautiful job with that in his massaging of how the film progressed," says Blair.

Plummer talks about the unique shifts in the film and how he managed that balance. "There's a scene where we break the rule of rom-coms and also we break the rule of traditional flashback narrative, where Miranda Tapsell's character Lauren is in the car, she finds a CD, she puts it on and it's a traditional Tiwi Islands song. And then we cut to her mother singing it on a rock in Kakadu. We've never met her before, the mother, we've just seen a photo of her in her husband's pantry. So the whole tone changes. It suddenly opens up and becomes a very emotional journey. That was a scene both Wayne and I really fought for because it took us a while to make it work, but we knew that that was what was going to make this movie different from other rom-coms. That we would have the comedy and we would have the chase and the caper thing, but then at a certain point the movie becomes about something else, which is about family and about homeland, and what's important to you."

Antony Partos's score was also an essential binding ingredient. He had worked with Blair previously and their rapport and empathy were immediate. "The script had a lot of wit, a lot of charm and a lot of heart to it. And I could see some of the timing in the delivery, I could see how my music could hopefully interact with that and draw it out without being too "Mickey Mouse". We wanted to create a palette that had a cheekiness and intimacy, so there was never any talk of having a big orchestral score, or having an electronic score. This was about creating an acoustic, intimate feeling. A little bit left of center, so it was trying to find unique sounding instruments that lift the audience's ear to it, but without being too 'look at me.' We were drawn to a lot of ukulele, mandolin and acoustic guitar, but also deep, pitched down acoustic guitar to create the bass elements."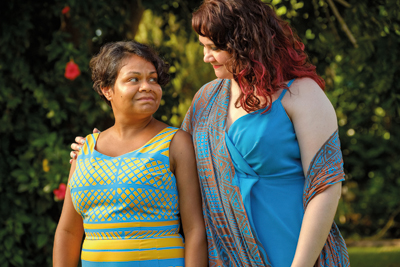 Partos's score worked in with the local indigenous music and the local singers from the Tiwi Women's Choir, Ngarukuruwala. The Tiwi music consultant and coordinator, Genevieve Campbell, was invaluable. Says Partos, "She's a remarkable woman because she not only speaks the language but is a great preserver of the culture and is very influential in promoting them in a way that is sensitive and appropriate. She was a great conduit between me and the women to try and get the performances. And choosing the songs, which were appropriate for the film."

The importance of the indigenous tone of a film that was still primarily a love story with comic elements was never far from anyone's, especially Wayne's, mind. Says Blight, "we have many accomplished indigenous actors alongside people who may have never acted before, especially local people from the Tiwi Islands. Wayne workshopped extensively with these non-actors and two characters in particular, Lauren's grandparents Macarius and Eugenia (played by Bernard Tipiloura and Lynette Marie Johnson, respectively) have emerged from that process and will break your heart. Wayne, who is an actor himself, has an incredible ability to get truth from all his cast."

Croser adds, "It was really important to us that we had as many Aboriginal people as we could on the crew and in the cast to tell this story. Because obviously it's come from Miranda Tapsell, an Aboriginal woman, and you get a sense of that authentic voice and a true representation of modern Australia at the moment. We have an Aboriginal director, we have an Aboriginal director of photography. We had several Aboriginal interns who we were able to engage with the support of Screen Australia and Screen Territory. It was just as important for us to put as many Aboriginal faces on screen as we could in telling the story, and as many Aboriginal people behind the camera as well."

For Tapsell, it was a combination of many journeys, and a true coming home for her personally. "Since I've come back I have really reconnected with family and the community. To have the community involved, to have them excited about the film, is really excellent. I feel really grounded and centred here."