Top 7 Wedding Invitations Your Friends Won't Have
An estimated 116, 000 weddings take place in Australia each year. That equates to a hefty price for postage, for wedding invitations alone! But, of course, every bride
would be willing to fork it out to ensure that the best day of her life is complete and utter perfection. For some brides, the wedding invite acts a teaser for what is to come – it
reveals to guests snippets of what to expect, without disclosing everything.

Traditional wedding invites are just that – traditional. No one wants a typical, been-there-done-that wedding invitation! Invites now come in all shapes and sizes, with all sorts of designs. So go on, amaze your guests with these seven wedding invitations that your friends wouldn't have!

3D pop-up wedding invitations
Stand out with these 3D pop-up cards that are taking the market by storm! 3D Cards is an online store that offers intricate 3D pop-up cards that are laser-cut and then assembled by hand. Your guests will love these innovative and beautifully handcrafted wedding invites!
http://www.3dcards.com.au

Vintage is in, and so are your invitations
Transform old gadgets into funky invitations, like these classic custom-made View-Master wedding invitations. Your invites will look sentimental and classic, and be a ton of fun for your guests to peek into! They are completely customisable, and so cute!
Look beyond the page, try something new
Why not try a new printing technique with your wedding invitations? Many couples are now printing their wedding invites on materials other than paper, such as wood, fabric and even metal!
The end result: a super cool wedding invite that looks worthy of being framed!

Add a personal touch with DIY invitations
Be quirky and creative, and get started on making your own wedding invitations! Not only will this save you money, but you can also add your own personal flair to it. There are plenty of designs to choose from – vintage, rustic, elegant, and more! This is your chance to showcase your craft skills, and personalise your invitations.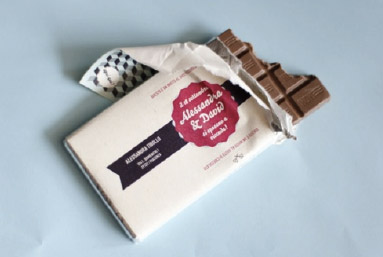 Chocolate. Always chocolate.
What would be better than receiving an invitation for your friend's special day? Not
much else, except quite possibly receiving an invitation in the form of a chocolate bar!
Satisfy your guests' tummies before they even get to your wedding with these quirky and
delicious chocolate bar wedding invites!

Useful wedding invites!
Let's be realistic, your wedding invites will most likely end up crinkled and torn in a corner somewhere, or even become a makeshift coffee mug coaster. Put your mind at ease by giving your guests a wedding invite they can use! These awesome invitation boxes unfold to make a candleholder, and provide the guests with all the details
of the wedding!

Folded map invitations
Do you and your partner both have incurable wanderlust and a constant crave for seeing the world? These beautiful map invites are easy to make and also pretty to look at! Share your love of travelling by customising these invitations with the places you and your partner have been, or even by marking the location of where your wedding will be held!