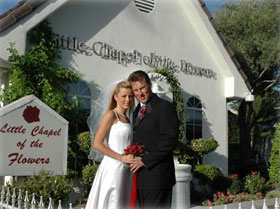 By Mirvat Sarkis.

Why are the rich and famous opting for cheap no-frills weddings rather than elaborate ones? Well its seems just like fashion changes every season, so do the minds of the super rich and famous. This trend was pioneered by the sophisticated Hollywood veteran Joan Collins, Britney made it famous again earlier this year in her record breaking 55-hour marriage to childhood friend Jason Allen Alexander and now hotel heiress Nikki Hilton has redefined it once again.

What is it that is so intriguing about the little white chapel that has held thousands of instantaneous wedding ceremonies of sorts over the years? Is it the fact that anyone can go and be married ten minutes later? Is it because its just another day just another marriage? Is it to experiment what its like to be married to quote the great Britney?

Who knows what goes through the minds of these people who have more money than sense, but one thing is for sure, they don't feel they are above society to have a wedding that normal people could afford. It seems these days weddings are becoming a less formal thing, take the almighty J.Lo for instance. She married literally in her backyard, had a barbeque for the reception and ended the night with a football game on TV, a far cry from the extravagant planned wedding that never happened to Ben Affleck however not all hope is lost, some dignity still exists in weddings, take for instance Tori Spellings wedding ceremony a few months ago held in the Spelling compound in Beverly hills naturally where the ceremony costed well beyond the $1,000,000 mark or the upcoming Trump wedding, don't expect less than 1,000 guests and a multi-million dollar price tag to match.