A TASTY DOSE OF RAQUEL

EXCLUSIVE Raquel Welch/Legally Blonde,Tortilla Soup Interview
by Paul Fischer our LA correspondent.
At 60, Raquel Welch is undergoing something of a screen renaissance, from her cameo in the recent hit Legally Blonde, to her comic turn in the Indie film Tortilla Soup. As Paul Fischer discovered when he met the sixties sex symbol, like good wine, she has aged perfectly.
It's hard to believe that 1960s sex goddess Raquel Welch celebrated her 60th birthday last year - but then she can't believe it herself, she admits. "I've got to tell you 60 was not a happy time", the still glam actress confesses. "It was a happy time in my LIFE, but the idea of turning 60 was more frightening than the reality. It's not like you think: Hey I'm falling apart, but instead you go: Wow, that's REALLY getting up there and you really start thinking about your priorities." Those have changed, Welch insists, from those of her youth. "I used to believe that you can design your own destiny, until I realised that you're like a surfer, taking the wave that comes, ride it and negotiate the different things that happen in the sea of life. What occurs to me now, is that I'm far more ready to go with the flow of things, which has to do with more self-acceptance in saying: I've done certain things, I've experienced that and right now for me to be in character roles, and come back into film wor
k, just feels very comfortable for me and I feel happy with the work I've done. Whereas earlier, even though I had all this big stardom, I never felt happy about my work."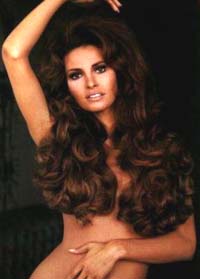 Welch had her first taste of the entertainment world by entering beauty contests as a teenager. Upon graduating from La Jolla High School in California she worked as a model, waitress, and television weather-girl until making her film debut in 1964 in an uncredited role in the Elvis Presley film, "Roustabout". Around this time she divorced from James Welch, her high school sweetheart, whom she married in 1959 and had two children with; Tahnee, also an actress, and son Damon, a computer consultant and actor. In 1965 she landed the lead role in "Do Not Disturb". Although the film itself was mildly received, what resulted was a contract with Fox which won her a role in another sci-fi flick, "Fantastic Voyage".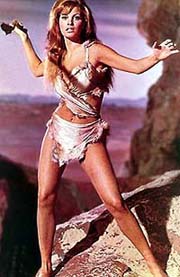 But perhaps her most well-known work was in "One Million Years B.C.", shot in the same year, a part which launched the five foot six beauty into international sex symbol status. Looking back, Welch recalls that it was a tough time to be a sex symbol. "The mid-sixties was not the best time to be a sex symbol, at a time of flower-children and the beginnings of the anti-war movement", Welch explains. "It was a hybrid, weird feeling; you couldn't cast me in anything." Welch recalls the sudden craziness of it all. "I was asked to go to the Canary Islands to do this little movie called 1,000,000 Years B.C. I thought it was going to be one of those awful, early films that you're forced to do, and then I'd go on with the rest of my career." Welch had no idea that upon her return from the Canary Islands, her life would never be the same again. "I got out of the plane in London, and the place was like locusts, full of photographers. It was then that I realised: Oh my God, it's happening, I'm becoming a huge star and I don't know what to do." She admits to having been both elated and terrified at the same time. That infamous poster of Welch in that film has since been embedded in popular culture. "It just took on a life of its own and after a long time of trying to live up to it and live it down, I just de
cided to accept it, expand, go on and not be blinded by it."
Beyond the 60s, Welch has grown old gracefully as the movies changed. In an age where Hollywood remains obsessed with youth, the actress remains somewhat philosophical about getting older in tinsel town. "I think, relatively speaking, it's not as hard as what you think it is, but it's hard just the same." Having studied dance 30 years ago, has given Welch "an appreciation for what it took to keep the body in condition. At 35 I discovered Yoga, which is the great rejuvenator."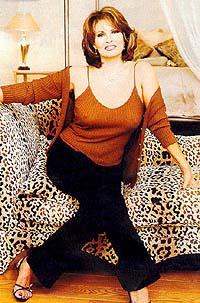 Now Raquel shines brighter than ever, happy with husband number 4, professionally, she is on a roll these days, 60 or not, with a revitalisation of her film career. First, she pops up in the hit comedy Legally Blonde, "where I get a chance to poke fun at myself in a fun role." Then in Tortilla Soup, a low-budget, boisterous reworking of Ang Lee's Eat Man Drink Woman, Welch is clearly having a blast, playing a sprightly grandma who has the hots for dashing widowed chef Hector Elizondo. "She's such a fun character", Welch explains smilingly. "You have to be wiling to make a fool of yourself and I certainly was." She laughingly adds that the older she gets the easier it is "to just go ahead and make a fool of yourself." Welch defines Tortilla Soup "as a comedy derived from real-life situations, which makes it so wonderful. The food in the movie is really a metaphor for life, and each character is coming from different directions; we're all going through a life-change moment, as it so happens."
Food is a dominant theme in Tortilla Soup, a subject Welch is all too versed in. After all, her current husband of two years, Richie Palmer, happens to own one of the best pizza chains in California: Richie's Neighborhood Pizza, no less. "You must try it. It's traditional New York pizza, which means it comes from the old school of all those old Italian neighbourhoods, which Richie picked up when he was growing up in the Bronx and he picked up their recipes." So with a baker for a hubbie, Welch happily admits she does very little cooking at home. "We also have a wonderful housekeeper/cook called Jean and who's been with me for 15 years. She's a FABULOUS cook, because she makes everything taste so succulent and delicious, and it's all completely non-fat and doesn't have any stuff in it that will make you beef up." No wonder this youthful 60-year old still looks so amazing. "I also spend at least 6 days a week in the gym", she continues to explain. "Fortunately I'm married to a man who will go to the gym with me in the mornings, and that's our time." Married four times, Welch jokes about her previous marriages, recalling that none of them, except her current husband, was all that handy --- in the kitchen. "My first husband did not cook, while my second husband probably SHOULD have cooked, because that would have been his ONLY talent", while hubbie number three, a Frenchman, could "only cook but little else." With number four, "this is it and he's great with his hands." OK, well, perhaps enough said."