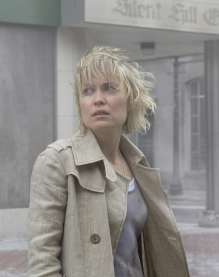 by Paul Fischer in Los Angeles.


AUSSIE RADHA STARS IN NEW VIDEO GAME MOVIE.
10 years after making a splash in the low-budget Australian comedy Love and Other Catastrophes, beautiful Radha Mitchell, who primarily calls Los Angeles home, has gone from working with Woody Allen to starring in a terrifying new adaptation of yet another video game, Silent Hill. Radha Mitchell recently saw the finished film in Paris, she recalls and happily admits, on the phone from a New York hotel room, "it looks really cool, and for me it was surprisingly beautiful. I didnt expect the movie to be that beautiful or emotionally resonant. So its kind of poetic in a lot of ways, but at the same time very violent and some of the images are disturbingly terrifying and theres a lot of shock value in what you see. But for me the overall affect was that it was quite beautiful." Radha Mitchell admits that when she initially read Roger Avarys screenplay, "I got to page 30 and it scared me. It was like a Friday night and I thought, oh, this is just too much so I put it down, and I picked it up, read it the next day and finished it." The actress adds that "for the there was something haunting about the story and Id be, like, cooking food or, in the shower and have images from the script come into my mind. So I always felt like there was something about the script that was unusual, strange and somewhat haunting." It was French director Christophe Gans that finally convinced her to do the film. "When I met Christophe he kind of explained his point of view. I really didnt know anything about Silent Hill the videogame, even though I was interested in the idea of making a videogame movie, but I didnt quite understand it. Christophe is a real film buff and also a huge fan of the game, and he at one point I think played the game for three days straight without going to the toilet."

Radha Mitchell laughingly concedes that she is not quite as obsessive about the video game culture. "I didnt know much about videogames until we started shooting the film. I mean I knew a little bit about Grand Theft Auto because I was playing that, when we were shooting Man on Fire, but to play THIS game you have to take notes and youre sitting there with a pen and paper trying to understand where you go next. Theres a whole mystery thats part of the game that you uncover, and the mood and atmosphere of it is very, very hypnotic. So just the idea of making a film where its open can be open to interpretation what happens, and what doesnt happen, was appealing."

In the movie, Radha Mitchell plays Rose, desperate to find her child Sharon, who finds herself trapped in an alternate dimension as she searches for her daughter in a world of decay inhabited by strange beings. Over the protests of her husband, she flees with her child, heading for an abandoned town to which the child seems drawn. Sharon disappears in the town, and Rose follows what she thinks is her daughter's silhouette into what seems like an alternate reality. It's soon clear this place is not like anywhere she's ever been. It's smothered by fog, inhabited by a variety of strange beings and periodically overcome by a living Darkness that literally transforms everything it touches. Joined by Cybil, a local police officer, Rose searches for her little girl while learning the history of the strange town and realizing that Sharon is just a pawn in a larger game. The actress says she also enjoys playing a mother. "I think mothers in, in cinema are generally depicted as these sort of attaché characters and the fact that theyre mothers is kind of an embedment; but, in this case theres sort of a celebration of motherhood. I mean I lose my daughter and Im looking for her, and for me it was kind of like losing a piece of yourself and trying to find her. However a lot of the characters in Silent Hill are female and they all have their own relationship to the idea of this missing child. One of them is a cop and she kicks ass, and another one, is this kind of mangled creature, witch woman, and she also has a connection to the girl, and then theres another woman whos this puritanical, kind of a character who controls a lot of what goes on in Silent Hill. So it was a surprisingly female story in this genre where you dont normally see women depicted in this way."

Radha Mitchell remains quite the busy actress, still waiting for the release of Mozart and the Whale, admitting, with more than a hit of bemused frustration, "I dont know whats going on with Mozart and the Whale. It had a small release in Spokane I think and theres some debate as to how, what, where and so on." She also finished work on PU-239 "and its probably going to screen in Toronto." And for the first time in a decade, Radha Mitchell returned to Australia to star in the thriller Rogue, for director Greg McLean, who helmed the sleeper hit, Wolf Creek. "It was funny going back to shoot it there because Ive always identified myself in some ways with being Australian living in L.A. and then, the character I play in the movie has never left the Northern Territory," the actress says, laughingly. "Shes very much like the country chick and I had to relearn my accent. I had accent training to be, like a Northern Territory girl, so that was just funny because Id always, identified myself as being Australian, and that was one of the sort of things I had to deal with while shooting the film." Filming in Central Australia was a unique experience for her, she explains. "It really opened my eyes in so many ways about what it is to be Australian and what Australia actually is. We have our own dark history which I dont think weve reconciled and I dont know how were going to do that, but that was something that we, saw and then there was this incredible nature that we were a part of. We were shooting with live crocodiles in the most remote areas, so it was it was an adventure. But, I was also kind of happy to be in Melbourne, because the rest of the film was shot in Warburton, about two hours outside of Melbourne. So its kind of near my family, and I had the experience of working and then being able to hang out with my mum which never happens over here in the States."

Ten years after Radha Mitchell and I first met at the Sundance Film Festival, one has to finally wonder whether she remains surprised at how her career has gone. "I dont know. I mean everything surprises me, this big adventure, the whole thing, but, Ive always been fairly open-minded about where its going to go and where it isnt going to go and so Ive actually just had a lot of fun being involved in these projects of late." As for whats next, this Aussie starlet is adopting a wait-0and-see attitude. "I dont know whats coming up next. Im sort of waiting as this is coming out in the next week or two so Im going to do all this and then just go on a little break. I just got back from Australia about a month ago, so Im looking forward to just relaxing for a minute."