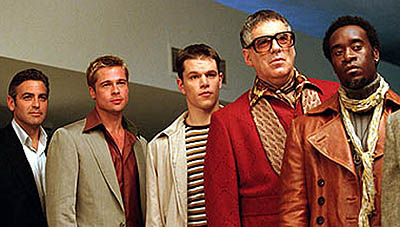 OUR AUSTRALIAN EXCLUSIVE:
HOLLYWOOD'S ROYAL FLUSH
What do you get when you mix A-listers George Clooney, Matt Damon, Andy Garcia, Brad Pitt, Julia Roberts and Don Cheadle, plus veteran producer Jerry Weintraub and Oscar-winning director Steven Soderbergh? Enough heat to melt by. So when one is confronted by this much talent in one hotel room, it's fun to feel the sparks fly.

George Clooney admits to having been reticent before adopting the old Frank Sinatra role of Danny Ocean in Steven Soderbergh's hip new rendition of the not-so-classic original. "I'll be the first to tell you that I'm never going to be as cool as Sinatra," Clooney says, of the legendary crooner who starred with buddies Dean Martin, Sammy Davis Jnr and Frank Lawford in the 1960 original. "The thing is, I LOVE those guys, they were heroes of mine, listening to the tapes of them when they were in Chicago they were just the funniest guys in the world and hysterically funny together, they were just the coolest guys ever."

But Clooney is quick to point out that for this version, George and company were trying not to do that. "When they first started talking about doing Ocean's 11, I didn't want to get sort of caught up in THAT, but then once you start the movie and it's such a great script, we never looked back at that, nor ever said, "Oh this is sort of like Frank and Sammy and Dean"; that never really existed. This is a whole movie unto itself. Now, as we start to SELL the movie, we will all have to talk about it and you know, that's fine. It's part of it. But, we're never going to be as cool as those guys; we just went in and just had a blast."

Adds director Steven Soderbergh: "The original is remembered fondly by those who haven't seen it. It's a wonderful document to have of those guys and the shots of Vegas where there's nothing -- maybe two hotels. It's wild to look at that now. But if you watch the movie just for the entertainment, it's excruciating."

Ocean's Eleven may not seem the obvious choice for Soderbergh, given his Oscar winning Traffic and Erin Brockovich. The acclaimed director always maintained that Ocean's would be his fun movie. "We're not going after casino reform with this," Soderbergh jokes,This all-new Ocean's Eleven casts a self-effacing Clooney as Danny Ocean, a suave thief, just out of jail, who wants to steal $150 million from the Vegas casinos -- the Bellagio, the MGM Grand and the Mirage -- that just happen to be owned by the man (Andy Garcia) now dating Ocean's ex-wife (Julia Roberts).

Soderbergh fell in love with Ted Griffin's script first and passed it along to Clooney, with whom Soderbergh had previously collaborated on the critically acclaimed Out of Sight. The pair was able to finally assemble cast, which included the likes of Julia Roberts, Andy Garcia, Brad Pitt and Matt Damon who all agreed to take significant salary cuts in exchange for a back-end deal on the film's potential profits. To round out the 11, Soderbergh cast Elliott Gould, Bernie Mac, Don Cheadle, Casey Affleck, Scott Caan, Eddie Jemison, Chinese acrobat Shaobo Qin and the legendary Carl Reiner.

"It's too bad Steven couldn't draw real talent to this film and that it's a bunch of no-names and hacks," joked Cheadle, who worked with Soderbergh in "Out of Sight" and "Traffic." "But they did their best. And as the veteran I tried to bring everyone along."

One wonders what it is about Soderbergh that attracts these A-listers to his fold. "Well mostly you feel sorry for the guy because he can't get work; he's on his last leg financially," quips Clooney.

"Look you just want to work with the best directors you can, PERIOD." Julia Roberts who won an Oscar for Brockovich maintains she'll do anything he will ask of her. "I just really like Steven and I think that he has a very deep respect and appreciation for movies and a great story told well, and that in conjunction with his own intelligence. Also he had contractually hired the handicapped, when it comes to acting, so it's a good combination. I have a kind of reckless abandon when it comes to my job, and he has precision, and I think those two together work most of the time."

One of the major elements that both the original Ocean's and this version has in common, is that in both films one is acutely aware of the genuine on-screen chemistry among the cast.

The Soderbergh film was shot on location in Las Vegas and the actors all stayed at the Bellagio, living in suites across from each other. The cast then had the opportunity to take advantage of what Vegas had to offer. "I'm a Method actor, so I spent years training for the drinking and carousing I had to do for this film," Clooney says dryly. "So I was perfectly prepared for it." Co-star Matt Damon agrees: "George called me six months before the movie and said, 'We've really got to start on our research.' And we were off to Vegas."

Though a boys' movie, Roberts had fun just being 'the girl' in this and being one of the guys during production. "It was nice to be the only girl. I thought it would be a more kind of queenly experience but I just knew that come what may, THAT would be my distinction. I would forever be 'the girl', and nobody could change that, so George tried," Roberts adds laughingly.

A-list stars these might be, but ensemble egos? No way. These stars insist that it doesn't pay to act like A-list jerks. No wonder this group has the reputation of actually be nice. Comments Andy Garcia: "The fact that we happen to do something that is in the limelight and blessed with the opportunity to do what we do, and the fact that brings a certain amount of celebrity, does not give you the permission to be an asshole. You know, the most important thing in life is how you conduct yourself and that's the legacy you leave behind for your children and hopefully for your friends that outlive you to think about you, that's what it's all about, your work is secondary. So those who think they have the ability to, or the privilege, I'm on this pedestal and therefore I can be a certain way, then fuck em."