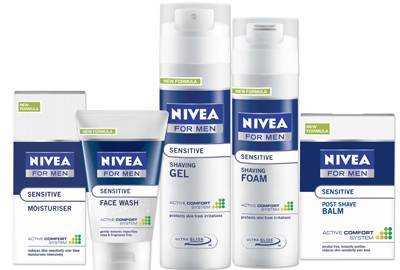 A significant 40% of Australian men claim to suffer from sensitive skin and when the only options available are either to suffer in silence from recurring irritation or put off shaving and live with a beard, it's clear that there is a strong need for a proper solution.

Worldwide No.1 brand in men's skincare, Nivea For Men, are coming to the rescue with the release of its new and improved Nivea For Men Sensitive range with Active Comfort System. Featuring new formulations based on the most advanced skin care technology, Nivea For Men Sensitive range actually improves the skin's defence over time as well as soothes irritations instantly. Dermatologist-approved and free from parabens and alcohol, each product is enriched with a combination of ingredients - including pure and natural Chamomile and Vitamin E - and work together as an Active Comfort System to soothe and moisturise the skin.

While the interpretation of what sensitive skin actually is may differ from man to man, it's clear that everyone's skin can react sensitively to many causes. There are internal factors such as stress, diet and hormonal changes and external factors such as shaving reaction, pollution and climate changes.

NIVEA offers a complete range of products to combat sensitive skin - from cleansing to shaving to skin care.
Nivea For Men Sensitive Face Wash, 100ml (RRP $7.99)
Nivea For Men Sensitive Shaving Foam, 200ml (RRP $5.62)
Nivea For Men Shaving Gel, 200ml (RRP $5.99)
Nivea For Men Sensitive Post Shave Balm, 100ml (RRP $11.14)
Nivea For Men Sensitive Moisturiser, 75ml (RRP $11.26)

With Nivea For Men Sensitive, men will no longer be forced to hide behind a beard, but can instead embrace regular smooth shaves and feel confident in revealing healthy, cared-for skin. To achieve the best result, Nivea recommends following the complete Nivea For Men Sensitive regime.