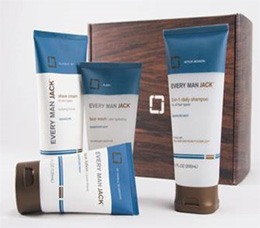 An obvious albeit long ignored niche in the men's grooming market for a comprehensive and quality range of hair, body and skincare... minus the fuss or overt fashionability... has been fulfilled with 'Every Man Jack' (EMJ) brand.

Every Man Jack 2-in-1 Daily Shampoo

Invigorating shampoo + weightless conditioner will gently cleans and moisturise your hair and scalp, while removing excess oil and build up. Leaves hair stronger, softer and healthier. Ideal for daily use.

Vital Hair and Scalp Complex™ improves the health and follicle and scalp; coconut-derived sufactants clean hair from root to end. Glycerin and marine extracts moisturize and peppermint essential oil invigorates.

The EMJ range aims to deliver all natural, no-nonsense grooming solutions for men at an affordable price point.

Every Man Jack 2-in-1 Daily Shampoo
RRP: $24.00
EMJ is available from David Jones stores nationally.