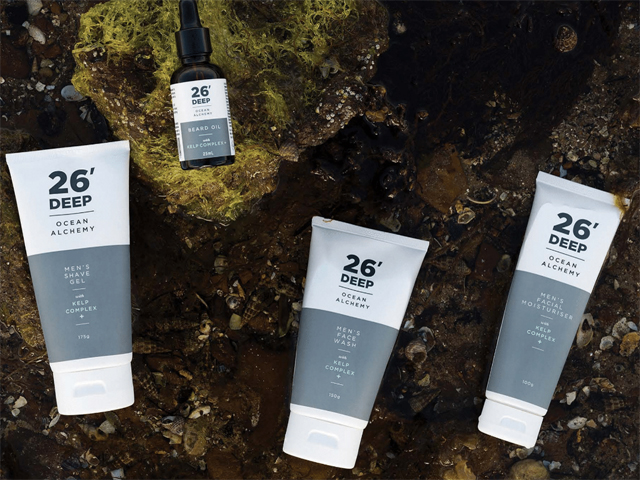 Sea Kelp: The New Men's Skincare Super Ingredient
26' Deep Ocean Alchemy with Kelp Complex + pays homage to the rejuvenating properties of the ocean and the nutrient rich elements it holds within. Our men's skincare and grooming range fuses conscious decisions with natural extracts to produce products that are good for you and good for our planet.

From the depths of the rough-and-tumble coastal waters of Australia, we found the core of our Kelp Complex +. Sea kelp (or bull kelp) resides 26' below sea level where it feeds off and soaks up the minerals, vitamins and amino acids that prosper in these depths. During wild winter storms the kelp dislodges and washes up on the shores of King Island and the west coast of Tasmania where we sustainably harvest it by hand, dry, treat and mill it into the potent powder that is used in our products.

This nutrient dense wonder has been used for centuries for food, medicinal and functional purposes. However, its ability to penetrate and target toxins within the skin makes it an undeniable choice for skin care. Sea kelp's uses go beyond the nourishing and rejuvenating properties that lay beyond the thick cell walls. The process of its harvesting and farming contributes to the fight against the effects of climate change, with the ability to soak up excess carbon dioxide as it is transformed from plant to powder.

We've researched and sourced pure ingredients dedicated particularly to the overall health of men's skin. Exposed to harsh environmental stressors and lifestyle choices, men's skin can often be left dehydrated and distressed. At 26' Deep, our products are formulated with ingredients that work. Water is often used by other brands as a base ingredient and whilst being nature's source of hydration, it can be stripping and do more harm than good to the sensitive skin of the face.

The use of natural ingredients comes with an appreciation for the natural environment. Here at 26' Deep we are incredibly passionate about looking after the main source of our inspiration. Our conscious effort is in the packaging of our products. Completely recyclable, our tubes, if found among landfill, are specifically designed to biodegrade in carbon rich areas within five short years.

Dedicated to reducing the impact of our carbon footprint, our manufacturing facility is solar panel run and has been awarded for its sustainability efforts as well as its certified organic processes. Always searching for new ways to bring skincare to men, our full-time chemists and R&D chemist are constantly discovering, creating and trialling new innovative methods and sustainable ingredients.