Give the best gift for the Coolest Guy you know.
Celebrate the one who influenced you most.
Give him a true icon.
Show off just his style. Our Westover collection recalls classic accessories, with smooth-grain leather, sturdy silhouettes and a heavy contrast stitch. We suggest gifting a piece or two.
This adjustable wrist wrap features brown leather, embossed details and a fold-over closure.
RRP: $130.00
This pendant necklace features stainless steel and a lobster clasp closure.
RRP: $130.00
This band ring features two-tone stainless steel.
RRP: $130.00
Complimentary engraving and embossing in-store.
Review: Men are hard to buy for, these quality Fossil accessories are made with high quality leather and stainless steel. With classic designs and supurb craftsmanship, these timeless men's jewellery pieces will stand the test of time for your dad or partner.
The Brown MultiStrand braided leather bracelet, is stylish with a sturdy magnet closure and is perfect for the modern male. "Love this look, something quite striking about a man with a lether bracelet" The Heritage Shield Stainless Steel Pendant Necklace is a ready made gift, wear on it's own or personalise with an engraved message or emboss image. Why should girls have all the fun with rings, give you dad or partner the Classic Two-Toned Stainless Steel Band Ring and let him feel the love while looking on trend.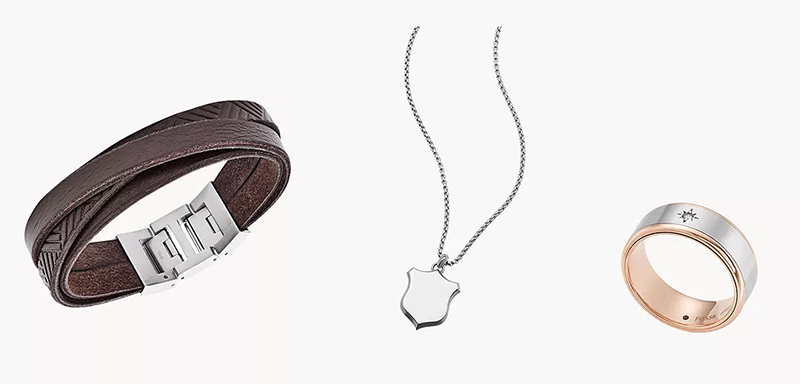 Fossil is an American watch and lifestyle company, creatively rooted in authentic vintage and classic design. We strive to create high-quality watches, bags, jewellery and more that preserve the best of the past while updating it for today. When the clean lines of the mid-century meet the modern looks of today, the result is key items that represent the best of what we stand for: bags that pair portability with streamlined design, traditional watches created in fresh hues and materials, and timeless clothes and accessories that accompany you wherever you are traveling.