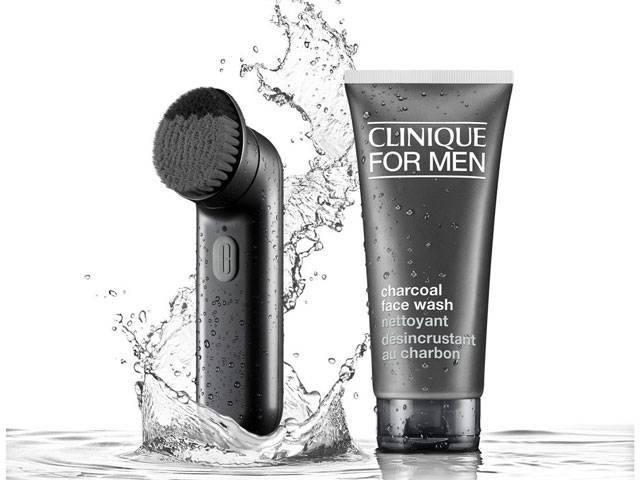 Clinique for Men Sonic System Deep Cleansing Brush and Charcoal Face Wash
Meet the perfect partners for men's easiest and deepest cleansing yet. Introducing NEW Clinique for Men Charcoal Face Wash and NEW Clinique for Men Sonic System Deep Cleansing Brush, the must-have power tools for mens skin.
The Dirt and Oil Eliminator

The first step to maintaining healthy and clear skin is cleansing. Fueled by the purifying powers of bamboo charcoal, Clinique for Men Charcoal Face Wash removes dirt, debris and surface oil for tired, stressed and congested skin with these effective ingredients below:

Charcoal: derived from bamboo, this is infused with detoxifying properties to deeply cleanse without
harshly drying or irritating skin

Glycerin: attracts water to the skin to restore suppleness while also forming a barrier against future
moisture loss to refuel and revitalize skin

Caffeine: an anti-irritant that helps to nourish and sooth skin irritation from razor burns and nicks

Problem Areas, Solved

For an even deeper yet still comfortable clean, pair NEW Clinique for Men Charcoal Face Wash with our new and ingenious NEW Clinique for Men Sonic System Deep Cleansing Brush; its specially designed bristles deliver even better cleansing results than hand washing and for a closer, comfortable and less irritating shave.
How it Works:

The oval-shaped brush head was specifically designed to deliver targeted cleansing in the hard-to-reach, contoured areas of the face including around the nose, hairline and chin.

Charcoal-infused bristles draw out debris to help keep skin clear.

Two strengths of the end-rounded bristles give a gentle, custom cleansing experience:
The firm, darker charcoal bristles are angled to easily navigate the contours of a man's face to unclog pores for a clean, close shave.
The lighter charcoal bristles are softer and less firm, making it gentler on more delicate areas of the face, like the cheeks which have fewer oil glands.
How to Create the Ultimate Teamwork

Apply a coin-sized amount of Clinique for Men Charcoal Face Wash to dampened brush head and press start.

Gently cleanse the cheeks with soft, lighter grey bristles and tilt the brush head to use the darker charcoal bristles in an up and down motion to clean the oilier t-zone.

There is no need to apply pressure; let the brush gently glide over skin like gliding a computer mouse over a
mouse pad.

Use once daily for 30 seconds at night and work up to twice a day.

Follow with the appropriate Clinique for Men Exfoliating Tonic and any Clinique for Men moisturizer along with
additional recommended Clinique treatment products depending on skin type or skin concern.
NEW Clinique for Men Charcoal Face Wash and Clinique for Men Sonic System Deep Cleansing Brush is available at Clinique counters nationwide and at www.clinique.com.au
RRP: $35 and $135 respectively
Allergy Tested. 100% Fragrance Free