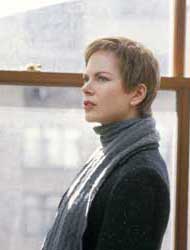 KIDMAN UNCONCERNED ABOUT 'BIRTH' CONTROVERSY BUT READY FOR SOME BEWITCHING TIMES AHEAD.
Nicole Kidman/Birth Interview by Paul Fischer in Los Angeles.

Nicole Kidman cannot help but look every bit the glamorous star she has become. Exquisitely donned in chocolate brown pants suit, her usual blonde curls neatly in place, Kidman is quieter than usual, conceding that she is tired but getting through the day of interviews, in which she is out to promote her latest film, Birth, a controversial film about a widow who is convinced that a 10-year old boy is the reincarnation of her dead husband.

Kidman is one of that rare breed of star who can effortlessly switch to the heart of Hollywood's mainstream, but more often than not, take on a film entrenched in risk, that remain on the curious periphery of mainstream cinema. She has worked with some of the most unique filmmakers, from Kubrick, to Lars von Triers, Baz Luhrmann, Amen? bar, and talented British newcomers (Jonathan Glazer, Birth; and Stephen Daldry, The Hours. For the 37-year old Australian actress, a professional actress now for some 21 years, Kidman laughingly concedes that her agents are used to her making the unique choices she makes, even if it means shooting Birth, a film that includes a controversial bathtub scene involving Kidman's character and a 10-year old boy. "They're used to me now. Like, 'Okay, if that's what you want to do it's all right'." Kidman doesn't agree that too many eyebrows were raised because of that scene, or the film's contentious subject matter. "I think prior when you see the subject matter, but then when people see the film I don't think so because you've obviously seen the film," Kidman explains, further defining Birth as a "very gentle film and not about shocking or trying to exploit and take advantage of something to be shocking. I think it's very philosophical, very languid and very deep, and I think what you see is a really a great director in the making, from Sexy Beast to this. When you look at the diversity and the choices to make two extremely different movies, that's when I go Wow!"

Audiences, too, have reacted to Kidman's own formidable ability to immerse herself in a character. There is no Kidman persona, and Birth, a small, fascinating character piece, is Kidman at her best. All one has to do is watch her face, shot in close up, as her character expresses a variety of emotions without dialogue. It's a long shot in the film, and Kidman, as usual, is modest when explaining how she is able to retain such patience. " You're used to that as an actor. I mean, if you act that's what you're used to is you keep within that space, that time ? I mean, there's times when you're bad and then you've got a whole other thing but that can be picked up and the director knows what's going on. 'That's terrible. Start again. Let's go again and try something different.' But most days it's almost like a limbo state you're in and you do exist not with yourself; but some other character. It's almost impossible to explain to people who don't act. That's why it's so tiresome to try and decipher it and why should you? It is what it is."

There is no doubt that when you talk to Nicole, you are not talking to a superficial film star. Always ferociously intelligent and passionate about her craft, Kidman has always had an innate need not to follow the crowd, and now, not to follow the mainstream. Constantly turning down a plethora of studio movies, Kidman says that need to be different, to follow her heart, comes from "being a strange child, I think and just having a slightly different view of the world." Perhaps it has to do with her Australian upbringing, but not necessarily so, she insists. "I don't classify it totally to a country. I think it's far more complicated than that whatever makes you what you are. I don't know, I'm not a psychologist, but I know my existence within my head when I was little and a lot of the same obsessions or ideas are still being played out now and they were right there when I was six, seven, eight and nine."

While constantly dismissing the notion of being a workaholic, Kidman has been working almost constantly since adolescence, exhibiting an almost fearless drive. Asked where that drive comes from, the actress mulls the question over before thoughtfully responding. "It's a weird thing because it's not about going to parties or driving or getting an award, but about you having something inside you that you need to express. I don't know any other way to explain it." Not all of Kidman's slate of films is on Hollywood's periphery, as she has just started filming the very mainstream Bewitched. Kidman justifies that particular choice in very pragmatic terms. "I just like the story. It's about a woman who can do magic and I've always wanted to do magic," she says smilingly, adding that the nose twitching will definitely be a part of this new take on the classic TV sitcom. Kidman also confirms participation in Mel Brook's screen version of his Tony Award-winning The Producers. "That is in the end of April is what they say," and Kidman says she is looking forward "to dance and sing in a Swedish accent. And Will Ferrell is doing it as well." Kidman has also completed The Interpreter with Sean Penn, but won't talk about the thriller. "I'll talk about that when it's coming out, but not now."

Yet despite published media reports that Kidman has signed on to star with pals Russell Crowe and Geoffrey Rush in the $40m Australian film Eucalyptus, Kidman remains very tight-lipped on that particular subject. "It's still up in the air," yet also admits to looking forward playing her first Australian character since Dead Calm, if it indeed goes ahead. "I don't want to talk about it until it's definite and until then, I never talk about it, as I'm the best secret keeper in the world," she says, smilingly. However, what she can confirm is her participation in a new film by renowned Chinese director Wong Kar-Wai. "Yes, that's definite and I'm very excited about that, but I would never be able to tell you anything about that. I've never worked with an Asian director. That's a part of the world where I've never gone. I'll go to Shanghai to do it and I've been meeting with him in New York and we've been talking about it for quite a long time. I may never come back from Shanghai, which is where we'll shoot it. Gong Li's in it. He has a strong sense of where he wants to take me.'

That's typical of Kidman's philosophy when it comes to her career. Even trying to get her to talk about the order in which she plans to shoot this growing proliferation of films, is a challenge. "There is no order. You're talking about someone like Wong Kar-Wai, who'll make the movie when he wants to make it." Kidman, who remains so involved with her films, says, "I don't like the feeling of a film being a product, but that you are stepping into somebody's world and it takes you where it takes you."

As busy as she is, one inevitably wonders what room exists for a personal life. As Birth deals with a woman on the verge of remarrying, one of course wonders whether she gives the idea of another marriage serious consideration these days. "I would get remarried again if I felt I was going to spend the rest of my life with the person, but I'd never go through another divorce." Kidman says that as frantic as her professional life is, it remains important to have room for a personal life. "Oh well, you make time," she says, abruptly.

While her personal life seems in a state of flux, on a professionally creative level, Kidman remains at the top of her game. "I'm glad that I'm getting to tell stories or part of stories that I feel are important. It's nice because I've been in the same place where you've been dying to express yourself or dying to have some sort of outlet and you're not being given the chance and so much of being an actor is being given the chance because, you know, you're not the writer and you're not the director. So it's really nice to be given that chance." And stardom be damned, because after all, it could all come to an end as rapidly as it began. "It's all going to fall apart at some stage and you can watch it happen."