LC2 KEEP IT BRILLIANT
New from the super premium LC2 range of haircare from Goldwell comes a state of the art conditioning treatment specially designed to protect coloured hair, extend colour hold, and leave hair shiny and manageable. Known as LC2 Keep it Brilliant, it is based on the staunch philosophy of the LC2 range to, 'repair from the inside and care from the outside'.
LC2 Keep It Brilliant incorporates a highly effective two phase effect system of conditioning and repair. The first phase of the Lipid Care Complex, which protects and regenerates the hairs bio-membrane, prepares the hair structure for the second phase which allows the hair to fully absorb the unique colour retaining substances.
LC2 Keep It Brilliant also incorporates so called extra small - care - particles which allow for even distribution of conditioning ingredients that gently attach themselves to the hair for an instant silky, soft feel and long-lasting colour brilliance.
Significantly, LC2 Keep It Brilliant is skin compatible and derma-logically approved to ensure against reaction to skin and scalp. Like all LC2 products, Goldwell advises to see a professional hairdresser regarding all haircare needs. LC2 is a highly prescriptive range made up of shampoos and conditioning treatments specifically designed to fulfill individual hair requirements.
For stockists contact Lynden Sirec @ Cav Con on (02) 9360 5755.
RRP $29.50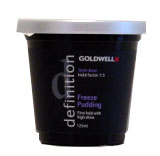 FREEZE PUDDING
Award winning 'Definition' range delivers firm hold without fuss in a versatile formula that can be applied wet or dry. Known as Definition Freeze Pudding, and presented in a user friendly tub reminiscent of old fashioned tinned desserts.
Definition Freeze Pudding is a unique formulation, alcohol free and non-greasy, with the added ability to impart shine without tackiness. Depending on the style, Freeze 'effects' can be created by simply applying to specific areas of the hair with finger tips. Perfect for creating texture or a spikey finish to short styles, while delivery root lift and firm hold to longer styles.
Goldwell products are available from leading Goldwell salons around Australia.
RRP $15.95