Kylie Minogue Couture
Naturally sophisticated and glamorous, Kylie Minogue is admired the world over for her distinctive personal style. Now the essence of her effortless elegance has been captured in stylish, floral musky fragrance: Kylie Minogue Couture is available from April 2009.
Frequently voted best dressed by the fashion media, and the first singer to have her own fashion exhibition (held at London's V&A Museum in 2007), Kylie combines trend-setting style with Parisian chic. A true fashion icon, she always knows how to give clothes a unique twist, making each look truly her own. She does not just wear clothes, she interprets them. Kylie inspires the most high profile designers who created her latest tour costumes. Wherever she goes, she inspires admiration fro her innate fashion flair.
Kylie comments on her new fragrance 'Couture', 'Like most women, I'm passionate about fashion and style, whether it's red carpet glamour or everyday chic. With Couture I wanted to create a modern, sophisticated fragrance for every woman with a strong sense of style. I chose the name because Couture is the very heart and spirit of fashion.'
The Fragrance: Style Meets Sophistication
Kylie Minogue Couture embodies Kylie's new aura, a modern icon whose radiant smile expresses her passion for life. Elegant yet contemporary, this ultra feminine fragrance opens with an enchanting bouquet of amarena cherry, lemon flower and vintage violet. It builds to a deeper heart of exotic ylnag ylang, night blooming jasmine and passionflower that illuminates the heart of the fragrance with its subtle exotic scent. Representing her inner strength, the dry down is composed of musk ribbons which give the enveloping feeling of cashmere while the addition of vanilla sorbet resets upon the timeless elegance of white cedarwood, for a long lasting feminity. The final result reveals a new dimension of Kylie, created around her personality like a tailor made couture gown, exuding an alluring glamour that is highly memorable and integral to Kylie's distinctive style.
The Packaging: A Statement in Elegance
The dazzling sophistication of Kylie Minogue Couture is reflected in the gracefully oval shaped eau de toilette bottle. The flacon's sensuous curves and heavy glass bases, together with the light pale gold juice inside, create an understated elegance. A style statement in itself, the cap represents a modern portrayal of the corset, which in phase with Kylie's style, conveys ultra feminity and glamour. The cap opposes the striking black matt gold exterior with a sneaky red inside finish. The fragrance name is emblazoned across the front of the bottle; the edgy typeface of Couture is eye-catching red adds a quirky touch that is pure Kylie.
The eau de toilette comes beautifully packaged in a complementary light gold coloured box. Bright gold corset laces criss-cross a shiny, intensely black corner of the pack to create an undeniable sense of glamour. The folding box echoes the cap of the bottle with its flirty red interior.
An optical opposite of the eau de toilette box, the eau de parfum packaging is a dramatic black, with black laces over gold. The distinctive logo is gold on both the eau de parfum bottle and pack, and the juice inside is deeper ambery gold colour, evoking a world of luxury.
The Advertising: Timeless Glamour
Kylie Minogue Couture will be brought to life via a stylish, highly memorable television and print advertising campaign that recalls old Hollywood glamour. The television ad shows Kylie in a beautiful sleek black evening dress with a long black perfectly fitted corset inspired couture glove. The background is a modern graphic layout which reflects a warm golden light upon her skin. A glamorous Kylie appears dancing very seductively playing with her black leather glove. As she dances, a single drop of her fragrance slowly and sensually runs down her shoulder to reach the tip of her glove. The print visual echoes the TV ad and immortalises Kylie, with her long black glove holding the Couture perfume close to her face in a sophisticated and seductive way. The tagline for the print ad is 'Dare to wear'.
An enticing blend of style and glamour, Kylie Minogue Couture exudes elegance and modernity. For every woman with style.
Kylie Minogue Couture is a sparkling, sophisticated floral musky fragrance that exudes elegance and modernity.
Top notes: Amarena cherry, lemon flower, vintage violet
Middle notes: Ylang ylan, passionflower scent trek, night blooming jasmine
Base notes: Musk ribbons, vanilla sorbet, white cedarwood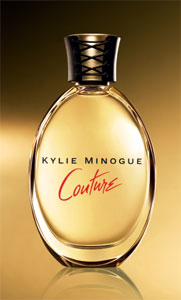 Range: Eau de Toilette 30ml $55
50ml $65
75ml $75
Body Lotion: 200ml $19
Available from: Myer, David Jones, The Perfume Connection and selected Coty authorised stockists
Stockists: 1800 812 663
Perfumer: Alexandra Kosinski from Givaudan
Packaging designer: Lutz Herrmann and Denis Assor
Creative director: Tho Van Tran from Air Agency
Print ad photographer: Solve Sundsbo
TV advertising director: Shaun Severi
PR photos photographer: William Baker