100% Natural And Non-Toxic Range Of Unisex Perfumes
First created by grinding and blending aromatic plants, resins, herbs and spices into oils and balms, perfumes were first utilised by the ancient Egyptians – notably queen Cleopatra – for religious ceremonies and beautifying rituals. Today, however, perfumes are no longer for the holy or wealthy as there are now over 30,000 fragrances currently in circulation. From designer, to mass market, to niche, manufacturing processes have changed momentously over the centuries, and many perfume and skincare products are created using synthetic blends and aroma chemicals to replicate the once pure, natural and ethereal scents.

According to research conducted by the Campaign for Safe Cosmetics, a review of the world's 17 top-selling fragrances found a staggering 38 unlisted and potentially harmful ingredients in each of the formulas. More shockingly, tests found an average of 14 additional secret chemicals in any given mass market fragrance. These chemicals which included the likes of Benzyl Benzoate, Benzyl Salicylate, Diethyl Phtalate, Galaxolide, Lilial and Oxtinoxate to name a few, were omitted from consumer-facing labels despite having scientific associations with hormone disruption, allergy onsets, reproductive toxicity, cancer and endocrine disorders.

In addition, a study titled the Role of Perfumes in Pathogenesis of Autism, further perpetuated the effects of synthetic aroma chemicals by highlighting the suggested environmental correlation with autism in foetal brain development. The study, which examined both heredity and environmental factors, found that the alarming rise in Autism Spectrum Disorders (ASDs) closely paralleled the rise in global mass market perfume use, thus accounting for a possible 58% of examined ASD cases. Interestingly, one of the key features of autism include impaired sensory smell and an underdeveloped olfactory bulb, the study revealed.

Combining traditional artisan perfumery methods with modern science, Belle'Botanique today launches their 100% natural and non-toxic range of unisex perfumes to combat the growing health concerns associated with mass market fragrances. Using natural, organic and sustainably harvested ingredients such as flowers, leaves, fruits, herbs, spices, woods, resins and roots, the locally made perfumes are uniquely crafted for their aromatic brilliance and mood-enhancing benefits. In fact, many of the botanical and essential oils used have a perceived positive effect on anxiety, inflammation, skin irritations, antioxidant support and memory association.

Using a natural grape-alcohol solvent sourced from Australian vineyards, Belle'Botanique employs a proprietary manufacturing process that reduces the use of artificial preservatives in favour of safe, food-grade preservatives, and is the first company in the world to release two completely allergen-free perfume blends.

The range, which is cruelty-free, paraben-free and non-GMO, includes Geranium Rose, Frangipani Neroli & Ylang Ylang, Tangerine Cardamom & Lavender, Amyris Vetiver (allergen-free), Peta-Ann, Jungle Dew (allergen-free), Pink Jasmine Lilly & Bergamot, and Danse Des Fleurs, and retail from $49 RRP.

"The perfume industry has over 3,000 synthetic aroma chemicals to choose from," said co-founder of Belle'Botanique, Manoj Jain. "What is considered limonene in perfume is the exact same ingredient as citrus oil in cleaning products and degreasers."

Available independently via the Belle'Botanique website, the company is also running a ReadyFundGo campaign in order to raise crucial funds to conduct further skin research, source physical retailers and launch the perfume range outside of Australia. A percentage of all website sales and ReadyFundGo pledges will be donated to Belle'Botanique's official charity partner, the National Breast Cancer Foundation, to assist with the organisation's life-changing research programs.


Interview with Manoj Jain, Co-founder of Belle'Botanique
Question: What is Belle'Botanique?

Manoj Jain: Belle'Botanique is a 100% Australian Made and Owned skincare & natural perfumery company, based in Adelaide, Australia. Belle'Botanique specializes in the art & science of developing highly effective skincare products and uniquely fragrant compositions of natural perfumes. Each product the company produces, carries with it the essence of passion, imagination, foresight and creativity combined with scientific precision, and delivers superb results.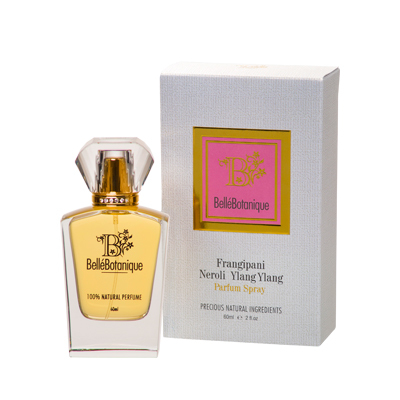 Question:
Why did you decide to launch Belle'Botanique?
Manoj Jain
: We are living in a world where the concern about harmful chemicals used in cosmetics and perfumes, is becoming increasingly important for human and environmental health. Belle'Botanique is launched to deliver highly effective & safe skincare products and natural perfumes, and to provide sense of harmony, vitality, and maintain a timeless beauty.
Question:
What are the potential health risks of synthetic aroma chemicals?
Manoj Jain
: There have been numerous hypotheses and many articles published in the peer-reviewed journals that define the potential health risks of synthetic perfumes containing suspected aroma-chemicals. Some of the health risks are:
• propensity to accumulate in human tissues including human fat tissue and breast milk
• hormone disruption
• autism spectrum disorder
• Asthma and asthmatic exacerbation
• Contact dermatitis
• Increased risk of cancers
Question:
How do these health risks affect women more so than men?
Manoj Jain
: There is growing scientific evidence that many undeclared chemicals used in synthetic perfumes can have potential carcinogenic or teratogenic (reproductive system toxicity) as well as allergenic effects including endocrine disruption.
Many of these chemicals mimic estrogen and bind to estrogen receptors and induce growth of estrogen dependant cancers i.e. breast cancer, uterine cancer, colorectal cancer and ovarian cancer.
Question:
Can you tell us about your carefully chosen botanical ingredients?
Manoj Jain
: Our expertise is in revealing the power and beneficial properties of botanical ingredients through our formulations of skincare and perfumes. In skincare, we use natural Hyaluronic Acid and select the botanical ingredients and extracts with Phenylpropanoids, Flavonoids, Iridoids, Lignans, Catechins to:
• support skin's protective barrier for an ultimate skin sensation.
• provide natural antioxidative and radical scavenging activity for age-defiance.
• stimulate skin regeneration.
In perfumery, we select only natural extracts and botanical oils to infuse wellbeing, healing and luxurious properties to our perfumes. For example:
• Vetiver oil possess antioxidant properties capable of scavenging free radicals. Vetiver essential oil also has Anti-tuberculosis activity.
• Patchouli oil protects against acute lung injury through its anti-inflammatory properties.
• Geranium oil reduces anxiety and possesses anti-depressant properties.
• Jasmine oil possesses neuroprotective properties.
There is a long history of safe human use of these natural perfumery ingredients so there may be no reason to suspect unknown toxic effects.
Question:
Are you able to tell us about your two allergen-free perfumes?
Manoj Jain
: Amyris Vetiver Parfum Spray and Jungle Dew Eau de Parfum Spray are our Allergen-Free perfumes. This classification is based on the EU Regulation Number EC 1223/2009. Both these perfumes are based on Amyris oil, Vetiver Oil and Patchouli oil. All these three ingredients have been reported to have beneficial properties in the peer-reviewed journals and research papers.
These fragrances represent unbridled freedom into nature, taking the wearer far beyond from any confines and pollution of the city life. It brings to mind the scent of lush-green forest and rain.
A revitalizing freshness permeates your spirit as the dew-drenched fragrance unfolds with sweet-woody notes of Amyris. Let stress and worries fly away!
Question:
Which of the Belle'Botanique fragrances do you wear most?
Manoj Jain
: I like 'Amyris Vetiver' and 'Peta-Ann Signature Parfum'. My wife and partner, Peta-Ann likes 'Geranium Rose' and 'Tangerine Cardamom Lavender' Parfum Spray.
Question:
Can you tell us about your current ReadyFundGo campaign?
Manoj Jain
: Our campaign is rewards based. We are providing extra-special introductory offers, and we deliver worldwide. By selecting and paying for an offer, you are helping us to reach broader market. You are helping to increase awareness regarding synthetic perfumes and harmful chemicals, and also reducing toxic burden on human health and the environment. ReadyfundGo campaign will help us to present our products to a wider retail market.
Question:
What's next for Belle'Botanique?
Manoj Jain
: Belle'Botanique will continue to grow as an Australian Made & Australian Owned brand, these days a very few cosmetic companies in the Australian market are Australian owned. We will continue to develop non-toxic natural perfumes. Our current research in skincare is to target the protection of DNA and rebalance oxidative & pro-inflammatory stress markers on the skin – a step toward addressing sensitive skin.
Interview by Brooke Hunter