David Beckham: Pure Instinct
David Beckham introduces his New Limited Edition Fragrance Pure Instinct.
The epitome of masculine sophistication, David Beckham is admired by men and women the world over for his innate sense of style. Now, the essence of his instinctive elegance has been captured this new fragrance: Pure Instinct. Available as a limited edition from April 2009, this modern, suave and sensual fragrance is destined to be the new style essential for men.
Immensely inspirational and naturally stylish, David Beckham uniquely spans the worlds of fashion, glamour and luxury. Confident and determined, success surrounds him because he acts on pure instinct when creating his celebrated personal style.
David sets global trends with his unique take on contemporary classic, edgy elegant fashion. Whatever he wears, he understand the value of adding those all-important finishing touches with his luxurious sought-after accessories, whilst recognising that less is certainty more when it comes to sophisticated style. With a perfect blend of elegance and sensuality, Pure Instinct is designed to be the ultimate accessory every man needs.
David comment, 'With Pure Instinct, I wanted to create an elegant fragrance that would work for the individual, whatever his style. I've enjoyed the process of working with Coty and I hope it's a fragrance men enjoy.'
The Fragrance: Cool, Sensual and Elegant
Pure Instinct is a fresh and characterful fragrance. It opens with an immediate sparkle of pomelo citrus notes mingling with the vibrant and sophisticated bite of black pepper and cardamon. At the heart, the clean, natural notes of silver sage, rosemary and lavender build to create a truly magnetic appeal. The fragrance then settles on a suave, complex base of tobacco leaves, oak moss and cedar wood heart, creating subtly leathery undertones. The result is a contemporary yet distinguished fragrance that exudes elegance- the ultimate finishing touch for every man with style.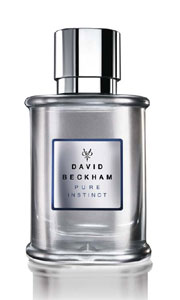 The Packaging: Pure, Masculine Style
Striking in its simplicity, the Pure Instinct bottle is an elegant metallic silver, giving it a modern, minimalist quality. The elegant bottle is slightly translucent allowing a glimpse of the pure juice inside.
Reminiscent of the original Instinct by David Beckham fragrance bottle, the flacon has a masculine square shape and cap, gently softened with rounded corners, creating a bottle that demands to be picked up.
The magnetic cap of the bottle offers a satisfying sensory click as the cap is replaced. As a touch of pure style, the dvb crest is imprinted onto the bottle and cap. The packaging is a glossy silver and metallic-blue square-shaped box, evoking a world of refined luxury. To complement the bottle, the box is adorned with the fragrance name in sophisticated silver, and the infamous Beckham crest.
Fresh, contemporary and naturally elegant, Pure Instinct is for every man who instinctively knows his personal style. It's the ultimate accessory.
The perfect blend of elegance and sensuality, Pure Instinct is a fresh, characterful fragrance, making it the ultimate accessory for every man with style.
Top Notes: Pomelo zest, black pepper, cardamom
Heart Notes: Silver sage, rosemary, lavender
Base Notes: Tobacco leaves, oak moss, cedar wood heart
Packaging designer: Lutz Hermann
Print ad photographer: Mert and Marcux
Range: Eau de toilette 50 ml, $55
Available from: Myer, David Jones, The Perfume Connection and selected Coty authorised stockists.
Stockist is: 1800 812 663