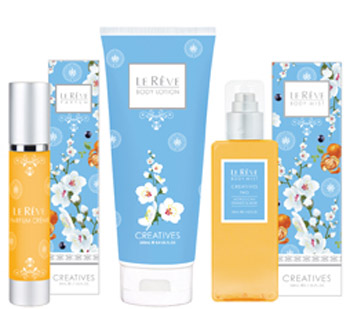 3 Reasons to Use Alcohol-Free Parfum Crème
Cosmetic-grade alcohol is used in perfume to blend notes and make perfume oils fade away earlier than they would on their own. This makes the fragrance come across as quite breathtaking when the perfume is first applied as it appears much stronger than it actually is.

The alcohol content is also the reason why the scent fades significantly within the first hour or so as the perfume oils evaporate with the alcohol. Alcohol-free perfume is rarely available due to the key role it plays in diffusing fragrance.

Le Rêve has redefined the nature of perfume with a unique parfum product. Parfum Crème marries the perfume oils with a luxurious alcohol-free crème base.

Here are 3 reasons to use Le Rêve Parfum Crème:

1 – Skin Irritations
Alcohol has a drying effect and can cause skin irritations or redness when applied to certain sensitive skin types. Le Rêve's alcohol-free luxurious crème base is silky soft making it a more suitable perfume product for sensitive skin.

2 – Allergies
Many people often put down their skin irritations and headaches to being allergic to perfume. In most cases it is the alcohol content which makes up the perfume that causes symptoms of an allergy rather than the perfume oils themselves.

3 – Evaporation
Have you ever noticed that your perfume bottle seems emptier than the last time you used it? It's not just your eyes playing tricks on you! Alcohol evaporates which is how perfume works when sprayed on your skin. Le Rêve's Parfum Crème doesn't evaporate so your bottle always remains at the level you last used it.

Le Rêve Parfum Crème Fragrance:

Lotus Flower & Passionfruit
An enticing island escape of citrus delight… Flirtatious fruity notes of apricot, peach blossom, melon, blackcurrant and passionfruit blend exquisitely with vanilla and lotus flower. A delicious summer scent.

Moroccan Orange & Musk
The alluring aroma of Marrakech at night… Orange, peach and opulent rose are fused with ever-sweet honey and vanilla to create a decadent gourmand accord, enriched with golden musk. A hedonistic oriental fragrance.

Le Rêve is an Australian Company committed to caring for the environment by choosing to manufacture without the involvement of animals - vegetarians and vegans can also enjoy these products. Le Rêve is certified Choose Cruelty Free.

Parfum Crème 50mL - $79.95
Also available are matching Body Lotion ($37.95) and Body Mist ($49.95).
All Le Rêve products are available to purchase from www.lereve.com.au or from a sales Consultant on 02 9840 8400.