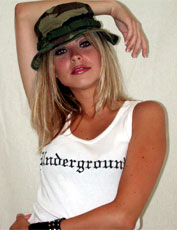 BEAUTY IS IN THE EYE OF THE BEHOLDER
In a world full of so many faces, there are only so many that stand out from the rest. Kristy Caldwell is one of those faces. With her striking features and a smile that could light even the darkest of rooms, she makes her presences known wherever she goes. Her sparkling personality shines through and pours itself into her pictures, making her work unique and full of vibrancy. With comparisons from Cheryl Teiggs to Niki Taylor, there is no doubt that Kristy Caldwell will be the next big name to hit the fashion world. Are you ready....This Aussie Girl is a new up and coming set to make waves in the fasion world.
INTERVIEW:
Why do you want to get into the fashion industry?
Fashion is a form of expression and creativity, which I find to be exciting and fascinating.


What was your inspiration to becoming a model?
Ever since i was a little girl, Ive thought modeling was so magical. It's a feeling I can't explain.


Which designer would you like to work with the most?
Marc Jacobs, his clothes are very classic and eloquent. He is a brilliant designer!


How do you stay in shape?
I LOVE winsor pilates. I try to stay on a workout routine, but like many people I sometimes get too busy and tend to skip workouts. I keep a healthy diet by eating lean meats and low fat foods.


Can you tell us 5 things required for a happy healthy & enjoyable life?
Although I'm not Dr. Phil, I will say that for me the five things that make my life more enjoyable are.

not taking life too seriously.
having friends that i can lean on and trust.
being able to appreciate the small things in life.
learning to love.
being content with my accomplishments and with myself.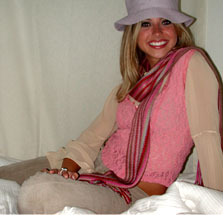 60 Second Quiz
Full Name: Kristy Caldwell
Nickname(s): I plead the fifth!
Star Sign: Virgo
Favorite Food: Gummy Bears
Favorite Film: Legally Blonde
Favorite Actor: Josh Harnett
Pet: Brittany the Cat
Describe yourself in 3 words: Fun, Carefree, compassionate
Best Feature: My smile
Worst Feature: My freckles
Person You Would Most Like to Meet: My grandpa
Hobbies/Interests: playing guitar, music, writing, poetry, swimming