KRISTEN TAKES ON CHILLING MESSENGERS.
EXCLUSIVE Kristen Stewart The Messengers Interview by Paul Fischer in Los Angeles.
16-year old Kristen Stewart admits to being quite critical about the movies she is in. Yet the young actress - who made a strong impact back in 2002's Panic Room - admits to be surprisingly happy with her latest film, The Messengers. " Every movie that I've ever done always looks fake in some way and this one just looks real. They did such a good job and the pacing of it is so eerie." The horror film, directed by the Pang brothers, revolves around parents Roy (Dylan McDermott) and Denise (Penelope Ann Miller) who have packed up their family and moved to a spooky old house in the middle of nowhere because they think this is the best way to reform their "troubled" teenage daughter, Jess (Kristen Stewart) who is despondent over having to leave behind her friends to live in the ultimate fixer-upper while her dad and his new hired hand, John (John Corbett), plant sunflowers. But soon Jess starts seeing ghosts. When acting in a horror movie such as this, Kristen Stewart says she is spontaneous, rather than intent on heavy preparation. " You can't be a method actor in a movie like this, because everything is circumstantial that happens to this girl."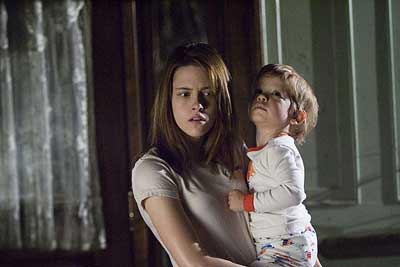 Initially reticent about taking on The Messengers, the savvy Kristen Stewart says she succumbed simply because she loves the genre. "I always have loved horror movies and I really love that Asian influence over here right now. There have been a few movies and this is the Pangs first American release. I thought that was really exciting which was the main reason I wanted to do it, but I would do more horror movies. You don't do stuff like this just because it's good for your career, but because it's fun."
As successful young Kristen Stewart may be in front of the cameras, she also focusing on her studies "still studying hard and really trying to get ahead" ready to begin production on her next film, The Yellow Handkerchief with William Hurt and Maria Bello. "It's really sensitive, it really reaches out and it's really desperate, I'm really excited about it."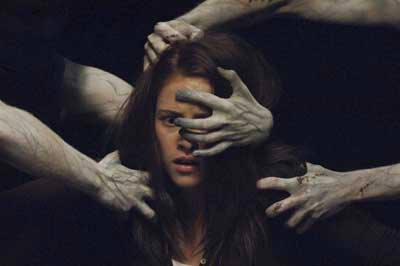 While enjoying acting, Kristen Stewart's real passion is writing. "I really want to be a writer," she says. When we last met on the set of The Messengers it was poetry, "but that was a phase, now I just want to write a novel." But movies are in her blood, so her writing, she says, "may one day include a screenplay." In the meantime, Kristen Stewart says she hopes good roles for young actresses her own age remain challenging and provocative.