KIEFER EXCITED TO BE BACK IN '24'.
Comic Con Kiefer Sutherland, Mirrors, 24 Interview by Paul Fischer.
Speaking at Comic Con, where he was busy promoting the horror film Mirrors, Emmy Award winner Kiefer Sutherland says he's eager to be back at work on season 7 of his hit series, 24, which will be preceded by a two-hour telemovie. "There is a two hour movie that we just finished shooting about almost two months ago now in Africa," Kiefer Sutherland says. "As difficult as it was for us to take the break, because of the strike, I think the audience was affected the most. It was something that no one wanted to do. I don't think the writers wanted to do it, the actors didn't want to do it, and [Jon] Cassar didn't want to do it, but it happened nonetheless. I think FOX made a very smart decision with regards to '24' because I think it is at its best when it's released continuously so you can watch all 24 episodes in a row, so we waited till January. The one benefit if you are looking for a silver lining is that the most difficult thing for '24' is the writing, so it gave the writers an unbelievable amount of time to really craft this season. We as actors had scripts available to us, which we've never had in the past six years of making the show, and I believe it's the best work we've ever done. The stuff we did in Africa is really some of the stuff I'm the most excited about in regards to '24'." He hopes this season will bring in new fans. "We are certainly going after them, so I hope so, yeah."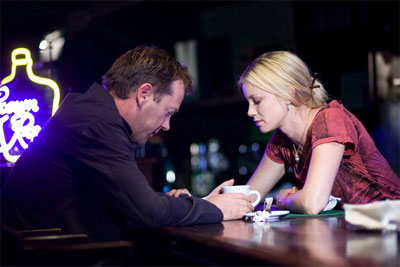 Kiefer Sutherland took advantage of having extra time off to shoot a horror film, Mirrors, in which he plays a security guard and ex-cop who, along with his family, are the target of an evil force that is using mirrors as a gateway into their home. "Horror films, for me growing up weren't a genre of film that could give you any stronger a visceral reaction through watching it," the actor, Kiefer Sutherland says when asked why he was attracted to Mirrors. "I had always heard that as an actor that is something that would draw you to a genre film. You can actually affect an audience that powerfully, and that quickly, so the genre was something I was really interested in. Alex had made 'The Hills Have Eyes' which was a film that really kind of harkened back to the 70's horror films that dealt with things in most films that I think were much more different than what we were now terming as slasher films. 'Amityville Horror', 'The Exorcist', 'The Omen'. Those films all had character driven plots that made you invested in the characters. The horror was really a combination of the affection that the audience had with a character, combined with the horrific circumstances that the character was put in. For me, I remember at the very first meeting I had read the script and loved it. If you took all the horrific elements out of the script its still played as an unbelievable strong family drama. This idea of being able to meld these two worlds, these two genres, the drama of a man really trying to put his family back together, combined with the horrific circumstance. I found it an unbelievably exciting opportunity. Obviously when I had seen 'The Hills Have Eyes' Alex is an unbelievable filmmaker. He has such a strong visual perspective of what he wants to do and how he wants to tell his story."
"For me, it really came down to the end of our first meeting. I had been shooting all night, remember it was a breakfast meeting. Here we are at breakfast again. This is a very funny topic to deal with first thing in the morning. I remember looking at him and I said 'I believe that I can make you care about this guy. You have to guarantee me that you can scare the shit out of everybody.' He smiled and he said 'Absolutely.' That was it, literally we agreed to work together at that point. I can't tell you, everyday we were shooting this film was… we were working in Romania for a large part of the film. There was a large part of our crew that didn't speak English. In a very odd way I felt that many times Alex and I were working alone. I'll never forget, it was like watching two excited children. Him with 'How am I going to scare the audience?' and me with 'How am I going to get you to care enough about this character so that when something bad does happen, when that character is threatened, it really is going to hit you with two emotions.' To play hope and fear at the same time was something that was a real challenge for me."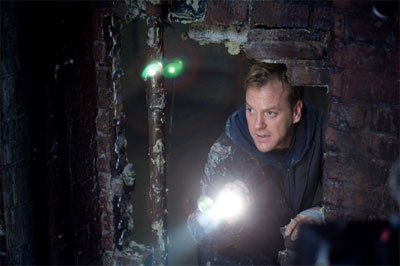 Kiefer Sutherland disagrees that his association with 24 makes it harder to disappear into a movie character, in fact quite the opposite, "because there is such a strong backdrop that '24' exists in that it's very easy to counter balance something against it. This character is obviously very different and when you put the two together you can really see that, and because '24' is such a strong backdrop I think you really will see that this is a departure from that work. I'm still trapped in my own physical body, with my own voice, and my sense of interpretation, so there are going to be similarities in everything that I do. But, I think the fact that '24' is such a strong backdrop of where I am in my career right now, this film was a great opportunity to show another part of a reflected image."
Kiefer Sutherland has had his career ups and downs, but it is a career defined by such seminal classics as Lost Boys and Stand by Me. Kiefer Sutherland smiles slightly when asked to comment on his growth and lessons learned as an actor since then. "The lessons learned never stop," Kiefer Sutherland says, reflectively. "Stand By Me was the first film I got to do in the United States and I remember when I first went to go see that film I thought my career was over. Then the film became the success that it was and certainly at that time it was a part of American film history. I realized the first thing was that I should probably not watch my work. The best thing for me to do was to just make it and the audience would be the judge, which has served me quite well. The journey from there to now, '24' has been an unbelievable experience for me. I think that acting is almost like working out. It's a physical exercise that one has to go through and the more that you train it and the more you use whatever that instrument is, whether it's your body, your brain, your voice, and all those thing combined. It's been an unbelievable tool for me to figure out things that work and don't. Again, each film is its own beast. I've never believed that anyone took on a film and thought it wasn't going to be amazing or special, regardless of budget, or things that might be up against it. I certainly figured out over time the ways of breaking down material, ways of interpreting material for myself and I do it faster. Again, I hope I still approach each project with the same kind of youthful exuberance that I did with something like 'Stand By Me' or 'Lost Boys', but hopefully though it's tempered with some experience and ability to add a little more to each project, if that made any sense at all."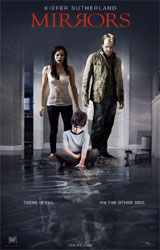 Mirrors
Starring: Kiefer Sutherland, Paula Patton, Amy Smart, Jason Flemyng
Genre: Horror/Suspense
After HIGH TENSION and THE HILLS HAVE EYES, French director Alexandre Aja stays firmly grounded in horror territory with MIRRORS. In this reimagining of a Japanese horror film, Kiefer Sutherland plays an ex-cop whose home is invaded by spirits via its mirrors.... After HIGH TENSION and THE HILLS HAVE EYES, French director Alexandre Aja stays firmly grounded in horror territory with MIRRORS. In this reimagining of a Japanese horror film, Kiefer Sutherland plays an ex-cop whose home is invaded by spirits via its mirrors.