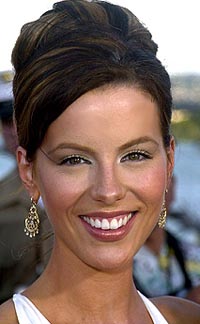 THE SERENDIPITOUS CAREER OFKATE BECKINSALE
Kate Beckinsale/Serendipity Interview
by Paul Fischer in Los Angeles.

Once an assuming British actress, it took a little Hollywood pic called Pearl Harbor to turn this reluctant star into a household name. While she hopes it hasn't affected her, the beautiful Brit takes it all in her stride. Her latest film, Serendipity, shows us a different side to the actress, who spoke to Paul Fischer in Los Angeles.

Perhaps it is because she's British, but Kate Beckinsale has a genuinely sweet demeanour, quietly confident, beautifully attired in a simple, knitted outfit. She may well have been in one of the biggest blockbusters of the year, but she quietly admits "that I'm a bit fed up talking about that film."

It was a unique experience for the actress who made a first impression in Kenneth Branagh's Much Ado About Nothing. The Hawaiian press junket that seemed to have cost as much as the movie, was, she says, wild, "but then the whole experience of that movie was very different than any other experience I've had." Including, she adds, "being used to a more collaborative atmosphere than in previous film I had done."

When asked what attracted her to Pearl Harbour her reply was:
"because of the script, which I'd loved, but was not prepared for being part of the Hollywood machine; it was very much Michael Bay's vision." As for the film's critical backlash, Beckinsale is pragmatic about it all. "There were very few sensible reviews of the film. It was mostly rabid, vicious attacks because there had been so much hype on the film. All of us on the film hoped otherwise, but we felt it was inevitable that we'd get trashed."

So Beckinsale jumped at the chance to star in the love-at-first-sight fair tale, Serendipity, in which she plays Sara Thomas, a woman who falls in love with Jonathan Trager (John Cusack) a stranger she meets while doing some last-minute Christmas shopping in New York. Sara and Jonathan are actually buying gifts for their significant others, so they know how foolish their instant attraction seems. They make a pact, part and go on with their separate lives, but they never really forget one another. Ten years later, fate intervenes and they find themselves searching their hearts and New York City for each other.

Kate wanted to do the film.
When asked why she wanted to do the film, her reply "in order to work with John [Cusack] who is utterly brilliant."
The pair initially met when the actress met Cusack while he was casting High Fidelity. "I was gigantically pregnant at the time and sailed in like a ship. I gained 65 lbs when I was pregnant with Lily. People assumed I was having twins. At five months, people were convinced I was due any day." Cusack didn't cast her then, but convinced the producers of Serendipity that Kate might make an ideal leading lady. Thus Serendipity, which first came to both actors "very sketchily", turned out to be the film they did. "It has a romantic, old world feel about it that I responded to."

The actress could also relate to the film's central theme of love and fate having been living with British actor Michael Sheen for the last seven years. Their daughter Lily is now almost three. "Our relationship has serendipity written all over it," comments Beckinsale with a sly grin. "We met when we were cast together in a production of The Seagull. Michael was this hugely popular and respected British stage actor so I really didn't want to do a play with him. I'd never met him, but my mother talked incessantly about his talent. It really was love at first sight. We discovered we actually lived on the same street in Paris. We became lovers and moved in together very quickly and have been together ever since."

Though initially it wasn't all hearts and roses.

"I think we spent the first five years fighting like mad, about petty stuff. Only now are we at a point where we feel remarkably close. It's weird, really." Not to mention juggling a marriage with the most hectic of careers, she adds. "When I was in Hawaii promoting Pearl Harbor I fell in love with the islands and the people, but I didn't have time to enjoy myself. Michael and I vowed we'd come back and just be tourists, which we did. We brought all the grandparents along so they could enjoy being with Lily."

Beckinsale may be a household name these days, but remains committed "not to play the Hollywood game and follow my heart. There are some great scripts out there." But first and foremost is family. "Being a mother certainly changes your perspective." She has the child, the career, and soon, maybe, the husband. "I'm sure we'll get there one day."