JUSTIN BARTHA NATIONAL TREASURE: BOOK OF SECRETS
Nic says it is impossible to do a scene with you and keep a straight face?
JUSTIN BARTHA
: I think they are referring to the bad acting (jokes) It's not really a laughing thing.
You play a hi-tech genius in these two films. Are you really like that or do you have difficulty changing a light bulb?
JUSTIN BARTHA
: I am not very adept at technology. I love gadgets but I just don't know how to use them.
You're working with a formidable cast - Nic Cage, Jon Voight, Helen Mirren, Ed Harris - was that daunting for you?
JUSTIN BARTHA
: I think it was more daunting for them, really. (jokes) I was never allowed to look them in the eyes or be in the same room as them! But it's really a testament to Jerry and Jon that they get the highest caliber of people, whether it be cast or crew, and I think that's the key to the success of all of their films but, in that case, it's also baffling why I'm in the movie.
Of all the many locations and tourist attractions in the movie, were there any you hadn't been to before?
JUSTIN BARTHA
: For me it was South Dakota and Mount Rushmore. I'd never been and it was very special, one of my favorite locations I'd ever shot at in the world let alone the United States.
What did you learn about history from making the film?
JUSTIN BARTHA
: My character Riley is fairly naive about history so I try to stay in character every time. I'm a Method actor and I also have a fairly substantial learning disability.
Will Smith has apparently said he wants to be President. Do you think it would be good for your country to have an actor-President?
JUSTIN BARTHA
: I'd vote for Will Smith. He'd certainly protect our country against aliens.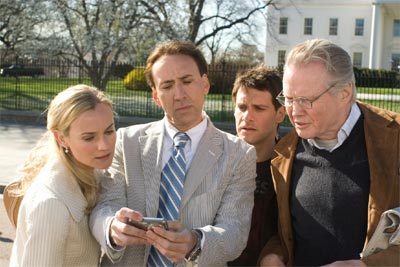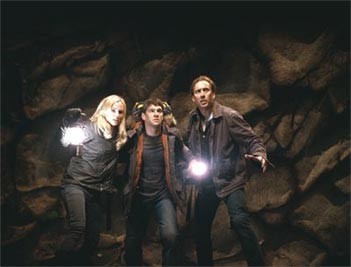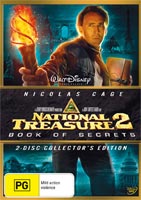 National Treasure 2: Book of Secrets DVD
Starring
: Nicolas Cage, Justin Bartha, Diane Kruger, Jon Voight, Helen Mirren, Ed Harris, Harvey Keitel, Bruce Greenwood
Director
: Jon Turteltaub
Producer
: Jerry Bruckheimer
Genre
: Action
Rated
: PG
Running Time
: 119 mins.
Filled with hours of revealing bonus features, this two-disc Collector's Edition DVD exposes a wealth of secrets behind the most spectacular treasure hunt ever. Join Nicolas Cage on a heart-pounding adventure that will have you on the edge of your seat in a race to find the Lost City of Gold.
Grounded in history, imbued with myth and mystery, Disney's National Treasure: Book Of Secrets takes you on a globe-trotting quest full of adrenaline-pumping twists and turns - all leading to the final clue in a mysterious and highly guarded book containing centuries of secrets.
But there's only one way to find it - Ben Gates must kidnap the President. Packed with fast-paced action and crackling humour, this Collector's Edition has even more to rediscover again and again.
Review
: The National Treasure series is not on fantastic action & intrige, but it really makes you sit up and think about history as you know it. The National Treasure webbed tale is great entertainment and definitely a dvd that's worth keeping and rewatching. The more you watch the more you get out of it. With a steller cast & sensational performances, Justin Bartha's cheeky yet natural humour is a real standout in this film.
Order Now from Chaos
Order Now from Sanity