DEPP TAKES NEW RISKS AS MURDEROUS TODD
Johnny Depp Sweeney Todd Interview by Paul Fischer in London.
Johnny Depp arrives in a London hotel room wearing a jacket, his trademark hat and a pair of scruffy jeans with a few holes thrust into them for good measure. But anyone who has interviewed the actor over the years knows that sort of attire is in keeping with an unpretentiousness that is rare among Hollywood stars. While many actors of his stature revel in playing the Hollywood game, Johnny Depp continues to take risks, such as his brooding and intense portrayal of the murderous but ultimately romantic Sweeney Todd in his latest collaboration with Tim Burton.
The quietly spoken actor, Johnny Depp who is the polar opposite of this tough British character who says that his desire to take risks as an actor is "probably a combination or something in between being hard-headed and ignorant in terms of taking the road Ive taken," Johnny Depp says laughingly. "Theres an easier one out there for sure. And for something like Sweeney Todd, Tim comes in the picture before all of that and anything he would ask me to do I would jump at the opportunity." Johnny Depp says he was drawn to Sweeney because "I was familiar with the earlier versions of the musical", he recalls. "Id seen the video of Angela Lansbury and listened to it quite extensively and Id also seen the more recent production of it and just thought it might be certainly a great opportunity to find a new and a different Sweeney in a more contemporary way, like a punk rock Sweeney."
Sweeney Todd marks his musical debut despite his own musical background, but the actor Johnny Depp was determined to work as hard as he could to be convincing as both a singer and actor. "I think I was probably more frightened than anyone, but Tim really trusted me with it and I was very lucky about, because I didnt really have a process in terms of singing. Id never sung before in my life so I had to find my way to it and thought it was important that I keep it very low key and so initially I did these demos in my friends garage studio because I didnt know if Id be able to hit a note to be honest, I really didnt. I wanted to make sure I could do it for Tim, so the first demo I cut was my friends and I sent it to Tim, crossed my fingers and waited for the outcome," Johnny Depp recalls, laughingly.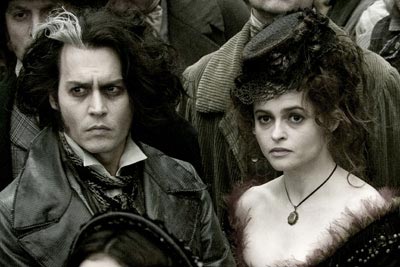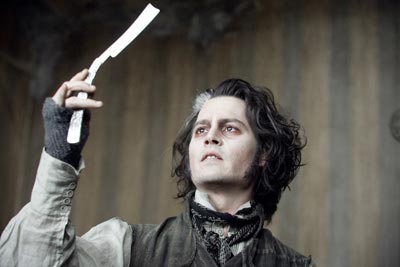 Asked whether he sees Todd Sweeney as a character just out for revenge and violence, Johnny Depp thinks "it probably is all of that, layer by layer and one thing leads to another so initially victim who dreams of revenge and becomes obsessed with that dream of revenge and then becomes a compulsive obsession, madness, and thats the only thing you have, the only thing that drives you or keeps you alive."
Johnny Depp has played a variety of eccentric characters, but ask him what represents a dream role, and the actor pauses then laughs. "I want to play Zsa Zsa and Eva. I have no idea. I feel like Ive been so blessed to have these characters presented to me, come in front of me in my life, I just hope I keep getting jobs. I just want to keep trying stuff, but I WOULD like to remake Titanic., Shot for shot," JOHNNY DEPP SAYS LAUGHINGLY.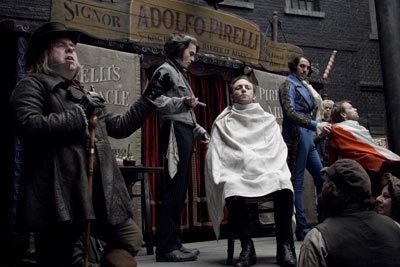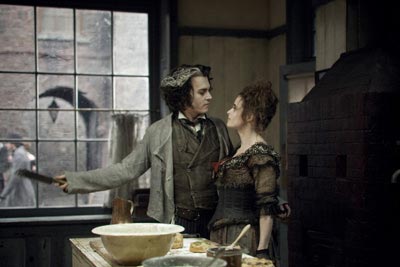 Todd Sweeney
Cast: Johnny Depp, Helena Bonham-Carter, Alan Rickman, Timothy Spall, Jamie Campbell Bower, Jayne Wisener, Sacha Baron Cohen
Director: Tim Burton
With its rivers of blood, this adaptation of the Stephen Sondheim musical isn't for the faint of heart--or stomach. But thanks to the black humor, impeccable production design, and gorgeous music, Tim Burton fans will want to sing after seeing SWEENEY TODD. For his sixth collaboration with the director, Johnny Depp stars as Benjamin Barker aka Sweeney Todd, a barber falsely imprisoned by Judge Turpin (Alan Rickman). After leaving prison, he comes back to Victorian London to find his wife poisoned and his daughter held captive. As he plots his revenge, Sweeney joins forces with Mrs. Lovett (Helena Bonham Carter), and while he preys on clients asking for a shave, his new partner turns the bodies into baked goods. But the judge still lives, and the razor-wielding madman wants his vengeance.
Tim Burton, Johnny Depp Sweeney Todd Interview -
www.femail.com.au/tim-burton-johnny-depp-sweeney-todd-interview.htm