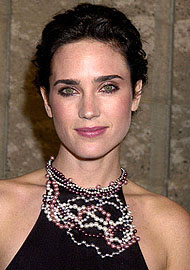 MEETING OF THE MINDS

Jennifer Connelly/A Beautiful Mind Interview by Paul Fischer in Los Angeles.

Academy Award nominee Jennifer Connelly has changed just a tad since making an auspicious screen debut at age 14 in "Once Upon a Time in America". She has since grown from a fresh-faced teen in the likes of "Labyrinth" and "The Rocketeer", to a sexy young adult in "The Hot Spot" and most recently in the enigmatic "Requiem for a Dream". Shunning the spotlight, Connelly talked to Paul Fischer about her choice of roles, working with Russell Crowe on "A Beautiful Mind" and being a single mother in post-terrorist Manhattan.

Jennifer Connelly has a quietly ethereal presence about her. A luminous, intricately beautiful 31-year old, Connelly, currently starring in the quasi-true story of mathematician John Forbes Nash Jr (Russell Crowe) in "A Beautiful Mind", has always shunned the media spotlight in this era of instant celebrity. After all, she's been one most of her working life. But Jennifer doesn't see it that way. "I can't comment upon any outside perceptions that people have of me", Connelly explains. "I'm happy to come out and talk about movies that I've worked on in an atmosphere such as this, otherwise, I have my own life that I live, which is very different and private." The actress prefers to live away from Hollywood, continuing to live in New York. "I'm a mum, so I get to hang out with my son and visit a lot of playgrounds", she adds laughingly.

Like any young mother, Connelly remains fiercely protective of her young child; a fact exemplified the day that her beloved New York fell under attack by terrorists. Jennifer saw it happen. "We live in downtown Manhattan, and we have pretty big windows that look right out onto the World Trade Centre. I was home alone with Kyle and we watched it all happen," she recalls, her voice slowly trembling at the recollection. "I was holding him in my arms when we were looking out the window when the second plane hit, to which I gasped and he put his hand on my face and said, 'Sssssh, mummy, mummy, don't get upset, YOU'RE the grown-up.' So I became the filter through which he measured his reaction to what was happening, so at that time I really needed to keep my own emotions in check and be there for him. I've been trying very hard not to lie to him about anything that's going on, because kids are so smart and they know, yet at the same time, do everything I can to help him feel safe. I try to focus more on the things that are being done to prevent anything like this from ever happening again as well as talk things through with him."

Yet here she was in a Beverly Hills hotel room talking about a movie; it all seems a bit surreal, a bit trivial, yet the tragedy of September 11 has enabled New Yorkers "to at least begin TALKING to each other. Everyone now has a reason to stop on the corner and ask: How are you, how is your family, how is everyone that you love, are you guys all okay and how are your kids feeling about it? I never felt such a community in New York City where I was born and raised."

Connelly has always been attracted to ferociously strong women, and has played a handful in her 16-year old career. She was attracted to "A Beautiful Mind" Ron Howard's take on the life of schizophrenic mathematician John Nash, "because I thought it was such a beautiful story one which I loved and thought was well-handled." Connelly plays Nash's wife whom the actress defines as being "a kind of ferocious, spirited, intelligent and beautiful character." The actress would not have played her had she been merely "the long-suffering wife but she kind of falls apart in self pity, doubt and rage, really struggles and breaks down in resolve, and I thought that made her really human."

Connelly made a conscious decision to meet the real Alicia Nash prior to shooting, something Russell Crowe avoided, despite the film being a somewhat fictionalized version of these events. "For my own piece of mind I wanted to go and say 'I'm playing you, more or less. What's your life like? Is there anything that you would really like me to convey about you, or is there anything that is important to you that I don't convey? I will respect that.' But in reality it became just sort of a nice lunch and she wanted to know about Russell Crowe and how movies are made."

As for working with her Oscar winning co-star, Connelly was impressed by the actor's much publicized intensity on the set. "I appreciated that. He doesn't let you take anything for granted. He's also very spontaneous and available as an actor, which I think is great. You just have to be able to be there and enjoy that kind of work which I really do."

Now that Connelly is a single mother, the actress says that her criteria for selecting projects has changed in a number of ways. "Firstly, I don't want to put things out there that are going to pointlessly confuse, hurt and cause more pain for my son. If something scares him along the way, then okay, for it's okay to be sad along the way. It's not to say that I'm never going to make another kind of fun, comedy or some heavy movie with a mission, but I do think about those things. I do finish reading a script and think: why are they making it and what are they talking about?"

So it is even more surprising that her next project is "The Incredible Hulk" opposite Australia's Eric Bana. "It's Ang Lee to begin with, and if you talk to him and ask him: why do you want to make the Hulk? He says, 'Well, it's really a Greek tragedy. It's actually a psychodrama,' and then he talks about the rage inside all of us, as well as about fathers and sons; he's talking about a kind of heightened format so that he can get at something really profound that is otherwise more difficult to access. It's really interesting and ambitious, rather than some kind of glossy, fun-filled movie for kids."

Connelly has come a long way since beginning her career as a teenager. Her view of acting has changed with it, she says. "Right now it is a great thing to do and it's much more my niche. Every time I work on a project I love questioning what I am doing here and what this is about? What does this mean? What do we feel? We are our dreams. I mean I have been engaged in those kind of experiences since I can remember and it is a perfect place for me to be because that is what I do in my work."