JACKMAN RETURNS TO HIS AUSSIE ROOTS
EXCLUSIVE Hugh Jackman, Australia Interview by Paul Fischer.
Ten years ago then Australian-based journalist Paul Fischer met Hugh Jackman who was promoting a new Australian film, Erskineville Kings. A decade on, and Hugh Jackman has returned to the industry that began his own journey to stardom, and reflects on a career that culminates with his starring role in the new epic Australian romance, Australia. Talking byt phone from New York, Jackman talked exclusively to PAUL FISCHER about Australia [the movie and the country], Wolverine and being this year's 'Sexiest man alive'.
QUESTION: Obviously Australia is one of those projects that you were just dying to do when it came to you. I mean, were you surprised in some ways that this came your way at this time in your career?
HUGH JACKMAN: In a way, really, everything since from Oklahoma on has been, on some level, a bit of a surprise, and thrilling. Even Oklahoma, actually. The whole ride has been fantastic. The way it works with Baz, and - you know, when he first talked to me three years ago, it was untitled. He told me the story like he was at a campfire. He didn't send me a script. And I just said to him, "Mate, I'm in." I wasn't actually down for a role at that time. You know, it was just - I just said "Man, I'd love to be part of it." And that's genuinely how I felt and it's really how everybody felt. On the crew, and - everybody just wanted to be a part of it, knowing that this was somewhat of a once in a lifetime opportunity. We think - you never know. But we think.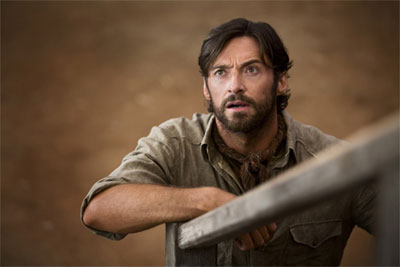 QUESTION: Obviously this was a very tough shoot and I'm just wondering whether or not geography and the physical intensity of making a movie like this in some ways helps define your performance?
HUGH JACKMAN: Yeah, that's a really good question and, you know, we did a lot of preparation. I actually spent a lot of time with the real deal, mustering and driving cattle and doing all that. I had spent time in that region and probably fair to say we went fairly much on location about a month after starting shooting. They shot all the England stuff first. We shot at Strickland House in Sydney for the exterior for the ball sequence in Darwin fand then we went on location. I think it's fair to say that - that's not to say it's true to say that my character - that's where I really felt that I'd got him. You know, that's where I had that feeling like, "Okay. I know fully who he is." And I'm sure that that was informed by being out there. I actually lived on location. We had a choice to go back into town. Most of the crew did that, obviously, and I just stayed out there. I had my caravan, and just lived in my caravan with the campfire outside. And I'm not saying I'm a Method actor, but there's something about the landscape, the magic of that landscape out there, and just living there and working with the guys, and the real deal, that it starts to sink in.
QUESTION: Does it reinforce your Australian-ness, in a way? Because, I mean, you haven't played an Australian character for some time and you've been very much immersed, I guess, in the American film industry, and in Hollywood and all of that. Does this kind of reinforce your Australian-ness?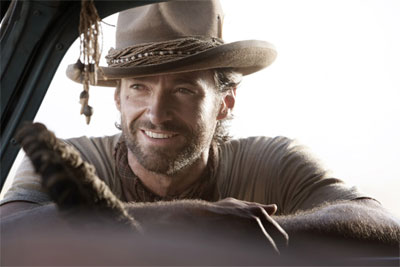 HUGH JACKMAN: Yeah. I suppose it does. You know, being at home for such a long time. There are differences working on an Australian film. The crew has a different atmosphere, we're in the most incredible location. I got a greater understanding, that's for sure, of what it means to be an aboriginal Australian. The indigenous - I had a much deeper understanding. I think - I'd learned about it, particularly at university, but to really live and work with those guys is another thing. And in the end, my understanding of who I am and where I come from, after really ostensibly being a gypsy for ten years, I'm sure it did deepen things for me. I then went on to make Wolverine in Australia. So we were home for two years. And ito both me and my family, I think, a really sort of important return, a really important time at home. We've actually now just sort of bought a place in New York, and I'm sure we'll be mixing our time again, but I don't think any of us in our family will forget that time, if you know what I mean.
QUESTION: Would you return and do other Australian projects if the right thing came around?
HUGH JACKMAN: Yeah. Yeah, absolutely. I mean, the more I do film, the more I'm certain that the prerequisites for signing on are - it's hard to say which comes first, but, script and director, regardless of the subject matter. And I think even with this film, it's important to note that of course it's important to Australia. But for the rest of the world, it is a movie that is no more about Australia than Casablanca is about Casablanca. You know? It is a metaphor for the frontier, for the remote, and a place where you can have an experience, and kind of lose yourself, in a way. So - as to what's next, or what other films, I will always have a leaning towards that, and will make my choices - if there's two films, an Aussie one and a non-Aussie one that I'm tossing up, it'll always be the Aussie one that wins out.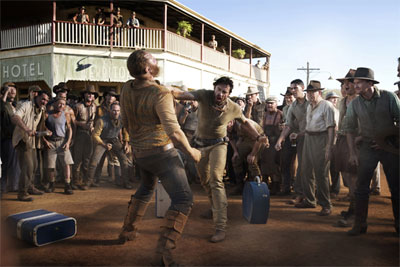 QUESTION: Do you think that there's too much pressure on behalf of the media, or particularly the Australian media, that this movie has kind of been defined, for some odd reason, as being the saviour of the Australian film industry, and of Australian tourism? Do you think that's a little bit too much pressure for one movie to bear?
HUGH JACKMAN: Yeah. [LAUGHTER] I mean, look. Some movies get a momentum of their own, that do things that I'm sure, when they originally were conceived, or even when they just opened, that people didn't see coming. You know, I think to anticipate that kind of thing, and to have such high expectations, like saving the Australian film industry, or resurrecting Australian tourism, is unrealistic of anything, to be honest. Even a tourism campaign. You just do your best, and see what happens. I mean, I think the interesting thing - what I will watch particularly, and what worries me more than anything, is the kind of horrendous statistic that only two to 4 percent of the films Australians see are Australian. So in the rest of the world, in terms of context, it's incredibly low. I mean, I know it's another language, and all. But in France, it's 60 percent. And there are varying degrees in between. So, two to 4 percent is ridiculously low and I think a lot of people have always used the excuse of, "Well, we don't have the marketing budget. We don't have - you know, the scope or size of a big Hollywood movie." Well, this one does. So. [LAUGHTER] Let's see how many people - how many Australians see it. And that'll be, I think, very telling, as to how Australians themselves - and in a way, I'm putting them into your sight - how Australians themselves feel about Australian movies.
QUESTION: The first time we met was ten years ago on Erskineville Kings. And now a decade on I just laughed when I saw this, actually. You're now the Sexiest Man Alive.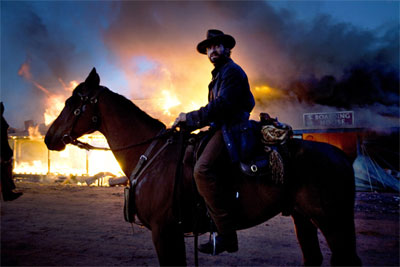 HUGH JACKMAN: [LAUGHTER] I laughed, too.
QUESTION: Do you find that side of the film industry and celebrity all a little bit weird, and very strange? And how do you separate that with your role as an actor, and as a family man?
HUGH JACKMAN: Yeah. Well, I find it easy to separate, really, because - for exactly the point. You realize it's part of show business. And it's something - look. I'm not going to kind of spend too much time worrying about it either way, you know? It's - on some level, it's better than a kick in the teeth. And on another level, I fully understand what's at play here, and I understand the mechanism, really, of what's going on and the real hard thing to separate yourself from is, say, the way this film will be received, you know what I mean? Because when you really put your heart and soul into something - now, if I spend three years putting my heart and soul into getting that title, and I got it, I'd probably be ecstatic. You know? But the fact that I just live my life as an actor, and sometimes these things come, and sometimes go. And I'm sure in a year or two I'll be on some other list that has me at the other end of the spectrum, you know? And I'll try not to get too attached to that. So the hard thing - and I still think the same thing applies in terms of happiness in life, and probably as an artist - is to be able to remain the observer of all these things. Enjoy the play, enjoy what's going on - which it is. It's a play. And try not to get attached. I think, to be honest, one of the greatest things I ever heard was when Halle Berry turned up for the first time ever to accept her Razzie Award for Catwoman. And she said, "Hey. If you're going to turn up and put on a dress to accept an Oscar, then you've got to be prepared to turn up and accept this one." And I feel like - you know what? That is probably the coolest, most wise thing I've ever heard in this business.
QUESTION: Now bviously there's a huge difference between doing a character-based film on this scale, with this like a Wolverine. Why was it important for you to go back to that character?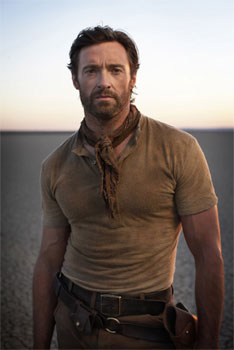 HUGH JACKMAN: Well, after X-Men, there was not, like, a fete accompli that I would do it. We basically got a great script. And I had the script and director. David Benioff, one of the great writers in Hollywood, came knocking at our door. And I went and had a meeting with him, and he told me his idea. And I just went, "That is so brilliant." Now, I know this character by now, and he is a mad, mad fan of the comic books. He's not cheap. But he came to us with this idea, which was smart and interesting. And it was also steeped in a deep love of the character, and the comic book history. So I just went, "Okay. There's a reason to make this film." I mean, I'd always felt there was a reason, storytelling-wise. Because as good a go as I'd had in X-Men I, II, and III, there was a lot of mystery left. I don't think - we touched on it in X-Men II. But there were certainly a lot of mystery still left about his origins. I was always a mad fan, in reading the comics, of the Wolverine in Japan saga, which is one of the most famous. But ultimately, we all decided - I think rightly, after seeing the film - that you need to understand the character's origins, to understand who he is. And to really get it. So that's what the movie does. It goes right back to him as a kid, basically.
QUESTION: And does the movie set itself up for a second Wolverine movie, in case you were inclined to do another one?
HUGH JACKMAN: Yeah.
QUESTION: Or do you think this will be enough?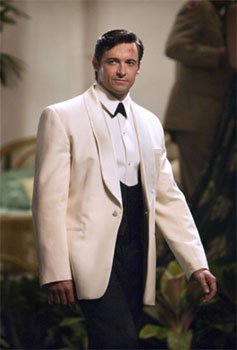 HUGH JACKMAN: I don't know. I had the same feeling as I did after X-Men III. I still love doing the character. I do. Otherwise I wouldn't do it. I still feel that there's a desire, an appetite for the character. And by the way, if it's clear to us on May second or third that that's gone, then I'll walk away happily. I'm not going to flog something - or flog a dead horse, or try and make movies that people don't really want to go and see. I have no interest in that. Even no matter how much I love the character. So there are many prerequisites. But ultimately, there's a few story lines that are running my head which I think would be really cool, but unless the script is right, then I just don't see the point in doing it. I'm probably at the point in my career where I don't need it. And the last thing I want to do is just to push it on people, if it doesn't warrant a full feature movie.
QUESTION: What is next for you, in terms of your career? Do you know yet?
HUGH JACKMAN: I don't know. We're about to go to Europe and promote Australia, the movie. And - probably a little bit of down time. It's been - with Wolverine and with Australia, it's been pretty full-on. And got to organize schools for Oscar and - and for Ava.
QUESTION: Now, are they going to go to school in New York?
HUGH JACKMAN: Yeah. Yeah.
QUESTION: Why New York, as opposed to LA?
HUGH JACKMAN: And Australia next year. We need to have - well, most of the - for better or worse, now we're at a point where I cannot be sort of dragging Oscar around. He's almost nine, you know? He's sort of at that point now where you need to settle a little bit and I prefer to be there. You know, even if I go and do a film, New York or being in America is a lot easier to commute to than being in Australia. And so that's the sort of - the next small period why, and that's the choice we made.
Australia
Starring: Nicole Kidman, Hugh Jackman, David Wenham, Jack Thompson, Bryan Brown
Director: Baz Luhrmann
Genre: Action/Adventure
Set in northern Australia before World War II, an English aristocrat (Kidman) who inherits a sprawling ranch reluctantly pacts with a cattle driver (Jackman) in order to protect her new property from a takeover plot. As the pair drive... Set in northern Australia before World War II, an English aristocrat (Kidman) who inherits a sprawling ranch reluctantly pacts with a cattle driver (Jackman) in order to protect her new property from a takeover plot. As the pair drive 2,000 head of cattle over unforgiving landscape, they experience the bombing of Darwin, Australia, by Japanese forces firsthand.