Here Comes The Truck
Melbourne's New Wedding & Event Planning Company with a Difference
Here Comes The Truck is a Melbourne-based wedding and event planning company that has recently been launched to satisfy Melbourne's super-popular wedding catering trend – Food Trucks.

Here Comes The Truck has aligned itself with Melbourne's most popular and independent Food Truck vendors, offering a wide variety of cuisine ranging from Mexican to Vegan, guaranteed to deliver a gob-smackingly delicious, relaxed and quirky wedding celebration. We can recommend the perfect Food Trucks to suit any occasion, as well as handle all the logistics and permits involved in getting them there, so you don't have to.

Having Food Trucks serve up foods your guests can nosh on is a fun and inexpensive way to send them home with full bellies still raving about how great the food was.

Here Comes The Truck is a one-stop event management company that creates unique celebrations at almost any off-beat venue by trucking it in; offering expertise in design, planning, managing and rolling-out a creative wedding experience that your guests will love. We set up for any occasion and can accommodate a wide range of themes; from industrial to bohemian, or coastal to country.

Our custom created weddings and events are individually handcrafted, and our onsite staff and event coordinators manage each event from start to finish with precision and passion, leaving behind unforgettable memories.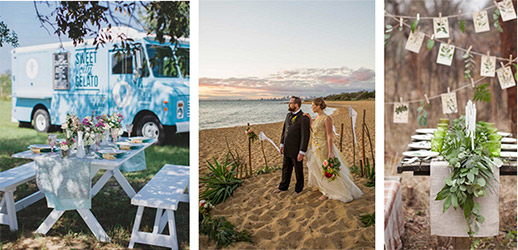 Following many years of operating as a wedding photographer and working in the Food Truck Events industry, owner Catia Di Paolo decided to channel all her experience, knowledge and artistic flair in creating a unique events management company that offers modern, independent couples the celebration they wish to have. Catia has surrounded herself with a team of dedicated and experienced event managers and stylists, as well as an entourage of food trucks, stationary suppliers, DJs, celebrants, photographers, venues, bakers, bars, entertainment to make your celebration happen anywhere.

For further information about Here Comes The Truck, visit: www.herecomesthetruck.com.au

Please find our social links: www.facebook.com/herecomesthetruck/ www.instagram.com/herecomesthetruck/