THIS EX-SHAGSTER TURNS PRO
Heather Graham/From Hell Interview by Paul Fischer in Los Angeles.

Whether she's shagging Austin Powers, ex-boyfriend Ed Burns in "Sidewalks" in New York, or a British-accented Johnny Depp in her newest film, "From Hell", Heather Graham is one of Hollywood's hot properties. When talking to Paul Fischer recently, Graham talks "Austin Powers 3", ex-boyfriends, and her hellish new movie in which she plays an impoverished prostitute on the run from Jack the Ripper.
Heather Graham is all set to get down and groovy in the next Austin Powers movie-on one condition.
"I said as long as they don't blow me up, I'm interested in showing up again," says the 31-year old actress who played CIA Agent Felicity Shagwell in "Austin Powers: The Spy Who Shagged Me."
If "Austin Powers In Goldmember", to film this year for release next summer, sticks to pattern, Felicity will be sidelined to make room for a new partner for Powers (Mike Myers). "Hopefully I can go out in some flashy fun way," Graham says. "I'm not going to perish. I'm not going back to it if it means perishing."
Graham hasn't yet read the script but has heard "Goldmember" will be set in the 1970s and Power's new love match will be a black woman with a big afro.
Meanwhile, Ms Graham, prettily dressed in a lemon outfit, recalls spending a restless night after reading the script for the new Jack The Ripper movie "From Hell", in which she plays a prostitute "I was really terrified and I was in my house alone and I was waking up throughout the night just like petrified that someone would come in my room," says Graham, who stars as Mary Kelly, the prostitute believed to be the infamous English serial killer's final victim.
But once on the Prague set last year, cast and crew spent more time laughing like hell, the 31-year-old actress recalls.
Despite the subject matter, the working atmosphere was kept light, largely due to the film's co-directors, twin brothers Allen and Albert Hughes.
"They showed us all the (prop) bodies and it was just that we were so excited about it. 'Hey, look at this body. Wow, cool.' It was all like a little adventure we were on. It didn't seem so horrific," Graham said.
Although some of the butchery is graphically depicted, "From Hell" is less a horror movie and more of a murder mystery and social study of the terrible poverty of the 19th-century English underclass. "There's definitely gore in there for those people who like horror movies, but it's not like a sit on the edge of your seat 'Ah! Ah!'" said Graham, who was also attracted to the project by the prostitutes' spirit and camaraderie.
"I think (my character is) actually really brave and strong that (she) could survive in those conditions. The conditions were so bad. It wasn't like as in today's society, someone might choose to be a prostitute to make more money or they might work at Burger King. Women then didn't have those choices." Which is why, if she chose to live in another time, 1888 London would not be her first choice. "I think the furthest back I'd want to go is the seventies," she says laughingly. "It was a great time for women then."
Asked if a graphically violent film such as From Hell, was the right movie to be released at this time, given recent events, Graham skirts the question directly, only insisting that "I think it's a good film and I think maybe there's a place for a good film, even if it's not the timeliest time to release it."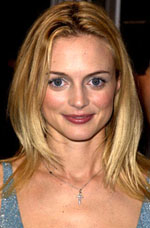 "From Hell" was shot on location in Prague, at the same time "A Knight's Tale" was in production. It was there that she met ex-boyfriend Heath Ledger. "It was a great time, we all kind of clicked as a group trying to get through our respective jobs in this strange country."
Graham, who has also had high-profile romances with actors James Woods and Ed Burns, is single for now.
"I don't have a new boyfriend. I wish I could give you some interesting gossip but no." Graham will next be seen on screen opposite ex-boyfriend Burns in "Sidewalks of New York", the release of which was put on hold after the September 11 attacks. "It was kind of weird seeing that movie after Ed and I broke up, but he was great to work with and he handed me a wonderful role." She's relieved the film will finally see the light of day. "I think it's a good film that deserves to be seen."
Graham also completed work on Kaige Chen's anticipated new film, "Killing Me Softly", which will open early next year. "He was amazing to work with. He took the story and made it a lot more interesting than it was originally."
Described as an erotic thriller, Graham has some very intimate moments in this film, opposite co-star Joseph Fiennes. "Initially when I was doing it I kept on thinking: I hope this isn't exploitative. But when I saw it I said: Wow, I should have done more, this is good!" she insists laughingly. "He handled it more in the vein of a love story about passion that two people have for each other, more psychological and less sensational."
Graham is one of Hollywood's brightest young stars, having done over 30 films, including the somewhat forgettable "License to Drive", starring Corey Haim and Corey Feldman.
Times have changed, and Heather is all grown up. Now searching for the right vehicle, the beautiful Wisconsin native has hired someone to help her develop the right vehicles. "I hope that gives me the freedom to find the right female-driven vehicle." Yet fiercely unafraid, Graham relishes the challenge. "Obviously I need that and I'm sure I'll meet whatever challenges lay ahead."