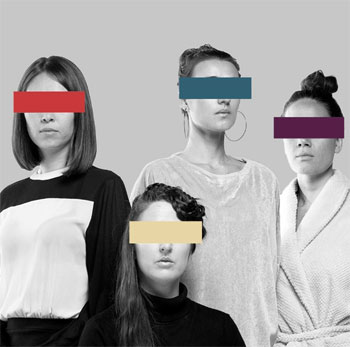 Haiku Hands Show
Earning their place as one of the most talked about acts at BIGSOUND, Haiku Hands has announced their first headline show at the Lansdowne Hotel in Sydney on Thursday 2 November. The elusive crew of artists hailing from Sydney and Melbourne have established their presence with the tongue in cheek, rave-inspired Not About You.

With synchronised dance moves and high energy production, Haiku Hands present an eclectic set and a multi-sensory live experience. Their infectious performance commands the room, confirming an act well and truly on the rise.

Collaborating with some of Australia's finest writers and producers, including El Gusto (Hermitude), Joelistics, Jaytee Hazard and Lewis Can Cut, Haiku Hands curate, perform and work as a collective of artists. Together, they form genre bending songs with influences from hip hop, pop, electronic, dance and disco in which they engage and explore social norms with their lyrical and visual content.

At the core of Haiku Hands is Claire Nakazawa, Mie Nakazawa and Beatrice Lewis. In addition to her work as a painter, Claire performs in Urthboy's live show and featured under the alias Chaos Emerald on Hermitude's Speak of the Devil and on Horroshow's new album Bardo State. Beatrice is a vocalist and producer who works with Joelistics and in rising indigenous band Kardajala Kirridarra. She has opened for the likes of Mark Pritchard and Lapalux under her solo project -Beatrice' and was invited to attend Red Bull Music Academy in Montreal in 2016. Mie Nakazawa is the creative co-director and performer in Haiku Hand's dynamic live show. She is a visual artist and member of Sydney's Sketch the Rhyme.
Haiku Hands Headline Show
Thursday 2 November - Lansdowne Hotel, Sydney, NSW