DEL TOROS LABYRINTH.
by Paul Fischer at the Toronto Film Festival.
Mexican director Guillermo Del Toro is as large as life as are his films. Gregarious and full of passion, even while doing close to a hundred interviews amidst the chaos of the recent Toronto Film Festival, Guillermo Del Toro is a mountain of strength. But he has reason to be pleased with himself. After all, his latest film, the Spanish language Pans Labyrinth is already receiving early buzz and even Oscar talk. Labyrinth revolves around Ofelia, a young girl who immerses herself in books, moving into remote rural woodlands with her mother to join her violent, controlling and anarchistic step-father, a fascist military officer hunting down the last guerilla fighters that remain to oppose Franco's rule. During a pit stop along the way Ofelia repairs an unusual statue, the statue in turn releasing a large insect that Ofelia believes is a fairy that eventually leads Ofelia to the heart of an ill kept labyrinth near to her step father's military encampment. It is here that she meets Pan, who informs her that she is the reincarnation of a fairy princess and may return to her magical realm only if she can complete three tasks before the full moon arrives. A fairy story that is more Grimm than Disney, Guillermo Del Toro sees the film as a flip side to his ghostly Devils Backbone, the film that secured him as a visionary filmmaker, and one that explored a boys world. "Id call Pans a mirror or a companion piece or more accurately even a sister movie cause Devils Backbone is the brother movie and this is the sister movie," Guillermo Del Toro explains, sitting near the bar of Torontos Intercontinental Hotel.
Guillermo Del Toro says it was not difficult to craft a film with a young, female protagonist at its core, "because I believe that the way the character of Ivana is written from me growing up I have often felt a lot of empathy for the women in my household through my mother certainly, and my grandmother, feeling a lot of pressure as a boy to behave a certain way, like playing football and getting into sports, so I thought well the opposite must be true for a girl." Guillermo Del Toro says he wrote the script from a boys point of view, conceding that "I think the girl very much reflects the way I was when I was a kid."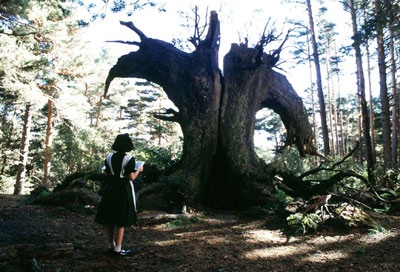 A film that strikingly contrasts a very brutal reality with a certain youthful innocence, Guillermo Del Toro admits he was "scared shitless" in casting the right actress to play Ofelia, one of the screens more complex child characters of recent memory. "There was a point where I believed we were not going to be able to make the movie." Ultimately, it was 12-year old Ivana Baquero that landed the central role, but the director says that finding her was purely accidental. "The character I wrote was initially younger, about 8 or 9 and Ivana came in and she was a little older than the character, with this curly hair which I never imagined the girl having. But I loved her first reading, my wife was crying and the camera woman was crying after her reading and I knew hands down Ivana was the best actress that had shown up, yet I knew that I needed to change the screenplay to accommodate her age. I actually felt it made the movie better that she was under the threshold of becoming a young woman."
Born in Guadalajara, Mexico, Guillermo Del Toro was struck by the horror genre at a very young age and remembers being terrified at 2 years-old by the Mutant episode from the original sci-fi/horror series "The Outer Limits". But he was always captivated by the world of fairytales and remains an avid collector. "Some of my favourites editions obviously are more expensive ones that have the original plates and are very fanciful 19th century editions that back in the days were meant for very wealthy late Victorian families or turn of the century families. But there is another series of books that were republished by Dover that I love, the Violet Fairy Tale, the Yellow Fairy Tale, the Golden Fairy Tale book, a series of about 8 books that were very well curated and essentially encompass a wide view of the fairy tale folk lore. I also love the Thousand and One Nights although there may not be fairy tales in it."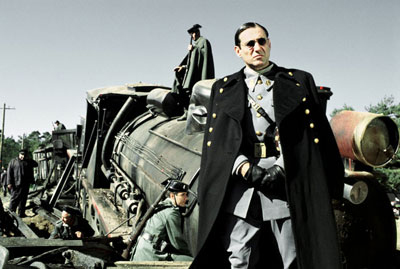 Guillermo Del Toro has explored fairytale mythology in films as varied as 1992s Cronos, a highly original telling of the classic vampire tale, which not only swept Mexicos Ariel Awards, but most significantly, marked the first collaboration between Guillermo Del Toro and actor Ron Perlman, an alliance that would prove fruitful in later movies. As is typically the case with successful independent filmmakers, Guillermo Del Toro got a shot to direct his first Hollywood movie. The result was "Mimic" (1997), another foray into the horror genre that turned out to be much different than what Guillermo Del Toro originally wanted. Starring Mira Sorvino as one of two scientists that genetically engineers cockroaches only to have the experiments come back to haunt them with a vengeance, the movie left Guillermo Del Toro unhappy due to constant studio pressures. But it was a learning experience, one that would assist the director in Hollywood confrontations to come. In 2001, Guillermo Del Toro directed the critically acclaimed Devils Backbone, an ambitious take on the fabled ghost story. Set during the last days of the Spanish Civil War, "The Devils Backbone" told a mournful tale of ghosts haunting a school shelter for orphans and abandoned children. Hailed for its ominous mood and fine performances, the film reconfirmed Guillermo Del Toros artistic prowess.
Having directed the vampire action-thriller, "Blade II" starring Wesley Snipes, Kris Kristofferson and Perlman. Guillermo Del Toro teamed up again with Perlman to make "Hellboy" (2004), another in a then-trendy wave of comic book adaptations churned out by Hollywood. As a long-time fan of the Dark Horse comic book series written and illustrated by Mike Mignola, Guillermo Del Toro did battle with studios executives once again, mainly over who to cast as the title character. The director insisted on Perlman from the very beginning; thus Perlman was cast to star as the spawn of Hell who is raised from the flaming depths by Nazis at the end of World War II, only to be captured and reared by the benevolent Professor Bruttenholm (played by John Hurt).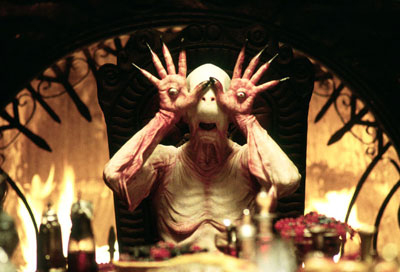 The director was then able to return to his roots with Pans Labyrinth, a film that explores the directors dark and light view of humanity. Asked where the darkness comes from, Guillermo Del Toro says "I am thinking about those things. Every time I go to a bank Im looking around to see how many cameras they have and how could I rob it, or if I am at an ATM Im looking how I would burglarise it. But obviously I socialise it through the movies and whenever I have this type of crazy idea, I end up putting a note in my diary and I use it in a movie later." Growing up in Mexico, Guillermo Del Toro recalls the countrys violence, "and one of the first things I saw, is that we were in a street fight once and I saw a guy hitting another guy with a bottle and one of the things that impressed me the most is the bottle never broke. Unlike in the movies this bottle just kept going and going and going and then I put that in the movie."
Guillermo Del Toro hopes to return to mainstream Hollywood and shoot Hellboy 2 in April, this time for a different studio, and promises it will be radically different from its predecessor. "My idea with Hellboy 2 is that its almost a rephrasing. You dont re-enact the franchise you reinvent it. My favourite movies are like Evil Dead 2 which is basically reinventing Evil Dead 1, so I would hope Hellboy 2 could be taking what I learned from Hellboy 1 and reinventing it."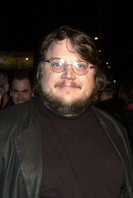 Though Guillermo Del Toro has only directed a handful of films, the striking aspect of his latest work, is its sense of visual depth and sophistication. The director is surprised at how sophisticated a filmmaker he has become, combining his own personal artistry with that of an action or genre director. "Its funny because when I read my first review in The New York Times and later I met the reviewer she said to me, I thought you were 70 or 80 cause the movie was very sedate and very sort of like a mature movie. I felt thats funny because back then I had another crazy guy in me wanting to do action and sort of comic book things. So I think that when I got to Hellboy or Blade I purged out a lot of that guy and I was able to reapproach Devils Backbone or this movie and was able to release all that energy. So now I was able to approach this more securely and I think that if you watched the movies Ive done, the story is more or less successful every time, but the craftsmanship is more and more secure."