Dry July Danny Clayton Interview
It exceeded all box office expectations in 2010 with an incredible 9500 people raising nearly $2.5 million for adult cancer patients and this year it's back, with a bigger and more dynamic line up. An all-star cast combined with an altruistic plot, Dry July 4 - Dry Harder aims to raise much-needed money to make a positive difference to the lives of adults living with cancer.

Headlining Dry July is ABC 702 Breakfast Presenter, Comedian and Dry July Patron Adam Spencer. In 2008 Adam committed on air to having a Dry July and beyond all expectations other people joined him, raising almost a quarter of a million dollars. Three years on he is at it again "I'm thrilled to be back for the 4th Dry July, it won't be any easier, but the challenge is half the fun... Come and join me and thousands of other Aussies going Dry this July!"

Joining Adam is an all-star cast of Ambassadors including;
TV personalities: Daniel McPherson, Fuel TV's Corbin Harris, Eat Yourself Sexy Blake Warroll-Thompson, Channel V's Danny Clayton & Jane Gazzo, Underbelly's Roy Billing, Entertainment reporter Peter Timbs and Good News Week's Mikey Robbins
Radio hosts: WSFM's Amanda & Jonesy and Jono & Dano, 3AW's Denis Walter, Nova's Christo & Kate, Mix 101 & 106.5 Ant & Becks, Wave FM's Desiree Savage, ABC's Richard Glover, Fiona Wyllie and Triple J's Lindsay McDougall and Zan Rowe.
Entertainers: Joel Creasey (comedian) and Silverchair's Chris Joannou Chefs Better Homes & Gardens chef Ed Halmalgyi, celebrity chef Ben O'Donohue and My Kitchen Rules cooks Tasmanian duo Alison & Ester

Diverse and dynamic these 2011 Dry July Ambassadors aim to inspire Australian's from all walks of life to abstain from alcohol for the month of July and raise sponsorship for hospitals across Australia, helping them create better environments for adult cancer patients and their families who spend so much of their time in oncology wards.

To join the cast of Dry July signing up is easy and free… from 1st June 2011 go to www.dryjuly.com create a profile page then encourage friends, family and colleagues to get involved either by participating themselves or by donating as little as a six pack of beer or bottle of wine (in cash donations of course).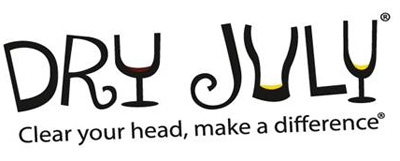 Interview with Danny Clayton
Question: Why are you climbing on board the Dry July wagon in2011?

Danny Clayton: Because climbing on board the Dry July Wagon is healthier than getting aboard the boozy boat.


Question: Will you be setting any particular goals for July? (trapeze lessons…learn to tango…lose a few kg's…enter the Archibald…run a marathon…invent something perhaps…?)

Danny Clayton: I plan on using my hangover free mornings to develop another one of my hidden passions… whittling driftwood into Star Warscharacters.


Question: Will you be creating a 'team' or are you flying solo forDry July 2011?

Danny Clayton: I'll be going Han…. As in Han Solo. (Star wars jokes aren't funny)


Question: It's June 30, 2011 you are granted one last drink_____________

Danny Clayton: So I'll drink unicorn tears. (Which is so alcoholic I will be tipsy for the rest of the month)


Question: Do you have any notable festivities planned during the month of July?

Danny Clayton: Only my favourite music festival in Australia SPLENDOUR INTHE GRASS!


Question: A friend is giving you a hard time, they're teasing you for being the 'sober bob' of the party…do you:
a)Snatch the chardonnay from their hand and insist they donate it to the Dry July wagon
b)De-Friend them on Facebook
c)Tell them to bugger off unless they plan on buying you a golden ticket
d) Other…please explain_________________________________________

Danny Clayton: I pretend I don't care but then weep in the corner over a chocolate milkshake and eat my feelings.


Question: As a first timer to Dry July… do you expect this to be a breeze or a test of strength?

Danny Clayton: Neither, it is more likely to be torture.


Question: You've mentioned that a part of your job is to attend up to seven gigs a week…there must be quite a bit of pressure to watch with a beer in hand…what's your strategy for Dry July?

Danny Clayton: Wear a snorkel mask. I'm guessing no one will think to ask me why I'm not drinking


Question: Do you have a strategy to deal with anti Dry July'ers?

Danny Clayton: When I was in Grade 3 my Mum told me that if people were mean to me that I should just say; "Sticks and stones may break my bones but words will never hurt me" This is probably why I was beat with sticks and stones so much while growing up.


Question: There are whispers that you may be embracing the title of 'Golden Ticket Boy,' would you care to comment?

Danny Clayton: I've set myself a rule that gives my boss the power of the golden ticket. He is the only one that is allowed to buy my golden tickets and I was hoping he would buy me a golden ticket for every day of the month (just in case) but I doubt I will get a single one. There are no shortcuts… I'm locked in… the thought of that terrifies me.