DENZEL PULLS DOUBLE DUTY
EXCLUSIVE Denzel Washington, The Great Debaters Interview by Paul Fischer
If the recent Golden Globe nominations are anything to go by, the Oscar race looks like being led by the second directorial feature by two-time Oscar winner Denzel Washington, who is having quite the year,as he explained to Paul Fischer in this rare one on one chat.
Denzel Washington is relaxed, sitting back on a sofa in a Beverly Hills hotel suite, discussing his second directorial feature, the critically acclaimed 1930s-set drama The Great Debaters, a film that explores racial turmoil and the power of words in the racially charged south. Denzel Washington remembers his own battles with childhood racism, a dominant theme in this powerful drama. "The first time I got called a 'nigger' I was nine years old," Denzel Washington recalls with emotion. "We were in Florida in a little motel on Daytona Beach and me and my brother went up on the little balcony,. when these white guys walked by. One of the the guys said it and I went inside. I asked my mother, 'why is he acting like that?' She said, 'Oh, that's just somebody who's worried about you taking their job, or it's like when people are at the bottom, they're like crabs.' "
Perhaps it's that memory that has instilled in the 53-year old dual Oscar winner, Denzel Washington a sense of purpose, as he did when he discovered acting pretty much by accident as an idealistic college student. "I was in college, took a class and did a play. I was looking for what I wanted to do in life, studying a little of this, a little of that and I found my niche. I had great people around me, including my mentor Bob Stone, who was an actor and a great, great friend who said, 'You have a gift for this,' and to be 20 years old and someone say that to you..." His voice trails off as he smilingly recalls his earliest ambitions. "At the time where we were New York theater snobs, I thought I was gonna do Broadway and there was no Hollywood," Denzel Washington recalls laughingly. "I'll do O'Neil, I'll work my way through Tennessee Williams, on my way back, do Shakespeare so that's what it was for me. And that was enough. That was great and maybe do some commercials to supplement the income, and be a working actor."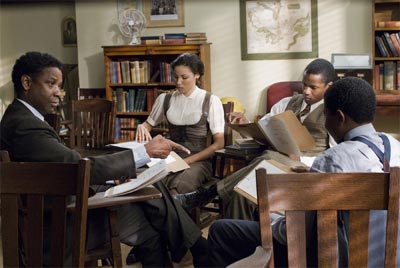 The working actor, Denzel Washington commands a $20m a movie payday, and in his fifties, remains consistently a top box office drawer. No wonder the actor is willing to keep his acting in the foreground of his career, despite some of his best notices for his direction of The Great Debaters. Denzel Washington, genuinely modest, admits to surprise as to how his acting career has grown in strength in the last decade. "You know, my two biggest openings have been in the last two years, Inside Man and American Gangster, so maybe I'm just in a better place and this is my peak time. I'm happy that I took the shot at directing, because it's like starting over and being young again, as it's new." So new in fact, that despite his outward appearance of calm, he recalls the fear he felt before shooting his directorial debut, Antwone Fisher. "I was so petrified that I had to go to a chiropractor like a week before. I was lockin' up asking myself: 'What have I gotten myself into and I don't know what I'm doing.' " Denzel Washington laughingly recalls literally learning on the job, including technical jargon. "But it's invigorating and exciting. I think maybe sometimes actors and entertainers develop bad habits because they've had so much success and they need to find a way to tear themselves down or to be normal or something, well, I found it through directing."
Denzel Washington's fears have been put to rest, since the critics are ecstatic over The Great Debaters, in which he performs double duty as both director and star, playing a politically active debating coach in this loosely based true account of a small Black debating team of the mid-thirties battling against prejudice to prove the power of words can beat the odds. But even with his Hollywood clout, Denzel Washington was made too aware of the reality of getting this story told. Yes, he can make the film but he also had to star. " They studio bosses said, 'We'll give you $2 to make it if you're not in it and we'll give you $4 to make it if you're in it, so now of course they know, I'm like, 'You know I can't make the movie for $2', 'well, that's what we got.' But they're smart, because they waited three and a half years till I'm fully invested to say that." Halfway through that three year process, Denzel Washington agreed to play Farmer. the tough, intellectual and politically subversive debating coach. "I understand the business of it, so I'll be in the movie, and that'll help,and they said, 'Oh, then well, here's $2.25', " Denzel Washington recalls, laughingly. "So rather than fight against it, I decided to embrace it, because I really wanted to see the movie get made."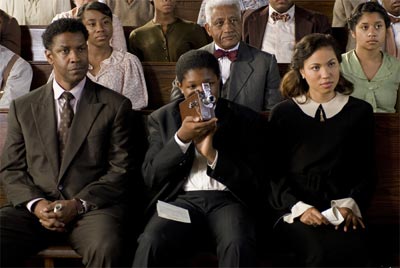 The actor, Denzel Washington says that he sees something different when he reads a script visually, as somebody who's about to direct it, as opposed to what he looks for as an actor. "I'm still looking for a good story, even if I'm just this guy in the story, because if I'm directing it, one of the characters might be a guy I've seen before or played before, but it's the overall story. But just acting in it, if it's a teacher who leads his team to a debating championship, or whatever it is, I'm not looking to play a college professor right now, as an actor, or a drug dealer. Maybe in five years or so, in between there."
While Great Debaters is set in the thirties, Denzel Washington feels there is contemporary relevance to the story, citing recent reactions following a Screen Actors Guild screening he attended. "I'm hearing young kids say-- one black kid, one white kid: 'I saw myself up there. I'm the kid who's not the best looking one, or not the hippest one, or the coolest one,' that using words can be interesting, too, not in an odd way, but in an interesting way, which is what rappers do, anyway. They're like verbal gymnastics, and that's all they do, fight each other-- verbal spitting or whatever you call it."
Denzel Washington is clearly impassioned by his second stint behind the camera and says that he is more than happy to do it again, but not at the expense of his acting career. "Did Clint Eastwood give it up? I don't think so. I don't think you have to say I would, but I think it's nice, still, not having to have the responsibility." In fact he is chomping at the bit to return in front of the cameras next spring "when I go back to work with Tony Scott and John Travolta. Tony's the one sweating' right now, running around, doing that. I don't have to. I work on my part, and that's it." Denzel Washington is referring to his starring role in the remake of the 70s heist classic, The Taking of Pelham One Two Three. Denzel Washington is playing the Walter Matthau role with Travolta stepping into the shoes of Robert Shaw. "I never saw the original and Tony will put his Tony Scott stamp on it, so we'll be blowing up half the subways in New York City." And Denzel Washington revels in dividing his time between films such as Great Debaters, and popcorn escapist fare such as Pelham. "I think right now it's a breath of fresh air for me you know and that now's the time to do it, because I got some other things I'm looking at, maybe a little heavier, or even something I might direct and then looking at wanting to do a play. So Tony called, and said to us, 'John Travolta.' and as you said, popcorn. so why not?" After all, it's the popcorn movies that feed this actor's true ambitions. "What's the line that my children have grown up with? 'Do what you have to do so that you can do what you wanna do.' " And it's a line that's proven a good omen for the actor who yearns to return to the stage, "Probably in a couple years, but don't tell my agent, though. I'd like to tackle some O'Neil, maybe Long Day's Journey into Night."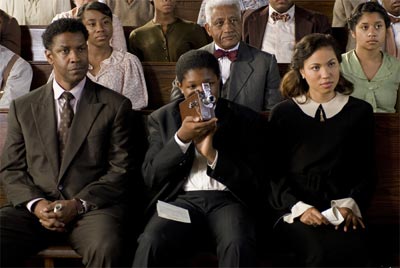 Perhaps it's Denzel Washington's loftier ambitions that suggest here is a movie star with his own innate sense of reality. He shuns the spotlight, preferring to keep in check his own priorities. "Because I don't live for this. This is what I do, not who I am and I don't rely on these things for my happiness," Denzel Washington explains. "I think I have a strong spiritual base, because I get up in the morning, say my prayers, thankful to be alive. I keep it simple and I work to remain humble. Julie Roberts said once that she's an ordinary person with an extraordinary job and I like that. I think what happens is that some people start going, 'Hey, I'm extraordinary' or, 'Look at me'."
But Denzel Washington insists that's not what got him to the position he ultimately attained. "I think what got me there was the work, so the play is the thing, so I keep working, keep hustling and I wanna continue to get better. That's why I went back to New York three years ago, and jumped right into the most difficult thing playing Brutus, and it was great making $1,700 a week with everybody else, gettin' my juices going and the fear of it." Fear has kept Denzel Washington taking risks as both an actor and director, and overcoming the kinds of prejudices he faced at the genesis of his career. But that was then, this is now. Hollywood may be less colorblind these days but prejudiced? "There's still a long ways to go for women, black or white, because you turn 40, they kick you to the curb in this town, so there's still discrimination against women over 40. I also think there's still a battle to reach the top in those big offices. I don't know how many of us are really in those big decision making positions, so in that regard, it is important for me to make films for those reasons. But I'm liking the fact that I'm getting to help boost the careers of Derek Luke and Nate Parker," he says with genuine pride. "We screened Great Debaters for Oprah's show, then I came out and spoke, then they came out and the people stood up. I was watching them, and I was like, 'They're never gonna be the same, what have I done?' so now they gotta deal with that now. It's like there's an old saying a woman told me years ago, 'When you pray for rain, you gotta deal with mud, too.' " That sounds some advice Denzel Washington himself may have been given once he won his first Oscar back in 1989. Some things never change.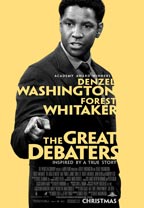 The Great Debaters
Starring
: Denzel Washington, Forest Whitaker, Nate Parker, Jurnee Smollett, Denzel Whitaker, Jermaine Williams, John Heard, Kimberly Elise, Gina Ravera
Director
: Denzel Washington
Genre
: Dramas
Denzel Washington directs and stars in this uplifting drama based on a true story about a small East Texas all-black college in 1935 that rises to the top of the nation's debate teams in a duel against Harvard. A poet and debating coach at Wiley College, Professor Melvin Tolson (Washington)...