Danielle King Renovating on a Budget Interview
In collaboration with the Master Builders' Association of Victoria, The Building & Home Improvement Expo will take place at the Melbourne Exhibition Centre from Friday 13th to Sunday 15th July 2012.

Now in its 6th year, the Master Builders Building & Home Improvement Expo has become the number 1 destination for homeowners, renovators, and tradespeople looking for the latest products, ideas, services, and information to get started on a new build or home improvement project.

The Building & Home Improvement Expo has also become a major launching pad for many new products and services that are entering the market. Visitors are spoilt for choice in the areas of bathrooms, kitchens, flooring, lighting, heating/cooling, doors & windows, energy efficiency & solar products, roofing, fencing & gates, building materials, landscaping, outdoor living, pools & spas, security, finance and sustainability solutions.

In addition to a line-up of over 280 companies, visitors to the Master Builders Building & Home Improvement Expo will be free to attend a great range of seminars and topics to educate, inform and entertain. Presented by industry experts, the seminars are not to be missed. For those wanting to understand how to approach a building or renovation project in a more energy efficient and greener way, the Sustainability on Show feature area is the ideal place to seek the latest news and information.

The Building & Home Improvement Expo
Melbourne Exhibition Centre, Clarendon St, Southbank
Friday 13th July 2012 - Sunday 15th July 2012
Friday 13th July 2012: 10am - 9pm
Saturday 14th July 2012: 10am - 8pm
Sunday 15th July 2012: 10am - 5pm
Tickets are available at the door or can be pre-purchased online at www.buildexpo.com.au
Door ticket prices: Adults - $20.00; Pensioner/student - $15.00; Children (under 14 years) Free
On-line ticket prices: Adults - $16.00; Children (under 14 years) Free


Interview with Danielle King
Danielle King is the Director/Sustainability Advisor at Green Moves Australia.

Question: If we want to renovate the main room of the house (eg. Family room) how can we easily modernise a big space?

Danielle King: How about rejuvenating some of the furniture (re-painting, covering, changing covers), splashing a bit of no VOC paint on the walls, bringing in some indoor plants and updating the window coverings. If you need to buy things, look at second hand builders yards, eBay, local op shops, local papers and garage sales (someone else's trash could be your treasure)!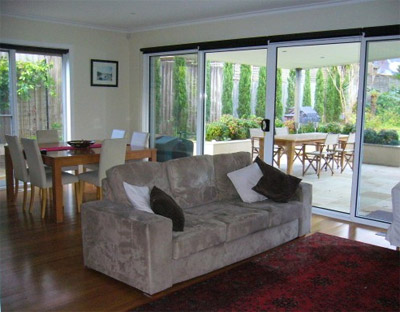 Question: What's the first thing we have to do when we decide to begin renovating?

Danielle King: Decide on the budget, then the scope of the project - then you know what you have to work within.


Question: What are your top tips for renovating on a budget?

Danielle King: Consider the longer term cost benefits of things like insulation, lighting and good windows. A bit of extra money up front can save you thousands over the coming years.
Rejuvenate what you can - repainting, re-cover, refresh, change pictures around.
Do what you can yourself (draft sealing, have a painting party and BBQ and put those friends to work!)


Question: How long did your first renovation take?

Danielle King: 10 months - put two flats back into one double fronted Victorian house.


Question: What did you learn from your first renovation?

Danielle King: Expect it to take longer than you are told - allow at least 50% extra time
Allow for budget over runs - ours went over 30% due to issues found when renovating an old home
Be there every day if it's a big renovation, it's amazing what we would have missed and what would not have been done to our specifications if we didn't keep a very close eye on it.
Watch the detail, little things can cause big problems.


Question: When selling, how can we easily update the house to add value?

Danielle King: Make sure it's very clean, tidy and well-kept inside and out, people don't like dirty houses, it looks like they've not been looked after.
Clear 'stuff' away so the house is not cluttered
Ensure any little 'broken' bits are fixed (eg: that loose step is nailed down, that carpet coming up is fixed down and that dripping tap is fixed).
Put in some indoor plants.
Repaint any tired looking rooms.
If you have some cash to spend and good solar access, install efficient solar hot water or solar PV power.


Question: Which rooms do you suggest those with no renovating experience begin with?

Danielle King: If you have the choice, start with a bedroom; relatively simple with no plumbing and minimal electrical issues. It will give you a good idea of what's involved and how long things take.


Question: What is the number one mistake people make when renovating and how can we avoid this?

Danielle King: Not allowing a contingency budget or enough time; build in at least a 20% budget contingency and base your expectations on it taking twice the time quoted; that way you'll avoid disappointment.


Question: How should we go about choosing the right tradesperson for the job?

Danielle King: Get good referrals where you can. Ensure the tradie is registered with their relevant trade (eg: the electrician is qualified and licenced, the builder is licenced and insured). Make sure you check references and check reliability where you can. Most of all ensure you have a good relationship with the main tradesperson because this is the link between a good, or what could end up being a very bad, experience.


Question: What's the hardest thing about renovating?

Danielle King: Sticking to the budget and keeping on top of what's going on (or not going on) at the site.


Interview by Brooke Hunter