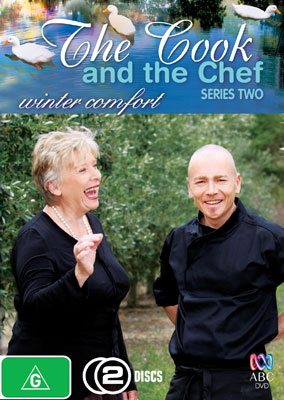 Winter is a time for rich hearty dishes to warm you on those chilly nights, so in series two of the Cook and the Chef, the two passionate advocates of the best of seasonal food, Maggie Beer and Simon Bryant, make food which is sure to comfort you.
From recipes to cook with the kids, to ingredients sourced from the surf to the outback, Maggie and Simon start with the same ingredients and end in different places giving you a range of recipes to choose from over the winter months.
Episodes:

1. Macadamia Nuts and Pasta
2. Slow Food
3. Food for a Cold Winter
4. Kids in the Kitchen
5. Soup and Rice
6. Winter Menus
7. Oysters and Pastry
8. Tasmanian Fresh
9. Dessert and Tagines
10. Baking
This DVD includes printable files of all recipes demonstrated by Maggie and Simon.
Cook and the Chef Series 2 - Winter Comforts
Rated: G
Duration: 262 mins
RRP: $29.95
This is not only two great perspectives on cooking, but great entertainment.
Order Now from Chaos
Order Now from Sanity