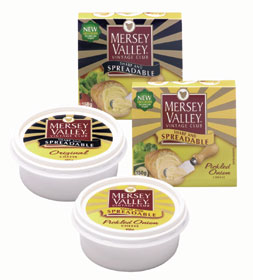 Lovers of fine foods can now enjoy the distinctive sharp bite of Mersey Valley Vintage Club Cheddar at any time, on any occasion in a convenient new spreadable format.

Featuring the same unique explosion of flavour and melt in the mouth sensation that Mersey Valley is renowned for, the Mersey Valley Vintage Club Spreadable provides an innovation new way of eating cheddar in two delicious flavours - original and pickled onion.

More than just a spread, Mersey Valley Vintage Club Spreadable is as versatile as it is sharp and tasty. Reward yourself and enjoy the full flavour of Mersy Valley cheddar in new ways - slather it over crusty bread for a delicious snack, sink your teeth in and delight in the ultimate taste experience.

Create tasty nibbles, dips and gourmet dishes for entertaining friends - or pack Mersey Valley Vintage Club Spreadable with a loaf of fresh, crusty bread, crackers, salad and a bottle of wine for the perfect gourmet picnic.

What's more, creating delicious dinners becomes a breeze with Mersey Valley's new spreadable cheddar cheese. Simply check inside the pack for lots of great recipes and snack ideas like:

Spoon over a baked jacket potato, then sprinkle with pieces of crispy bacon and chopped fresh chives.

Stir through your favourite cooked pasta then top with fresh spring onions.

Give open sandwiches that extra flavour.

Add to sauces.

Spread over toasted English muffin then top with sliced tomato, smoked salmon, sliced red onion and capers.

Use as a topping, substitute for butter, sour cream or cream cheese for additional flavour.

Available at Coles, Woolworths, Bi-Lo, Action and most Independent Grocers throughout Australia. RRP $2.99


Review:
Served on a weekend away with some plain biscuits, Mersey Valley Spreadable - Original and Pickled Onion were a huge success. The unique flavour is moreish, but now that it's so easy to spread all who tasted Mersey Valley Spreadable will be adding to their shopping list on a regular basis. That's a winner thanks Mersey Valley.