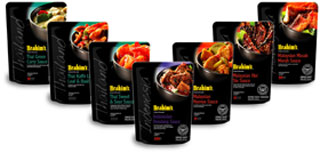 A winner of coveted Asian food awards; Brahim's is the truly authentic simmer sauce. An exotic range of Thai, Indonesian and Malaysian flavours, Brahim's is made in Malaysia only from fresh ingredients and without artificial flavours, colours or additives.

Having captured the true taste of Asia, Brahim's is the recipient of the following awards:

MIFT (Malaysian Institute of Food Technology) Best Product Award 2003

AFC (Asean Food Conference) Best Product Award 2003

National Creativity & Innovation Award 2004

Network Foods Limited proudly distributes Brahim's in Australia. Brahim's Brand Manager Sharon Aye identified the range to fill a gap in the domestic market for truly authentic, and readily available Asian simmer sauces.

"Many simmer sauces on Australian supermarket shelves do not deliver the intricate taste of authentic Asian cuisine that Australians are increasingly demanding at home," Sharon said.

"Brahim's genuine Thai, Malaysian and Indonesian flavours are conveniently available from supermarkets at a reasonable price of $3.95 per pack, allowing Australian's to create the true taste of Asia simply in their own kitchen," Sharon said.

Brahim's simmer sauces are perfect for increasingly time poor consumers who want quick and easy meal solutions without having to compromise quality and taste, two important factors to the Brahim's brand being a supplier to the food service industry in Asia.

Brahim's all natural ingredients are kept as fresh as the day they were chopped, ground and blended with its unique retort foil pouch system. Developed in Korea and the USA, Brahim's was the first simmer sauce to adopt this state of the art food packaging.

The exotic Brahim's range includes:

Brahim's Indonesian Rendang Sauce - An intensely spiced, authentically dry curry sauce with coconut milk, galangal, ginger and ground spices. Chilli rating: 4


Brahim's Malaysian Nyonya Sauce - A spicy sauce with tomato, coconut milk and a hint of ginger. Chilli rating: 3


Brahim's Malaysian Hoi Sin Sauce - A rich, dark sauce flavoured with sesame oil, chillies and garlic, ideal to stir through or to use as a marinade. Chilli rating: 2


Brahim's Thai Green Curry Sauce - A creamy, aromatic sauce with coconut milk, green chilli and lemongrass. Chilli rating: 2


Brahim's Thai Kaffir Lime Leaf & Basil Sauce - A fragrant sauce with kaffir lime leaves and basil. Chilli rating: 0


Brahim's Thai Sweet & Sour Sauce - A tangy sauce with a balanced sweet and sharp flavour, ideal for use as a stir through sauce, marinade or dipping sauce. Chilli rating: 2

Each simmer sauce comes with the Brahim's Chilli Rating System, allowing you to decide just how hot you'd like your night to be.

Brahim's is available from leading independent supermarkets: Woolworths, FAL Action, Ritchie's, Leo's Fine Food & Wine and selected independent grocery stores.