It's crunch time for Jazz™
Apples with bite for Australian mouths and bodies
It is juicy, exceptionally crisp and for the first time, it's now available year-round to purchase from major supermarkets and leading independent fruit shops throughout Australia. That's Jazz™, Australia's effervescent sweet 'n' tart apple variety with the catchy name that is set to bring a new attitude to lunch boxes, salads and desserts across Australia this year.
The Jazz™ variety was introduced to Australian consumers by Montague Fresh, one of Australia's largest handlers and growers of apples and stone fruit. The crunchy and distinctively original new Jazz apple first appeared in 2007 and was available for purchase only in a limited number of select produce stores in May 2008. This Autumn, Montague Fresh is proud to present its first real commercial harvest of the Jazz™ apple - a result of one of Australia's biggest planting programs yet.
A natural cross between Braeburn and Royal Gala - a marriage which results in a superbly sweet, tangy apple with a crisp texture - Jazz™ is sure to kick goals across the country. Small to medium in size and boasting a shiny green skin with a pink-red blush, the dense butter-yellow flesh of Jazz™ delivers a taste to match its fine appearance.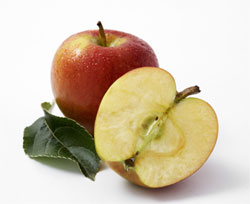 "Montague Fresh searches the world for the top varieties and we believe Jazz™ is the best eating apple available anywhere," says Ray Montague, Executive Director of Montague Fresh, whose team has devoted eight years to the Jazz apple project.
Montague Fresh collaborated with Australia's leading apple growers to plant around 500,000 Jazz™ trees in specially selected cool-climate regions of Australia. This apple season Jazz™ fruit grown in Batlow (NSW), Huon Valley (TAS), Adelaide Hills (SA), Stanthorpe (QLD), Manjimup (WA) and Southern Victoria will reach Australian consumers.
JAZZ™ apple stockists: All major supermarkets and leading independent fruit shops throughout Australia
Take the crunch test with Jazz™ Apples you won't be disappoint. Great flavour with crunch and moisture. Grab a bucket full today for a healthy snack alternative.