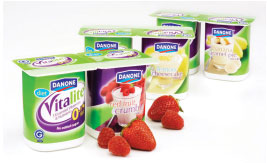 New from Danone, Diet Vitalite, contains 5 essential vitamins and nutrients, with no added sugar and 0.1% fat.

Danone Vitalite has just launched a luscious new range of dessert style yoghurts, including Lemon Cheesecake, Banana Caramel Pie and Red Fruit Crumble deliously wicked without the guilt. Light on calories and full of calcium, Danone Vitalite range has all the natural goodness of yogurt, including live AB (acidophilus and bifidus) cultures for intestinal health.

Containing five essential vitamins and nutrients, including Vitamin A, Vitamin D, Vitamin B2 calcium and fibre for a body inside and out, Danone Vitalite is not only a healthy diet yogurt, but its new delicous flavours youll find hard to resist.

The new Danane Diet Vitalite range is great as a healthy snack, accompaniment with breakfast, lunch or dessert and is available in some fantastic flavours including: Lemon Cheesecake, Banana Caramel Pie, Red Fruit Crumble, Very Vanilla, Perfect Passion, Peach and Apricot, Mango Mania and Strawberry.

It was hard to choose a favourite from the above delicous range and each fitted my craving for that day. If you are not a yoghurt lover, but want to include yoghurt in your diet, Id recommend the above pictured three, they are so yummy they dont taste like yoghurt.

Available through Coles, Woolworths, Bi-Lo, Franklins and Independent grocers throughout Australia.