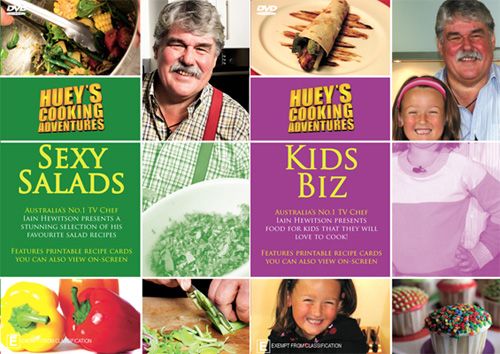 Enter for your chance to win one of 5 x Huey's Cooking Adventure DVD Packs including: Sexy Salads & Kidz Biz
Get Huey cooking at your place this summer!


Australias favourite chef, Iain Hewitson has released two new DVDs to get you cooking over the summer. Hueys Kids Biz and Sexy Salads are a must-have for lovers of good food or parents looking to get their kids in the kitchen!
Hueys Cooking Adventures is a long time favourite of the Australian public. Iains delicious but simple recipes and easy going manner have made his show a favourite for daytime viewers - in fact, its the highest rating daytime show in Australia. Now you can have Huey in your home explaining his best and most popular recipes.
In Hueys Sexy Salads, he shows us how to make a stunning selection of his favourite salad recipes like prawn, cucumber, peanut and banana blossom salad; rare beef, radish and cos salad; and watermelon, feta and black olive salad. In Kids Biz, Huey and his adorable daughter Charlotte show you how to get kids cooking in the kitchen with easy and delicious recipes like hoisin chicken wraps; green eggs and ham; chicken fried rice; and knickerbocker glory!
Not only do the DVDs show Huey cooking the recipes, but in the Extras you get to view and print recipe cards of all the recipes featured on the DVD.
Hueys Sexy Salads and Kids Biz DVDs are available now from all good DVD retailers and for less than $20 they are a great gift idea - or perhaps its time for you to have some cooking adventures of your own!
www.hueyscookingadventures.com.au