FRASER TAKES PLEASURE IN DIVERSE CAREER.
EXCLUSIVE Brendan Fraser, The Air I Breathe, Mummy 3 Interview by Paul Fischer.
There is little doubt that Brendan Fraser has taken his Hollywood success to make films that truly show his diversity. While best known as Rick O'Connell in The Mummy films, he has received acclaim fior his work in the likes of The Quiet American and Journey to the End of the Night, in which he played a brothel owner. While he will be soon seen in the siummer blockbuster The Mummy: Tomb of the Dragon Emperor, fans of the actor can first catch him playing Pleasure in the new, dark Indie film The Air I Breathe. He spoke exclusively to Paul Fischer.
Paul Fischer
: It seems to me that you give you really give your best performances in these smaller films. And I was wondering how picky you are, in trying to find this kind of material?
Brendan Fraser
: I read this and wanted to do it very much, because it was a clear departure from anything that I could fit the bill for, and I could be right for. And it was work to try to land this job, to meet Jieho. And - because of - how he envisioned this film was so specific, to a point where I think he needed to be comfortable that the person who he recognized me for best was the broader comedic more campy work that I've done. And he knows that this film is like a puzzle piece. And he had to have every assurance that the actor he hired he could rely upon to be - to have the right combination of stoicism and vulnerability and - I guess a sense of loss. I'm not describing myself, by any means, but I did need to remind him that actors act. And it's easier to do that, than to be those people.
Paul Fischer
: Do you see any elements of yourself in a character like this?
Brendan Fraser
: Oh, you always have to bring some - I think you have to bring something of yourself to every role. To personalize it. And it's important because that's how you put your fingerprints on it. And ask any screenwriter, for instance. An actor can create a role, they can even better it. They can fail or succeed, depending on what they are, and what they've done. In this case, I absolutely pursued this. And I had to be, I think, less enthusiastic about it as a tactic to try to get Jieho to come around. Rather than more enthusiastic. Because that's not what he needed or wanted in the role. But. Because he is an emerging filmmaker, and I think an important one now. And one who others quickly - he was helped along the way with my friend Sarah Michelle's seal of approval. I'm pretty sure that she was influential in many ways towards getting us together on screen.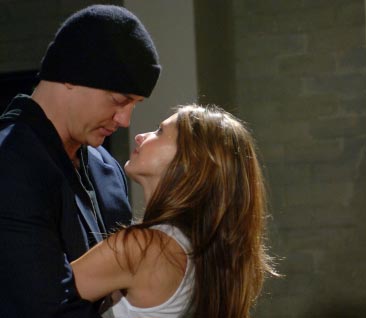 Paul Fischer
: How challenging is it for you to dig deeply into a character like this?
Brendan Fraser
: IIt's always as challenging as you make it, or you let it be. So in this case, I wanted to approach the part in a way that I hadn't worked before, which was to have the right combination of eccentric-ness, to make sure that the choices that I was making had less of an intonation attached to them. I paid attention and recalled people who I've met who've been through really challenging and horrible situations, and I recalled having visited - and I mean this with respect - I visited Ground Zero in the early part of 2002. And I spent some time with police and firefighters, and others there. And I guess if anything, a sense of loss is where this guy is when we meet him. He's had a tragedy occur in his childhood. He has some bizarre prescient ability that he doesn't necessarily want, and frankly doesn't like. But he has it, and he wants to accept it. And he visions or premonitions, if you will, something he must act on. He must decide - because it'll come true.
Paul Fischer
: Are you one of these actors who find it easy or difficult to leave a character behind at the end of the day?
Brendan Fraser
: I think it's easy to leave it behind, personally. I mean, it depends. This case, it wasn't the end of the day. It was the beginning of the day, because we were shooting exteriors at night time for weeks on end. Which took its toll, and that kind of worked for the role. Because he needs to be sort of tired and weary - world weary as he feels he is, too. Until he meets his - sort of the tonic to the state he finds himself in. And that is the role of the pop singer called Trista. Or as the audience knows her, "Sorrow". The audience knows the character I played as "Pleasure". And the audience knows Forrest Whitaker's gangster as "Happiness", and Kevin Bacon's doctor as "Love." And only the audience know that. They only refer to each other by name, which is an interesting conceit. And gave it another sort of philosophical level.
On top of the existing one that Jieho took inspiration from, that the cornerstones of humanity are those attributes. Love, happiness, sorrow, pleasure. And then to create characters who do not have those things. Throw them into a nefarious world, universe that you've created, and decide how, for themselves, let's see how these characters, as he wrote it, how will they journey towards the redemption that they seek? Will they be able to have one or two or all of those cornerstones of life? And should they? What is the journey that they take? And that's the substance of the film, and that became philosophically exciting. But - not to get too heady. He - when I watch it, I must remember also that films, while they might be enlightening - sometimes they are, sometimes they're not. But at the end of it all, they're an entertainment. And this one I found wildly entertaining at moments, in terms of its kinetic energy. Emile Hirsch is outrageously funny. I didn't realize it at the time, but I was - he and I were - I was his straight man. [LAUGHTER] It's just - he's hilarious. He was hilarious.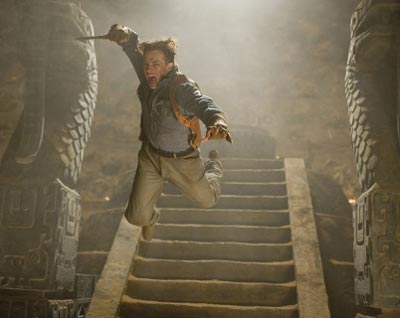 Paul Fischer
: How important is it for you to take risks? Because even though you've attained a level of success, and obviously the Mummy movies have solidified that success, do you relish taking risks?
Brendan Fraser
: When I'm allowed to. There are representatives, et cetera, who I'm sure gnash their teeth when I tell them, "You know what? I want to go to New Orleans to shoot a movie about double-crossing salesmen." And then it's coming to a Netflix terminal near you, you know. Or - "I'm gonna go to Sao Paolo, Brazil, and play the son of a brothel owner who's going to steal from his father." And I think that might be the next Netflix terminal near you. But I do think - and these are all films I've made, by the way. You have a responsibility, in my view, to do that. Because - something that's stayed with me from my training when I was in conservatory in Seattle was that - it may sound a bit hokey. But it stayed with me. And that is, just kind of go to the fear. You'll learn something. Now, I'm not saying that's a good idea. You know, like traffic or anything. But in the choices you're making as an actor, take the risk. Go ahead. Do things that would make your Mom blush. Or - you know. It's make-believe. It's the creation of characters. They aren't real people. We're here to - we need those stories. Or, as my friend Paul Bethany says with glee, "We get paid to wear funny hair and clothes. Ha ha ha."
Paul Fischer
: What did it take for you to decide to do a third Mummy movie?
Brendan Fraser
: They had to put the script in my hands, that's what it took. Find a director, that's what it took.
Paul Fischer
: But, were you hesitant to do another one?
Brendan Fraser
: No, not at all. I have been waiting for this day for the last seven - for that day to begin for the last seven years.
Paul Fischer
: Really?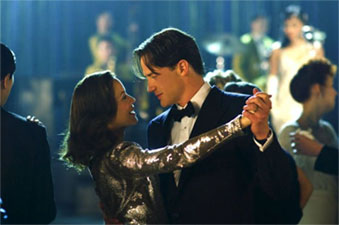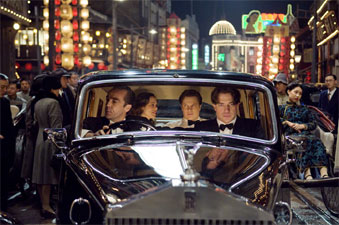 Brendan Fraser
: Yeah. But it's good that the time has passed, because a new generation has come of age, for one thing. The film has been reconceived and set in a whole 'nother world. You know, it's set in China now. The timing seems to be right for the fact that the Beijing Olympics are opening. And this, you know, is a marketing thing, but this film will be there at the same time. So, you know, the eyes of the world are on China at the time. And Rob's the right director for the job. He studied archeology as a student in Harvard. If you know him, then you know that he ran studios. He knows how to move big set pieces, and he's fearless. And he knows his stuff. He shoots quadruple coverage. There's nowhere to hide. Quadruple coverage. It's fantastic, it's brilliant. It's exciting. There's almost no acting required. You just have to show up and hang on for the ride.
Paul Fischer
: Has your character grown tremendously in the last seven years?
Brendan Fraser
: He has, but he and Evie have hung up their guns, and they have picks and hammers, respectively. And they're kind of keen to get back at it. I don't want to give too much away, but let's just say that they're asked to go on one last gig, and then their son, who's grown up, is trying to pretend to be a chip off the old block. And let's just say it's a family story at heart, where things go bang around them a lot, and mummies get resurrected and they've got to go back to work to save the world. You know, might as well try to help.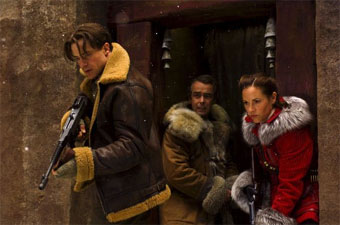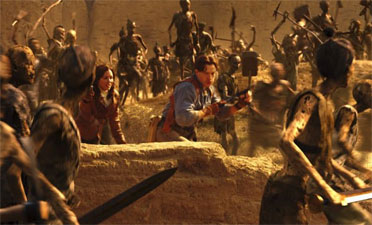 Paul Fischer
: The usual kind of stuff.
Brendan Fraser
: Exactly.
Paul Fischer
: Have you signed up for anything else post-Mummy, Brendan?
Brendan Fraser
: No. I have - I've got my slate for this year, given the publication.
Paul Fischer
: Have you finished The Mummy ?
Brendan Fraser
: I finished it in the first week of December. It's coming out a week before the Olympics.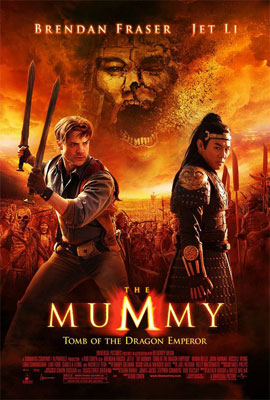 The Mummy 3: Tomb of the Dragon Emperor
Starring: Brendan Fraser, Jet Li, Maria Bello, John Hannah, Michelle Yeoh
Director: Rob Cohen
Screenwriter: Alfred Gough, Miles Millar
Producer: Stephen Sommers, Bob Ducsay, Sean Daniel, James Jacks
Composer: Randy Edelman
Genre: Action/Adventure
Runtime: 1 hr 51 mins
The blockbuster global Mummy franchise takes a spellbinding turn as the action shifts to Asia for the next chapter in the adventure series, The Mummy: Tomb of the Dragon Emperor. Brendan Fraser returns as explorer Rick O'Connell to combat the resurrected Han Emperor (Jet Li) in an epic that... The blockbuster global Mummy franchise takes a spellbinding turn as the action shifts to Asia for the next chapter in the adventure series, The Mummy: Tomb of the Dragon Emperor. Brendan Fraser returns as explorer Rick O'Connell to combat the resurrected Han Emperor (Jet Li) in an epic that races from the catacombs of ancient China high into the frigid Himalayas.
Rick is joined in this all-new adventure by son Alex (newcomer Luke Ford), wife Evelyn (Maria Bello) and her brother, Jonathan (John Hannah). And this time, the O'Connells must stop a mummy awoken from a 2,000-year-old curse who threatens to plunge the world into his merciless, unending service. Doomed by a double-crossing sorceress (Michelle Yeoh) to spend eternity in suspended animation, China's ruthless Dragon Emperor and his 10,000 warriors have laid forgotten for eons, entombed in clay as a vast, silent terra cotta army.
But when dashing adventurer Alex O'Connell is tricked into awakening the ruler from eternal slumber, the reckless young archaeologist must seek the help of the only people who know more than he does about taking down the undead: his parents. As the monarch roars back to life, our heroes find his quest for world domination has only intensified over the millennia. Striding the Far East with unimaginable supernatural powers, the Emperor Mummy will rouse his legion as an unstoppable, otherworldly force...unless the O'Connells can stop him first.
Now, in The Mummy: Tomb of the Dragon Emperor, the trademark thrills and visually spectacular action of the Mummy series will be redefined for a new generation. The Mummy: Tomb of the Dragon Emperor is helmed by director Rob Cohen (The Fast and the Furious, xxx) and written by Alfred Gough & Miles Millar (Spider-Man 2, television's Smallville). Reprising their roles as producers in the series are Bob Ducsay, Sean Daniel, Stephen Sommers and James Jacks.
---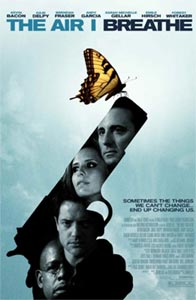 Cast: Sarah Michelle Gellar ... Sorrow
Kevin Bacon ... Love
Brendan Fraser ... Pleasure
Forest Whitaker ... Happiness
Andy Garcia ... Fingers
Emile Hirsch ... Tony
Julie Delpy ... Gina
A drama based on an ancient Chinese proverb that breaks life down into four emotional cornerstones: happiness, pleasure, sorrow and love. A businessman (Whitaker) bets his life on a horse race; a gangster (Fraser) sees the future; a pop star (Gellar) falls prey to a crime boss (Garcia); a doctor (Bacon) must save the love of his life.